It can be tricky to find places of privacy in the backyard. Unless you have sky-high trees, or a super tall fence, it can be tricky to find a place to relax and hang out without the neighbors intruding! If you only have a little bit of time to create  incredible backyard privacy, try these lightning fast backyard privacy ideas! These backyard privacy fence and backyard privacy landscape ideas are top notch!
Hanging Pots and Vines
Looking for more storage space on a porch or patio? A trellis or wall may distract from your landscaping; so try hanging pots and vines instead! Tiered pots (with hanging vines) create the illusion of a full wall, while still allowing you to enjoy some greenery.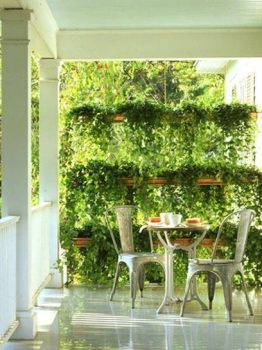 Privacy Screen
Privacy screens are a must-have backyard feature! They're great for privacy because they can be easily moved to whenever you need it the most. Make your own DIY privacy screen with this project from How to Build It.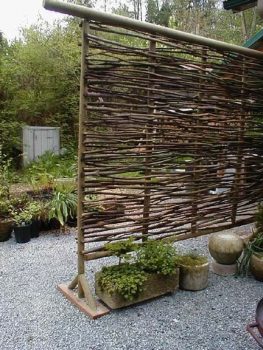 Privacy Curtains
Pretend you are at the beach with a pergola and some white outdoor curtains! These curtains are machine washable, and extremely durable. Simply draw the curtains whenever you want some privacy, and tie them back when it's time to party! You can learn to make your own pergola at Bless My Weeds.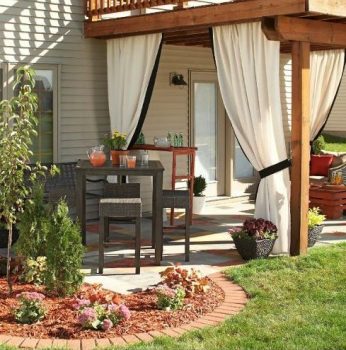 Privacy Lattice
I've always loved to work with lattice because it's easy to cut and fit into any space. Leave your trellis as is, or have a vine grow up the side for an added element of privacy. No one would be able to tell that you're outside enjoying the sun!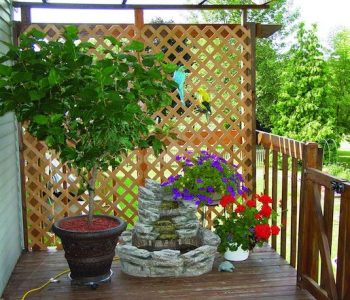 Wall of Plants
Of course, the best way to get some privacy (although this probably wouldn't be a very fast project) is to grow some Evergreen trees (this variety is the American Pillar Thuja!) Evergreens stay green all year long, ensuring that you have privacy even throughout the winter months! Plant the trees close, and wait patiently for a few years for things to grow lush and green!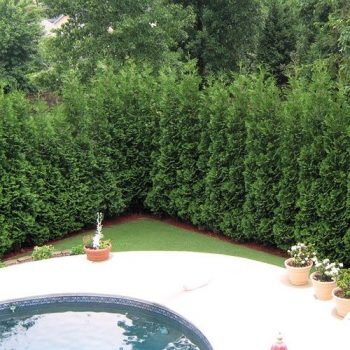 Living Hedge Wall 
Similar to the previous idea, use a fast growing hedge (like the American Holly) to create serious privacy around your yard. These shrubs grow so luscious and green that you won't be able to see out…and no one will be able to see in!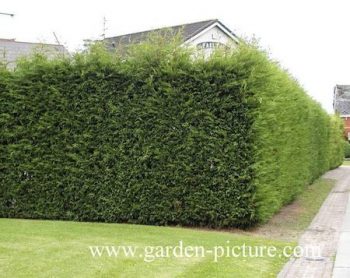 Bamboo Privacy Screen
Remember when I said that privacy screens were versatile? A bamboo privacy screen (available for purchase here) is hard to see through but easy to move! Screens like these are also said to help with sound distrubution, as well!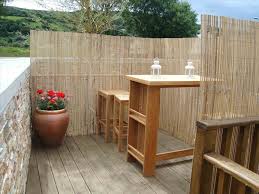 Potted Plants (x2!)
If you didn't like the first potted plant idea, you can try this one! Instead of using hanging pots and vines, create privacy with large garden planters. These would be a great way to create some privacy if you and your neighbor have balconies that are close to one another! Use a plant like bamboo or lemongrass for fast-growing privacy!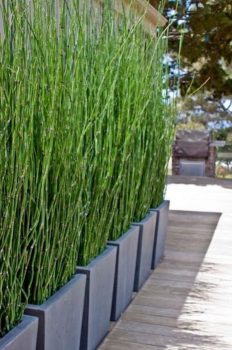 Portable Partition
Similar to a privacy trellis, you can move your portable partition around to the areas that you need it the most. I've seen partitions made from old shutters or old drawers. The options are endless, and here is my favorite DIY partition tutorial!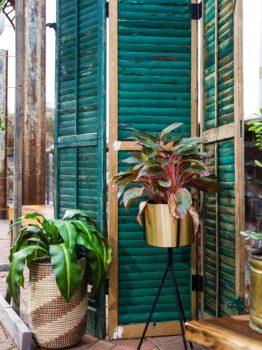 Create a Sound Barrier
Now that you've ensured that your neighbors can't see into your backyard, it's time to make sure that they can't HEAR what's happening in your yard. Create a DIY water fountain that doubles as a great sound barrier. It's easy to relax when you can hear the sound of a babbling "brook." Those interested in making their own can use this tutorial. Of course, this only works to hide soft noises, but I love the idea regardless.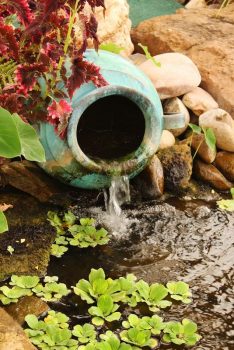 Dying for some outdoor privacy of your own? Make any one of these lightning fast backyard privacy projects!
Hanging Pots from Martha Stewart
Privacy Trellis from Pinterest
Privacy Curtains from Farmington Homebuilder
Privacy Lattice from Brighton AFC 
Wall of Evergreens from Wayside Gardens 
Hedge Wall from Garden Pictures
Bamboo Privacy Screen from Amazon
Potted Plants (with Bamboo) from Garden Hills Nursery
Portable Partition from Dishfunctional Designs
DIY Outdoor Water Fountain from Lowe's