Who would have thought that the sewing thread could affect the quality and longevity of sewn items? Well, it may come as a surprise to you but sewing threads are available in different qualities and the quality you choose will dictate the quality, longevity, and aesthetics of your stitch. Most people wonder what makes the products from high-end brands worth their price tags. Let us answer this question for you. High-end brands not only use the best quality materials and onboard highly skilled staff to do the stitching, but they also consider the quality of the sewing thread they use. If you thought you could use any sewing thread and achieve a professional finish, that's not the case. If you want your stitch to come out as good as it can, you'll need to use the best sewing thread.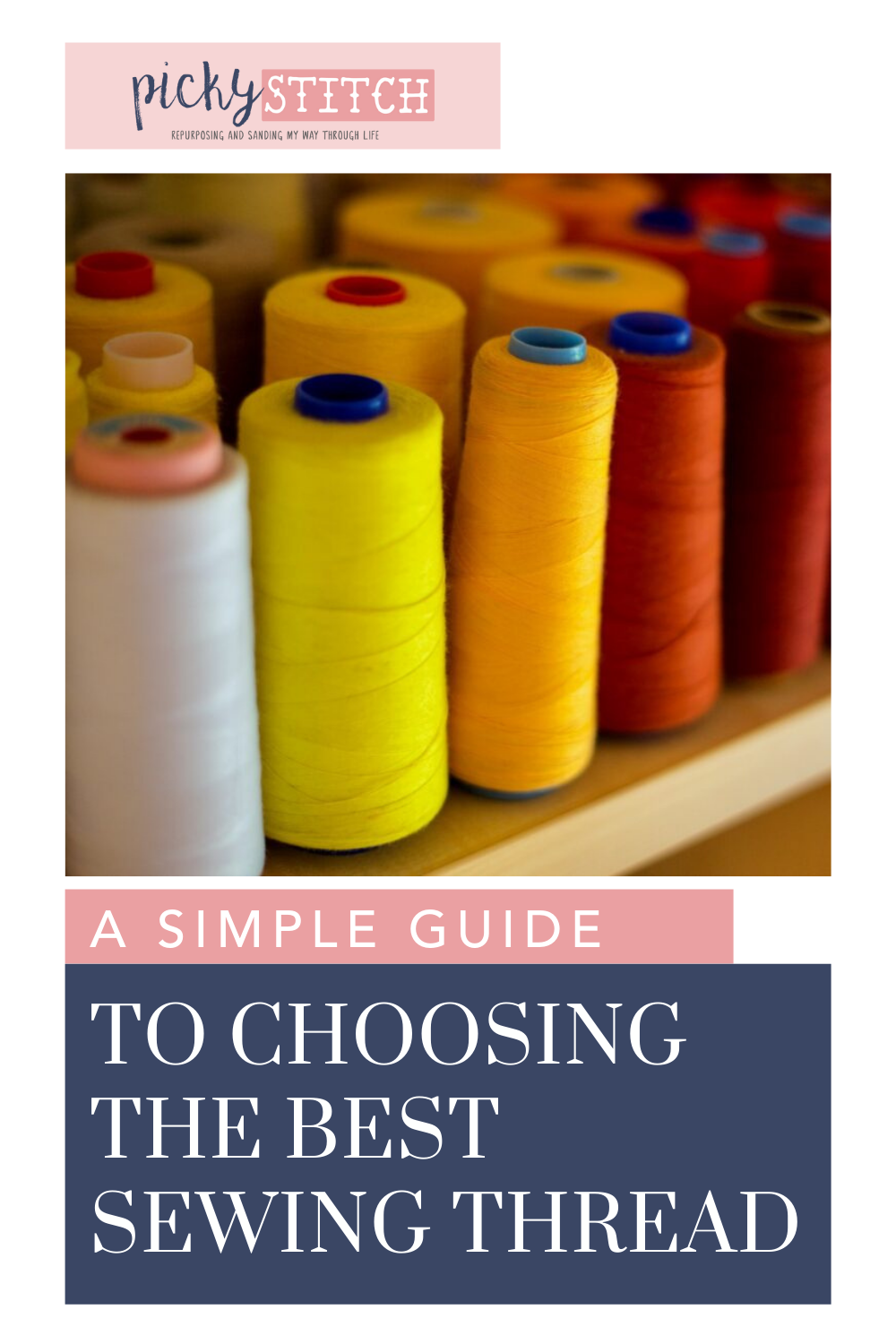 The sewing thread is what will hold your stitch together. The strength and quality of how 2 pieces of fabric have been sewn together depend majorly on the type of sewing thread used.
You may have always assumed that all threads are the same, but they're not! Continue reading this blog post if you want to know all about sewing threads. This blog post will also help you choose the best sewing thread for your next project. You need to focus on the little details when you wish for something to turn out the best.
And in the case of stitching and sewing, sewing threads are the most important, yet most neglected, factors that affect the quality of the final product.
What is a Sewing Thread?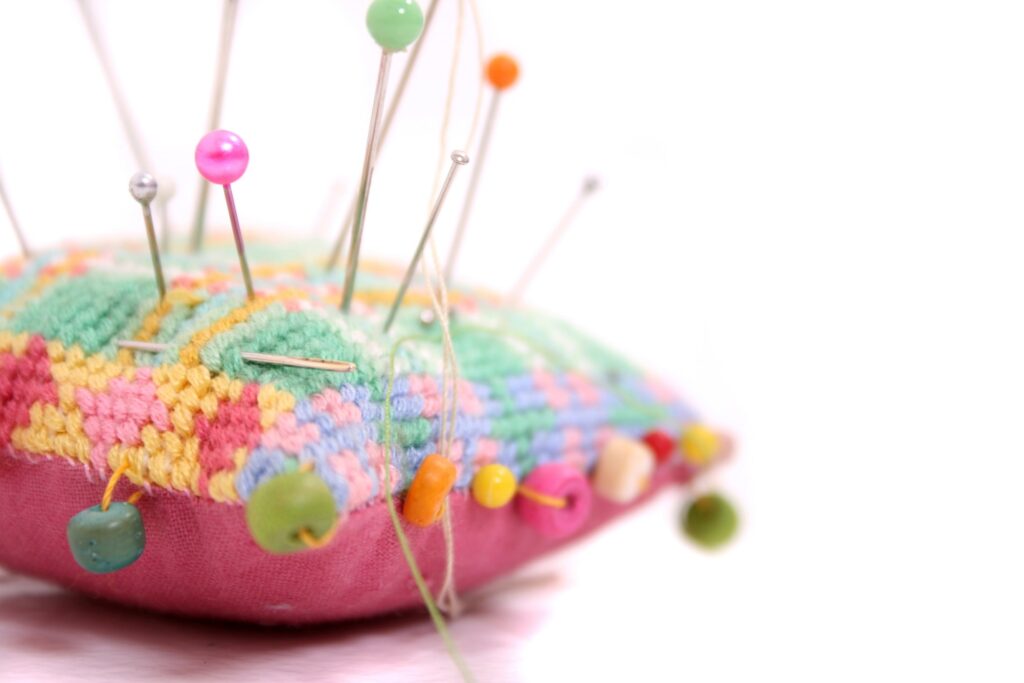 First things first; what is a sewing thread? You can't possibly use any thread for sewing. Sewing threads have different properties altogether that make them suitable for sewing. These threads boast specially engineered yarn. They feature unique designs that make it possible for you to pass them through the sewing machine easily and quickly.
Sewing threads make neat and efficient stitches that don't become distorted or break during the time the product is in use. Sewing thread deliver seamless seams and stitches and aesthetics, which not every regular thread can possibly do.
What Factors Affect the Functions of a Sewing Thread?
Like we mentioned above, the primary function of sewing thread is to deliver good performance and aesthetics. However, it's crucial to know about the factors that affect these functions, thereby, affecting the overall quality and usability of a sewing thread.
Factors Affecting the Performance
Sewing thread should be durable. It shouldn't break under abrasion and heat from the needle during stitching and use. The factors that affect the performance of a sewing thread include:
Resistance of abrasion; the more, the better
Seam strength; the higher, the better
Elasticity; the more, the better
Chemical resistance
Flammability; the lower, the better
Color fastness
Factors Affecting the Aesthetics
You certainly wouldn't want your sewing thread to leave unsightly and unaesthetic seams across the fabric. You wouldn't even want the sewing thread to have loose strands poking from everywhere.
It'll affect the overall appearance and look of the final product. You've got to consider certain factors to ensure you're making the right pick. The factors that affect the aesthetics of a sewing thread include:
Shade and hue matching; the closer the match, the better
Color fastness
Selection of the stitch
The uniformity of stitches
How to Choose the Best Sewing Thread?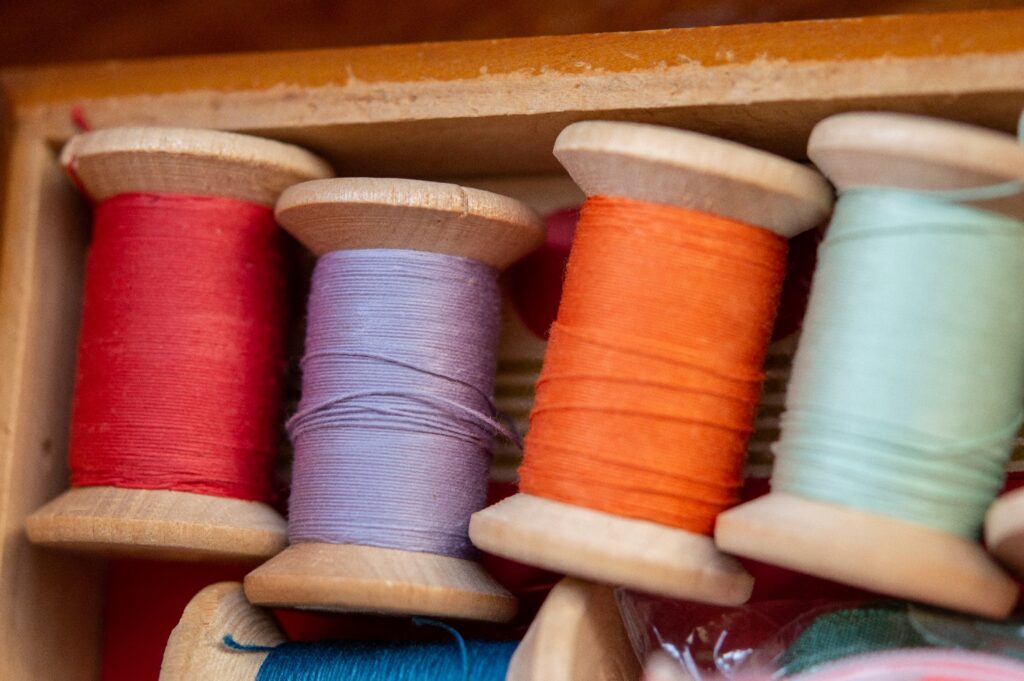 The wrong choice of a sewing thread can affect how long your product lasts and how good it looks. Therefore, it's crucial that you choose nothing but the best sewing thread for your product or project, whatever it's that you're working on.
While you now know the various factors that you must consider when choosing a sewing thread that's both, well-performing and delivers excellent aesthetics, you might be able to benefit from a detailed guide.
Evaluating the sewability of a sewing thread is the ultimate step that'll ensure that you make the right choice.
How to Evaluate Sewability
Sewability, in simplest terms, is the ability of a thread to sew. Not all threads are suitable for sewing which is why it's important that you evaluate the sewability. For a thread to have good sewability, its diameter should be uniform and the surface finish must be smooth.
The longitudinal strands of the thread must be uniform. It's only then that the strength of the stitch throughout the product will be uniform. Uniform longitudinal strands also mean lower friction. It, therefore, means that the thread will form stitches much more easily.
Threads that have good sewability are less likely to break during the sewing process and during the usage phase. The better the sewability of a sewing thread, it's more likely to deliver higher quality stitches.
Signs that You've Chosen the Best Sewing Thread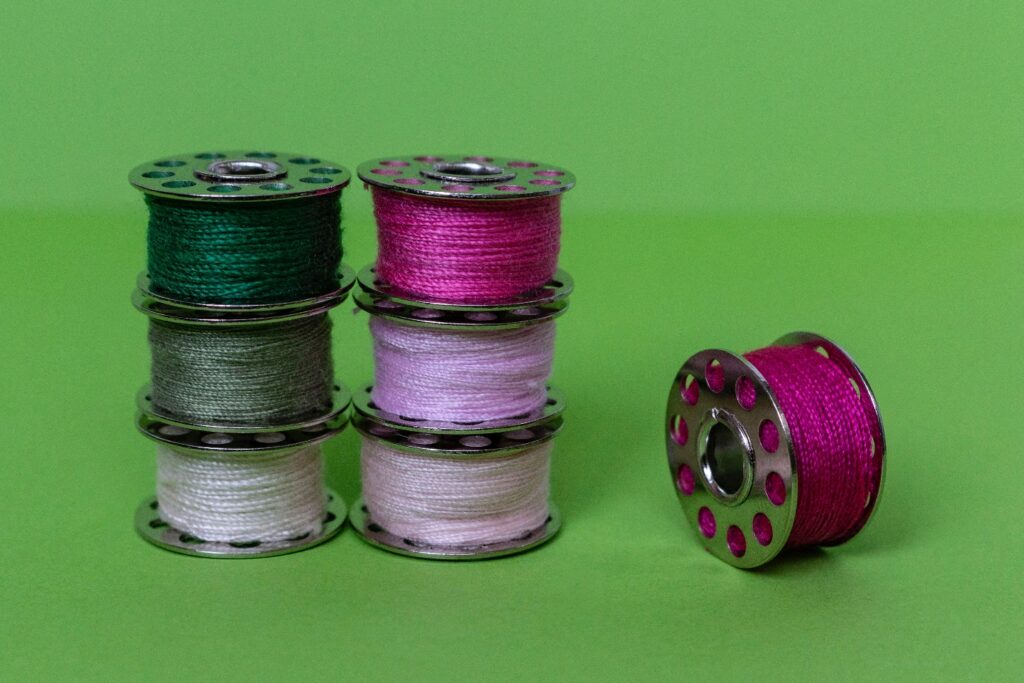 No matter how carefully you select a sewing thread, you can only be sure of its sewability once you get down to sewing. How can you tell if you made the right choice? Look out for the signs listed below. If you find them all in your product, you're good to go!
The thread doesn't break during high-speed sewing
The stitch formation is consistent throughout
No stitches are skipped
The stitches are even throughout
The thread doesn't break under abrasion
The thread passes through the sewing machine guides easily.
Why is it So Important to Choose the Best Sewing Thread?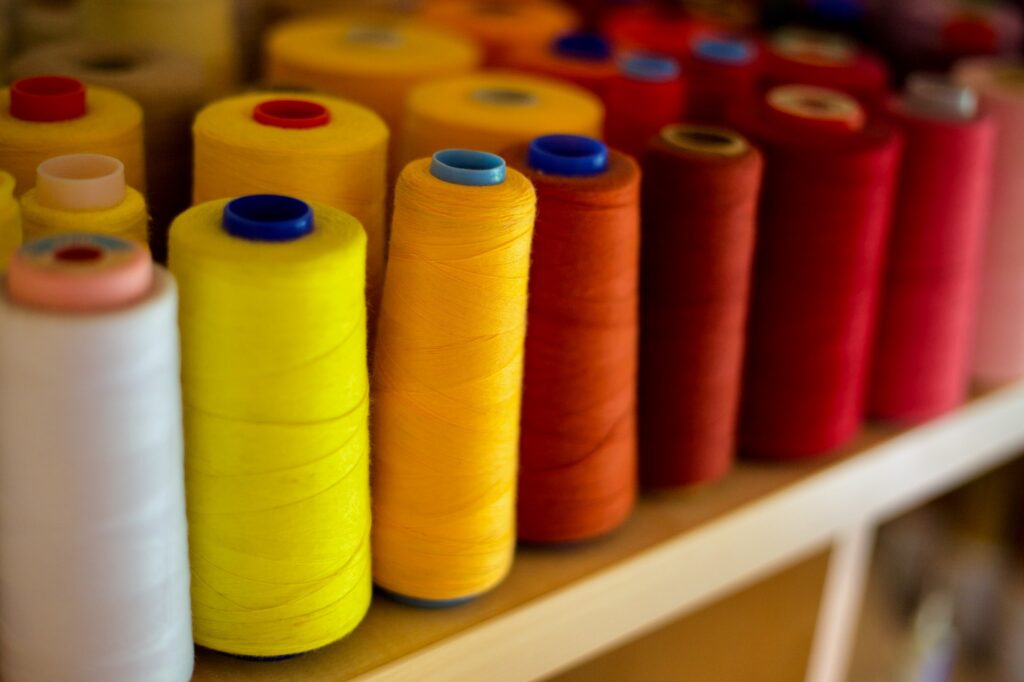 Why can't you use any sewing thread? After all, the user won't sit down to analyze each stitch individually, would they? Well, they'll not. However, that doesn't mean you can use any thread for sewing. Choosing a poor-quality sewing thread can have serious consequences for you and your business.
Poor Aesthetics
Your product will have a poor finish if you use a poor-quality sewing thread. The customers will judge you on the basis of how good your product looks. If they notice strands of threads poking from everywhere or the thread isn't as smooth as it should be, the chances that they'll buy from you again are slim.
Bad Reputation
One of the most difficult things to build and the easiest things for a brand to lose is reputation. It takes ages to build and a split second to lose. If you use anything but the best sewing thread, your stitches won't be as strong as they should be.
They might come apart on the slightest of stretching. Do you know what that means? Your customers aren't paying you to use a certain product once. They expect a good value for money, and that's only possible if the quality of your product is on point. You can't expect sewing threads of inferior quality to last long.
Loss
If you use an inferior quality sewing thread, your products won't last as long as the customers expect they should. You'll lose customers as a result. You may even get plenty of refund requests. All of this means a loss to your business. Why take the risk in the first place?
Best Sewing Threads in the Market Today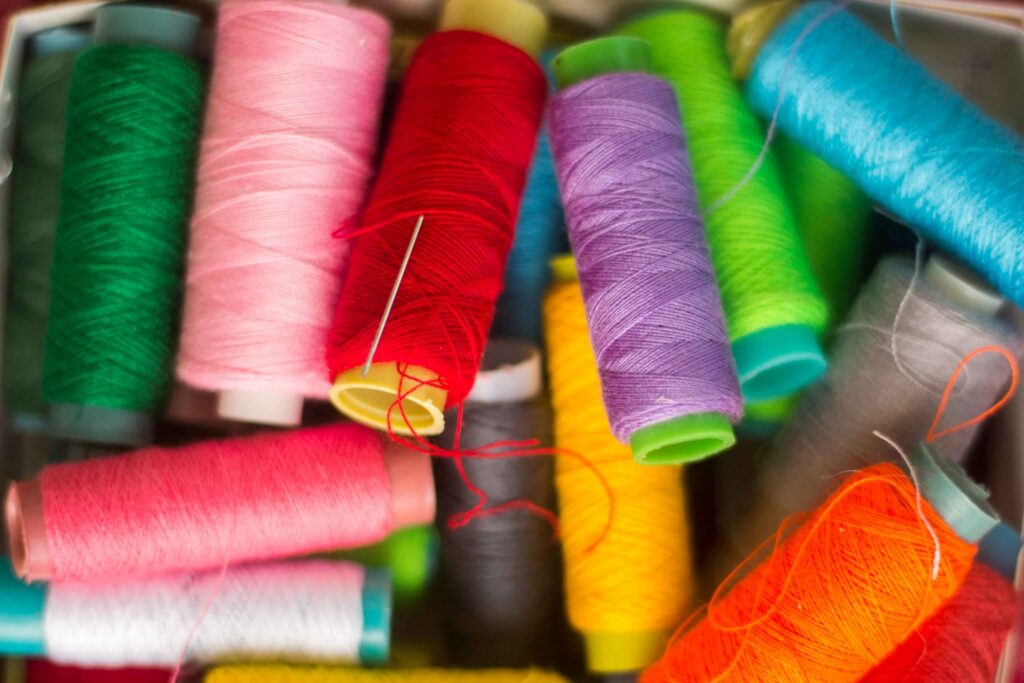 Now that you have a clear understanding of what it takes to make the best sewing thread is, what factors define its quality, and what can happen if you overlook the quality, we can now move on to the most important section – our compilation of the best sewing threads available in the market today that'll help you choose the best sewing thread for your sewing project.
MILIJIA Polyester Thread
MILIJIA Polyester thread tops our list for all the right reasons. It's made from the highest quality, highly durable polyester. It forms even stitches that last a very long time. They won't break even after several washes.
The MILIJIA polyester sewing thread is available in 25 colors and comes in 550 yards-long spools. The colors are long-lasting, and they won't bleed.
The thread spools are easy and convenient to use, even for beginners. The polyester thread from MILIJIA is great for machine and hand sewing alike.
You can stitch anything you like using this sewing thread without worrying about the stitches breaking or the colors bleeding any time soon. Not to mention the appealing aesthetics that the MILIJIA polyester thread is known for.
Pros
Huge variety of bright colors
Excellent finish and aesthetics
The stitches are durable
It doesn't fray
The pools are convenient and easy to use
Work well with sewing machines that have an automatic winding
Cons
Some users complain that the thread leaves lint
It's not suitable for use with heavy-duty sewing machines
New Brothread Prewound Bobbin Thread
This sewing thread is one of the best and the most affordable sewing threads available in the market today. The New Brothread Prewound Bobbin sewing threads come as a pack of 25 bobbins in different colors, packed in a high-quality plastic case.
The assorted colors of threads make the package perfect for embroiders who want a good variety of thread colors at their disposal at all times. The thread length of each colored thread is 130 meters.
The sewing thread bobbins have plastic sides that don't distort or absorb the machine oils. The plastic sides also make sorting easier and quicker. These sewing threads fit commercial and domestic embroidery machines. In fact, these sewing threads are quite popular among home-based embroidery artists and commercial embroiders.
The New Brothread Prewound Bobbin sewing threads are an excellent choice for Singer sewing machines. They also work perfectly with other sewing machines, including Babylock, Brother, Quantum Futura, Elna, Juki, and Kenmore.
It's made from High Tenacity Polyester Filament 70D/2, which is highly durable and reduces the tension during the sewing process.
What makes this set of sewing threads the best is how it comes packed in a plastic case. Each bobbin is arranged in a separate section that makes it easier for the users to keep them neatly organized. The threads don't get tangled in the box, either.
Another feature that brings New Brothread Prewound Bobbin thread to our list of best sewing threads is how easy they're to use. The thread pulls off the bobbin very smoothly. Using these sewing threads is a no-mess, therefore, thoroughly enjoyable.
Pros
Comes as a set of 25 assorted colors
The thread length is 130 meters
All 25 bobbins are stored in a plastic case
They're made of High Tenacity Polyester Filament that's highly durable
The threads have got a super smooth finish
Suitable for in-home and commercial embroidery
Each bobbin has plastic sides that make it easy to use
Plastic bobbin sides can be reused
The threads don't tangle
Cons
Some bobbins aren't wounded consistently, and users complain about thread getting tangled in machines
New Brothread Embroidery Machine Thread Kit
The New Brothread Embroidery Machine thread kit is the best option out there if you're someone who needs a complete embroidery kit. Since embroidery requires you to play with colors, it'll be good to have a single kit at your disposal with threads in all the colors you might need. Let's be honest; having to buy each colored thread separately is a hassle.
The embroidery kit by New Brothread has sewing threads in 40 colors, making it the kit with the most extensive color choices in the market today. The length of each thread is an incredible 550 yards. The kit offers you more than what you'll need. And it couldn't get better than this!
Each sewing thread in this kit is made from high-quality polyester that can be used on different machines and different materials. You can use these sewing threads from this kit on a variety of sewing machines, including Singer, Brother, Babylock, Bernina, Janome, and more, without worrying about the quality of strength of stitches getting compromised.
The spools are very easy to use. Moreover, the threads have got a smooth finish and absolutely stunning, lasting colors.
Pros
Made from high-quality polyester
Complete kit with 40 different colored threads
Thread length of each spool is 550 yards
Suitable to be used with a variety of sewing and embroidery machines
Smooth threads
Lasting colors
Easy to use
Cons
Some users complain that spools have an inconsistent winding
Leonis Polyester Threads
If you're looking for the best sewing thread, the Leonis all-purpose sewing threads are what you should look at. Made from 100% polyester, it's one of the finest sewing threads. Its core is made of polyethylene, and the case and threader are made of soft vinyl and aluminum.
The thread length is 50 yards. The spools are smaller that makes these sewing threads suitable for hand sewing. It also comes in larger spools with a thread length of 110 yards that make it ideal to be used for machine sewing.
The Leonis polyester threads come in a set of 30 colors that offer you a great variety of colors for cross-stitching, crochet, quilting, and hand sewing. The threads are durable and sturdy. They don't tangle or break. This kit is a great option for anyone who's looking for a sewing kit for routine household sewing.
Pros
Made of 100% polyester
Come in both small and large spools
Come with a threader and storage case with good quality zipper
Assortment of 30 colors
Threads are sturdy and durable
Suitable for a variety of purposes, including hand and machine sewing
Cons
Spools are smaller than other sewing threads on our list
Some users complain that threads leave lint
The thread isn't wound smoothly
Haitral Cotton Sewing Threads
The next on our list of the best sewing threads are the Haitral cotton sewing threads. The threads come as a complete set that includes thread spools in 24 colors, a threader, and 5 needles. What makes this one of the best sewing thread kits is the impressive spool length of 1000 yards.
The threads are made of cotton. They're very strong and won't break. These threads are suitable for a huge variety of sewing projects like embroidery, quilt stitching, and sewing blouses, blankets, clothes, and other household accessories.
The Haitral sewing threads are highly versatile. They can be used in different sewing machines, even the ones that come with an automatic winding function. The spools are made from plastic that makes them long-lasting.
You can even reuse them for other sewing threads if you want. These sewing threads are a great place to start for beginners, as they're easy to use, offer a wide range of colors, and come with everything that you'll need to start sewing!
Pros
Comes in a beautiful collection of 24 colors
Impressive thread length of 1000 yards
Spools are made from plastic
Come with 5 needles and a threader
Easy to use and store
Suitable for a variety of sewing projects
Cons
These aren't the smoothest sewing threads on our list
Some users have complained that threads often break on tougher and thicker fabrics
The threads are a bit fuzzy
Keimix Sewing Threads
We're sure you'll be able to choose the best sewing thread by the time you're done reading this blog post. Every sewing thread on our list has pretty good reason to be here. The next on our list is the Keimix sewing thread kit.
The Keimix sewing thread set has sewing threads in 24 attractive colors. These sewing threads are made from the highest quality polyester, which makes these threads highly durable. The spools are made of plastic. Therefore, you don't have to worry about them getting deformed during shipping or storage. You can even use them for winding threads whose paper spools have gotten damaged.
The Keimix sewing threads have got lasting colors that don't fade or bleed even after regular use and wash. Each spool has 1000 yards of thread wound around it. The selection of colors and the quality of the stitch make the Keimix sewing threads great for all types of sewing projects, both home-based and commercial.
You can use these threads for hand or machine sewing, weaving, and even embroidery.
Another feature of the Keimix sewing thread kit is that it comes with a wire threader and a pack of needles, making it your one-stop solution to all your sewing-related needs. The threads are wound nicely around the bobbins.
The thread doesn't break. Therefore, you can trust these threads to sew items that you plan on using in the long term.
Pros
Made from highest quality polyester
Comes in a set of 24 colored thread spools
The kit includes needles and threader
Thread length is 1000 yards
Spools are made of plastic
Colors don't fade or bleed
Suitable for machine and hand sewing and other sewing projects
Threads are smoothly and nicely wound
Cons
These threads are prone to jamming
Many users say they're not suitable for long-term stitching
Simthread Embroidery Thread
The best sewing thread ensures a fine and highly durable stitch. You can achieve the longest-lasting stitches with the Simthread embroidery thread. It's made from the finest quality polyester that doesn't break during stitching or after long-term use.
The Simthread embroidery thread is available in the market as a set of 40 outstanding colors. In short, it omits the need for you to purchase every color you need separately.
Each thread is 500 meters long. Simthread embroidery threads have high tensile strength, so you can rest assured that they'll form durable and long-lasting stitches.
These threads have got excellent tenacity and elasticity that ensures that they don't loop or pucker. The best thing about these sewing threads is it retains its original color even after a harsh cleaning.
Pros
Made from fine polyester
It comes as a set of 40 spools of different colored threads
Thread length is 500 meters
It doesn't break during stitching or rough use
Excellent tenacity and elasticity
Retain original color after harsh washing
Comes with a color chart
All spools come in a nylon net
Cons
Most users are satisfied. They have not reported any cons yet.
Sewing Aid Sewing Threads
Sewing Aid sewing threads come in a set of 100 thread spools. It's one of the best sewing kits available out there with the most number of color options. Each thread is made using 100% spun polyester. Therefore, these threads are strong and durable.
It delivers excellent sewing performance and is makes fine, consistent, long-lasting stitches.
The set has 92 unique colored threads and 4 reels of both black and white, making the total count of 100. You'll find every color family in the set, from blues to greens, to yellow to pink. Moreover, each reel of thread is 250 yards long, and each of 8 reels of black and white is 1000 yards long.
The threads come out of the spools very smoothly, and this is something customers love about the Sewing Aid sewing threads.
The best thing about this sewing thread kit that everyone loves is that all the spools come in a white-colored drawer-style box that makes storage super easy and convenient. This sewing thread kit by Sewing Aid is great for you if you do a lot of hand sewing. Users don't recommend these threads for machine use though.
Pros
Made of 100% spun polyester
Comes as a set of 1000 reels
The set includes 4 reels each black and white, each 1000 yards long
The reels come in a beautiful storage box
Thread unwinds easily and smoothly
Cons
The threads are too thin and break when used with sewing machines
The colored threads are each 250 yards long, which isn't very impressive
Not suitable for industrial sewing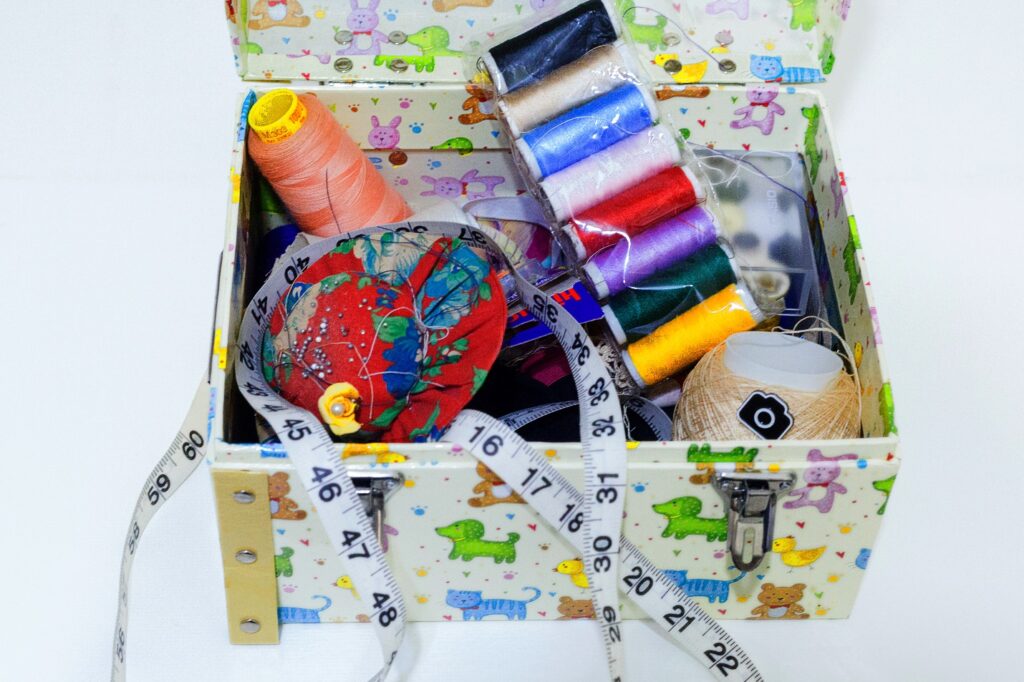 Finding the best sewing thread isn't so difficult if you know which parameters require consideration. Not all sewing threads are equal. And not all stitches are the same. You need the best sewing thread to achieve durable and aesthetically appealing stitches.