Watermelon is a favorite Summertime snack in my household! My kids never beg to eat fruit like they do throughout the Summer months. When a healthy food is such a hot commodity in your home, it's best to give the people what they want! Snack on these fun ideas!
When throwing a party, there is nothing worse than cleaning up a house of half-empty drinks. When everyone has a name tag on their drinks, it helps just down on waste! Create fruit skewers with letter shaped cookie cutters. Instructables has more!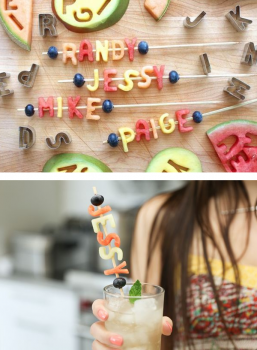 Combine the nostalgia of a summertime popsicle treat with the low-calorie attributions of a watermelon slice. Cut your melon into triangles and insert popsicle sticks. This might be the most refreshing snack out there! You can find the idea (and instructions) at A Pretty Life in the Suburbs.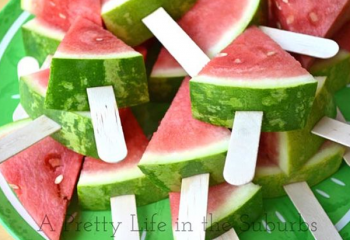 Pop on over to PopSugar for this seriously mind-blowing watermelon cake recipe! This is definitely a lighter dessert option, but you'll never crave anything else after sampling this!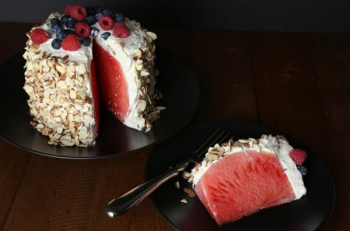 You'll need a pretty MASSIVE watermelon to turn it into a drink dispenser of this size! Fortunately, it's pretty easy to turn a watermelon of ANY size into a drink dispenser with this tutorial from Hello Glow.  I guarantee you'll be the hottest hostess around with this kind of drink station!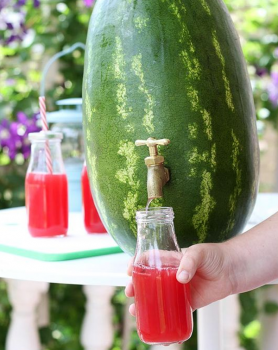 Watermelon pizza may just be the greatest thing since..well..regular pizza! This is the most low-carb piece of pizza you'll probably EVER eat! Good Housekeeping has the complete recipe!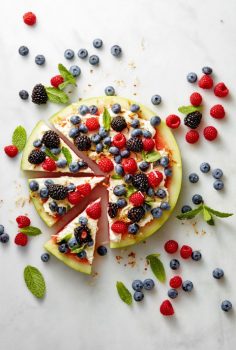 A Beautiful Mess saves the day with ANOTHER fantastic tutorial. This time, it's for watermelon jello shots! You can make these with alcohol, or without, depending on your crowd.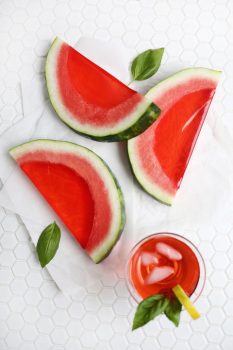 I have a not so secret love of feta cheese, and this recipe from Good Housekeeping seriously speaks to my soul! Combine watermelon cubes, basil, and a good chunk of feta cheese together for an appetizer that will blow everyone away!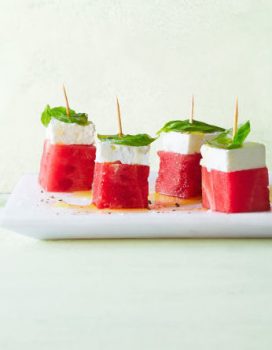 Salted Watermelon Margarita Popsicles are a surefire way to completely change the rest of your life. Or, at least the rest of your night! You can make the popsicles with alcohol too if you think the drinks might need a little something extra!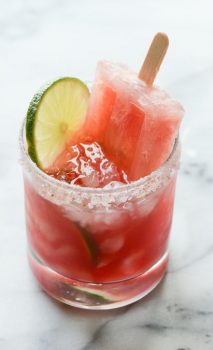 If alcoholic drinks aren't your thing, perhaps this watermelon infused water will still satisfy that quench for a drink! All Parenting has the recipe.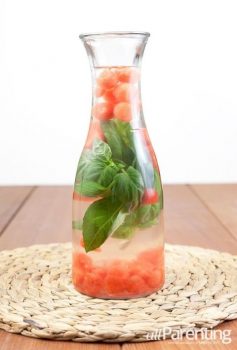 These could work for Taco Tuesday or Watermelon Wednesday, whichever you prefer! Grilled chicken tacos get a little bit of summer love with cilantro, watermelon, and a little bit of jalapeno! Learn how to make these for yourself at Good Housekeeping.