Headbands are darling accessories that improve any outfit. And they are certainly not just for little kids! Headbands can be the most amazing hair accessory for adults as well. And they are super easy to make! The take very little fabric or time. I've gathered together some of the very cutest headband ideas so that you can get crafting. I hope you find something you like!
I love this tie-dye headband from DIY Candy. It's perfect for summer and would look great with almost any casual outfit. You could either use a tie-dye t-shirt that you already have or tie-dye some new fabric. If you want to go all out–you could make a matching tie-dye shirt and headband!
Creme de la Craft posted instructions for making a lovely beaded headband out of a necklace. I can't believe I never thought of this!! It's so simple and so adorable. All you need is a cute necklace (a shorter length is best) and a strong hair band.
This adorable rosebud headband from Delia Creates is meant for children, but an adult version would be amazing as well. To make the rosebuds, you just roll up strips of felt and glue them together. Putting a cluster of rosebuds on a headband is a sure way to improve it.
The Daily Hiit posted this simple and classic wrap headband. I love how elegant these types of headbands look. Even when my hair is gross and greasy I can just throw one of these on and feel totally beautiful. All you need is little bit of stretch fabric and a needle and thread!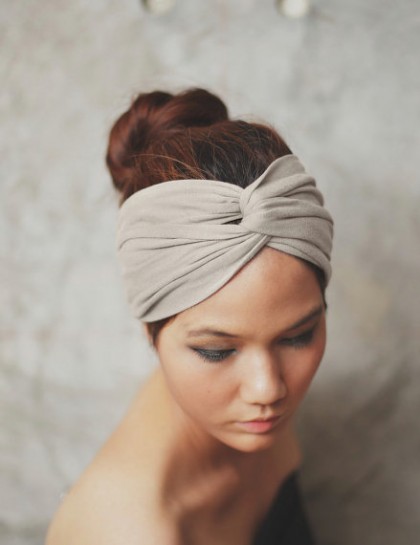 If you're looking for a glamorous headband–one you could wear to a fancy affair–look no further. This mirrored headband from Pretty Designs is exactly what you need. All you do is glue mirrors and others gems onto a thicker headband. You can try overlapping or just tiling it. How chic!
I love how headbands can turn an edgy outfit into something a bit more playful. This headband from Love Maegan does exactly that. To replicate it, all you have to do is attach gathered tulle to the top of a headband. Almost instantly you'll have a fantastic accessory to wear all the time.
Honey Bee Vintage posted this super cute and super comfy headband that is just to die for. I especially love the fabric of this headband–headbands are a great opportunity for adding color to an outfit. Since these headbands are so simple to make–consider making a bunch in lots of colorful fabrics.
Stretch headbands are so comfortable, and they are great for keeping bangs and wisps of hair away from your face. Domestic Ingenuity posted instructions for making this adorable braided headband using a simple technique. Definitely a must-try.
This headband from Brit + Co is so cute and super comfortable. It's just made out of a vibrant woven ribbon and a hair elastic. This is such a quick DIY project, but obviously the results are fantastic. You could make a million of these using all your favorite ribbons in no time.
This headband from Beauty Frizz is feminine and flirty–it would be so cute paired with a floral summer dress. Simply cut out small pieces from some fabric remnants, fold them, and glue them on to a headband. The more you glue on, the fluffier the headband!