We spend a whole lot of time in our backyard over the Summer months, and although summer is coming to a close, I know there are still tons of Saturday afternoons spent outside! My backyard always looks a little worse for the wear at the end of the summer season, and I'm always looking for a cheap upgrade! Check out these cheap (and last minute!) backyard DIY projects.
While it might be too late in the year to start an actual living fence, or vertical garden, keep one in mind for next year! Plan out your spaces, and plant seeds in the fall if necessary. Better Homes and Gardens has more.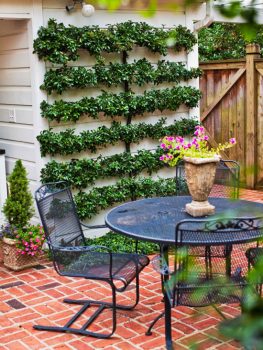 A quick and easy way to liven up any space is to drape overhead branches and pergola beams (if you've got one!) in colorful paper lights. They look like tiny little paper lanterns, and I am in love! A bright floral centerpiece gives the space a necessary contrasting color.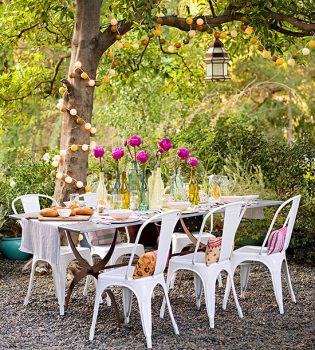 Plenty of seating is necessary in any kind of backyard space! Dress up your existing chairs with a few cans of brightly colored spray paint, and a DIY hammock. Here's one of my favorite articles on DIY hammock projects!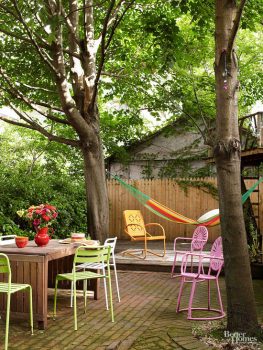 A project perfect for any time of the year! Turn an old dinner chair (either found at the thrift store, or in your storage unit!) and dissassemble it to fashion a swinging chair. It needs a splash of color, as well. Isn't the yellow perfect? Tutorial here.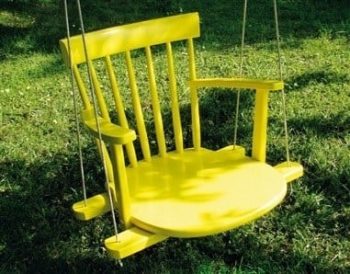 Now this is definitely a project for next year, but I love the lush color of this ground cover. In early June, expect to be greeted by yellow or white flowers. It's highly tolerant to foot traffic! Get more information on Creeping Sedum here.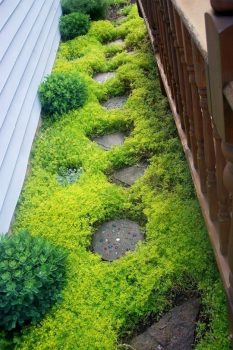 The autumn months are beautiful in my area of the country, and I always look forward to hosting the October book club meeting, outside. This year, I want to do something similar to this! Hang glass vases from the pillars of your fence and fill them with brightly colored flowers. This is a surefire way to create a backyard paradise! From The Farmers Nest.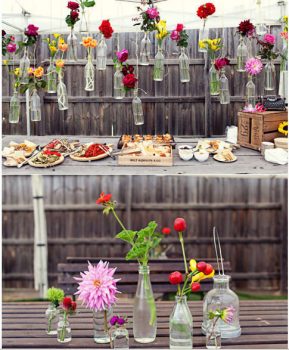 Back patio lacking some color, spray paint your concrete tiles with a weatherproof paint. I love the coloring here! From A Beautiful Mess.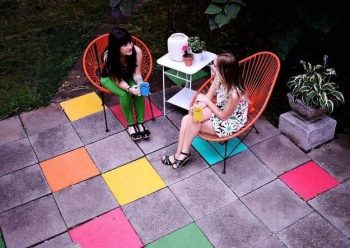 Every patio needs a cozy place to sit, regardless of the seasons! This comfortable couch was created using an old pallet frame, and home sewn cushions. You definitely can't forget a homemade throw!  See how they did it here!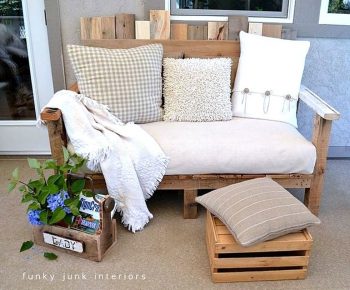 String lights create a cozy atmosphere, and a hammock is a great way to make your entire backyard look a little more inviting. Hang lights where ever there are dark spaces, you'll be amazed at how far a little light goes! Stephanie Lynn has more.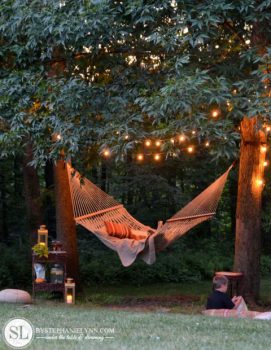 The kids always need a place to play! This hopscotch board can be made in only a few hours, and it's sure to add tons of bright colors to your yard. Get the tutorial at Happiness Is Homemade.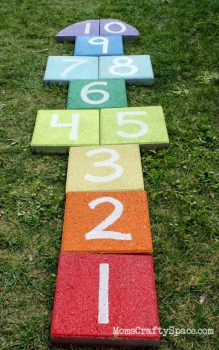 Another pallet project? You betcha! Funky Junk Interiors shows you how to breakdown an old pallet and transform it into something seriously amazing. Your feet will always be happy if they have something this luxurious to walk on!