I've been known to splurge a bit too much on craft supplies at my local Michael's store. Just the other day, I "ran in" to crab a few spools of thread, and ended up leaving with $50 in fall home decor. I'm sure you all can relate! If you're notorious for spending a little too much money at Michael's you seriously NEED to know these hacks!
#1 Always Pricematch
Did you know that you can bring in a competitors ad to your local Michael's and they'll price match whichever item you're interested in? They won't honor the pricematch without the ad, so always make sure you bring it with you!
#2 50% Off Sales Are Common
Itching for new holiday decor? Keep a look out for 50% off sales on seasonal home decor, craft kits, and picture frames. They almost always announce these in their weekly ads!
#3 Check out the Grab Bags
Michaels' often sells "grab bags" for $2-$4 dollars. They're filled with a potpourri of clearanced craft items. You never know what you're going to get, but that's the fun of it!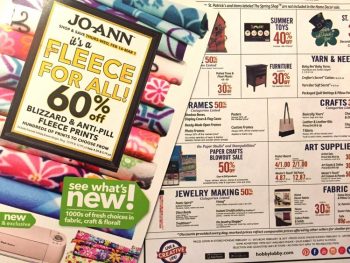 #4 Sign Up for Text Alerts
Say, what? Michael's has a text alert system? You bet they do! Text "JOIN" to 273-283 to receive 8 texts per month informing you of special offers, sales, and daily deals.
#5 Do You Qualify for a 15% Discount, Every Time? 
If you are a member of the military, a teacher, or a senior citizen, you can quality for a 10-15% discount every time you shop!
#6 Buy Seasonal Items AFTER The Holidays
I know how tempting it is to buy new holiday decor before the holiday itself, I just did it! But if you wait until the day after, you can get seasonal decor for a MASSIVE discount. Watch for 60-70% off sales two weeks prior to the holiday, and then an 80% sale after the holiday hits.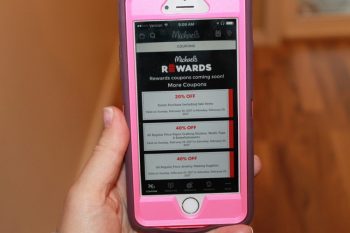 #7 Buy Christmas Trees For Cheap
Need a new tree? Head to Michael's the week before Thanksgiving to get 70 inch trees for less than $50.
#8 Never Buy Books or Craft Machines
Forget about buying the new Cricut at Michael's, you'll find it cheaper on Amazon.
#9 Sign Up for Free Classes
Learn how to make anything from bracelets to cookies! Kids and adult classes range anywhere from $0-$25. You'll learn everything imaginable!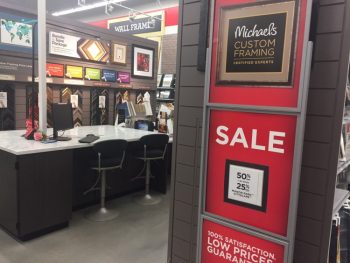 #10 Never Shop Online
Seriously. Never. Shipping always costs a fortune, and you can't price match items online. Always shop in store when you can, and have items shipped to a local store when shopping online.
#11 Shop on Sundays
Always shop on Sundays. It's the best day of the week for Michael's customers! Weekly sales always start on Sundays.
#12 Shop In January and February
These are the best months of the year to shop at Michael's. Expect 50% off of home decor, 50% off of calendars and planners, and 50% off all things home storage.