Although I'm not expecting to bring a child into the world any time soon; one of my dearest life-long friends has announced that she's expecting. Naturally, she asked me to help her and her husband plan a gender reveal party for them. Of course, I was all too excited to help her out! After hours of scouring Pinterest, we've decided that #7 is our favorite!
When I was pregnant with my first baby, I was almost TOO excited to show everyone my sonogram photos! Although babies tend to look a little "alien-like" from this angle, I love the idea of putting together a fun reveal shoot for Mama's social media profiles.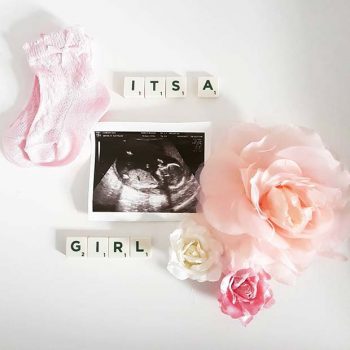 If you're planning to break the news over a slice of cake, give your baker the "secret envelope" and have them use food coloring to color the inside of the cake. Imagine your shock when you cut into a slice!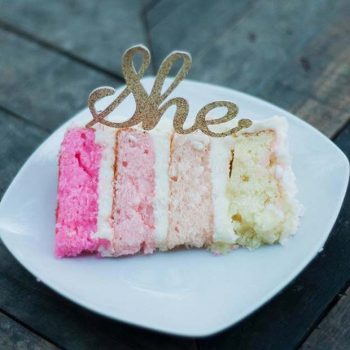 I'm a sucker for a great rhyme scheme, so I love this idea! Wrap up a gift for the parents to be, and when they open it, they'll find out if they're having a he or a she!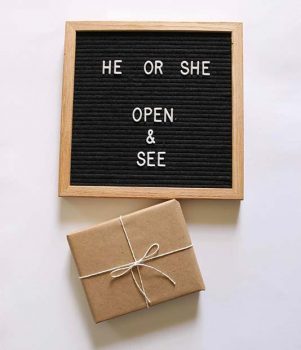 "Pop" a different kind of question with a special gender reveal balloon. Make sure the balloon itself is dark (it would ruin the surprise if you could see through it!) and fill with the corresponding color of confetti. The new parents will have a blast popping this one open! Forget about the potential mess…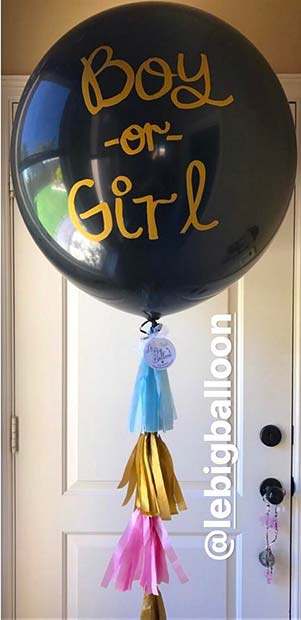 Now, I've seen tons of my friends do something similar to this when revealing their baby's gender, and I love the simplicity! Used colored paints on a white t-shirt to create something that you'll cherish forever.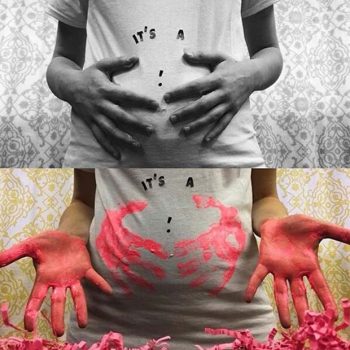 Surprise the guests with the news before they even get into the party! Tie colored balloons to each family members shoes, don't forget to add a balloon for the littlest family member!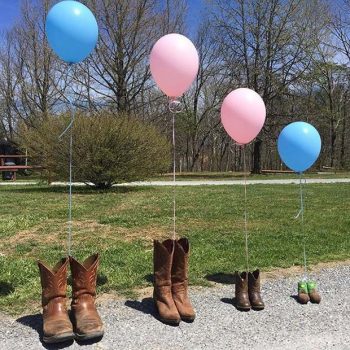 While I don't plan on doing this exactly for my friend's reveal party, I love the idea of incorporating her furry friends. Her dogs are her life, and I'd love to do something similar to bring her pal into her special day. The puppy needs to meet it's sibling!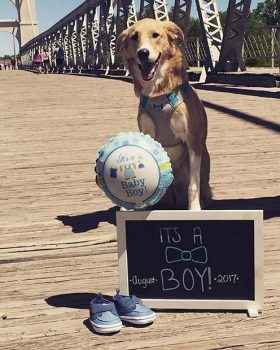 Now, this idea probably wouldn't be super great for a party, but it is great for a photo op! Use colored smoke in the "color" of your new baby's gender. And of course, post the best ones on your social media pages!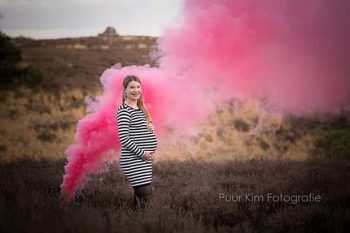 Refresh your guests with labeled beverages. Of course, it's only fun if you have your guests pick a side. It's always fun to see what everyone thinks you're carrying..DIY idea from Momtastic.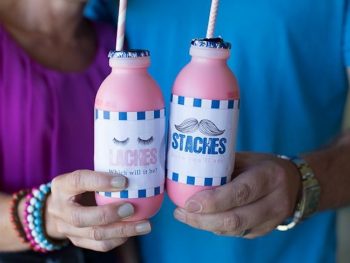 Play the field with this super fun announcement idea! They used a chalk bomb to score a home run with guests as this couple from Simply Kissed shared their big news. Custom baseball jerseys make things even more fun!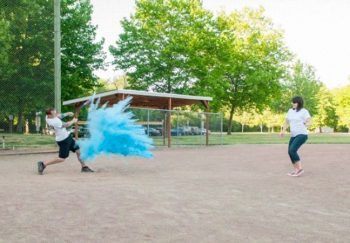 Every party needs treats (I mean, isn't this what attracts guests, anyway?). Satisfy your guests with pink or blue white-chocolate dipped Oreo cookies. Did the kind that were eaten the fastest correlate to the gender of your baby? Get the recipe from Sprinkles for Breakfast.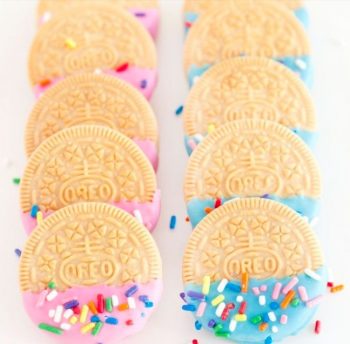 Speaking of snacks; satisfy your guests' sweet tooth with a pink or blue cotton candy bar.  Releve Design has more!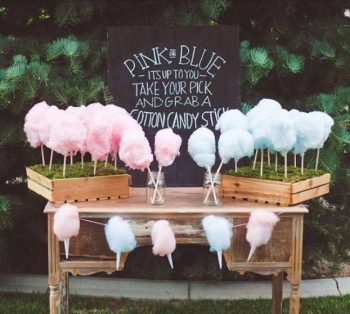 What a way to celebrate! A pinata filled with blue or pink cotton candy is sure to leave an impact when it's cracked open. Pink or blue? Pull the DIY string on this pinata to see! Learn how to attach one via Funny Beautiful.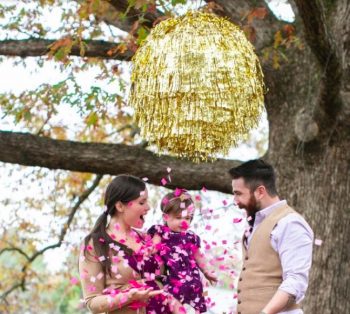 Naturally, your guests will want to be involved in all of the gender-reveal fun! Fill water guns with colored paint and have them decorate your clothing with the gender of your new baby. Invite a photographer to capture the fun shots! From Macon Photography.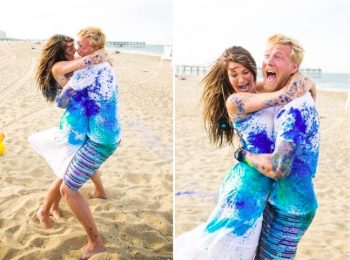 Buzzfeed has this adorable idea that will leave guests "oohing and ahhing." Fill a box with colored balloons, and watch them all float out upon opening. Mom and Dad will never forget this!