As it gets colder and darker, every house needs to be more welcoming and inviting. That's accomplished by an awesome set of porch decorations that light up your home while also accentuating the fall season. Here are just a few fall porch décor ideas to make your neighbors jealous!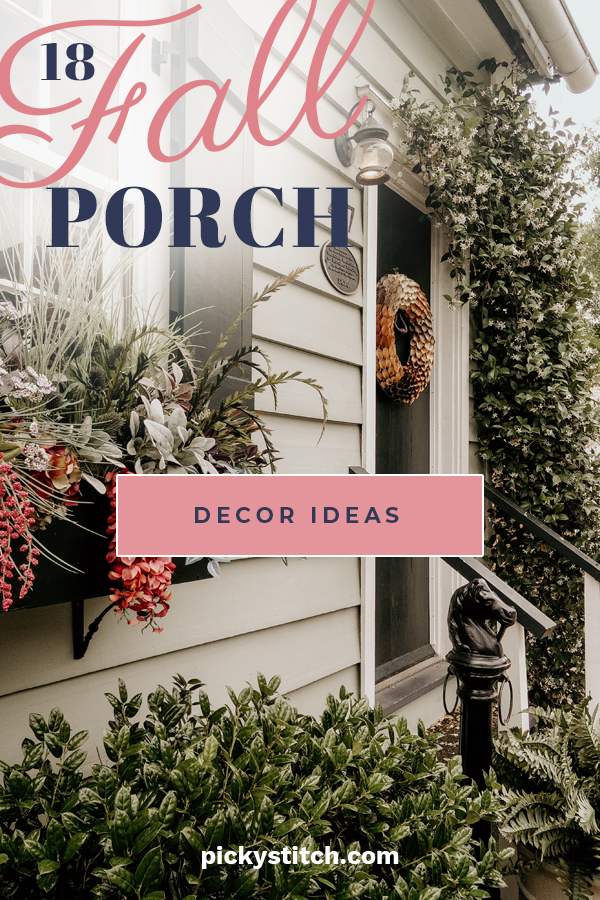 Plant Wreath
You can settle for a simple yet elegant wreath that embodies the spirit of the fall foliage. Add plants, flowers, and even small vegetables to make a fun and unique wreath.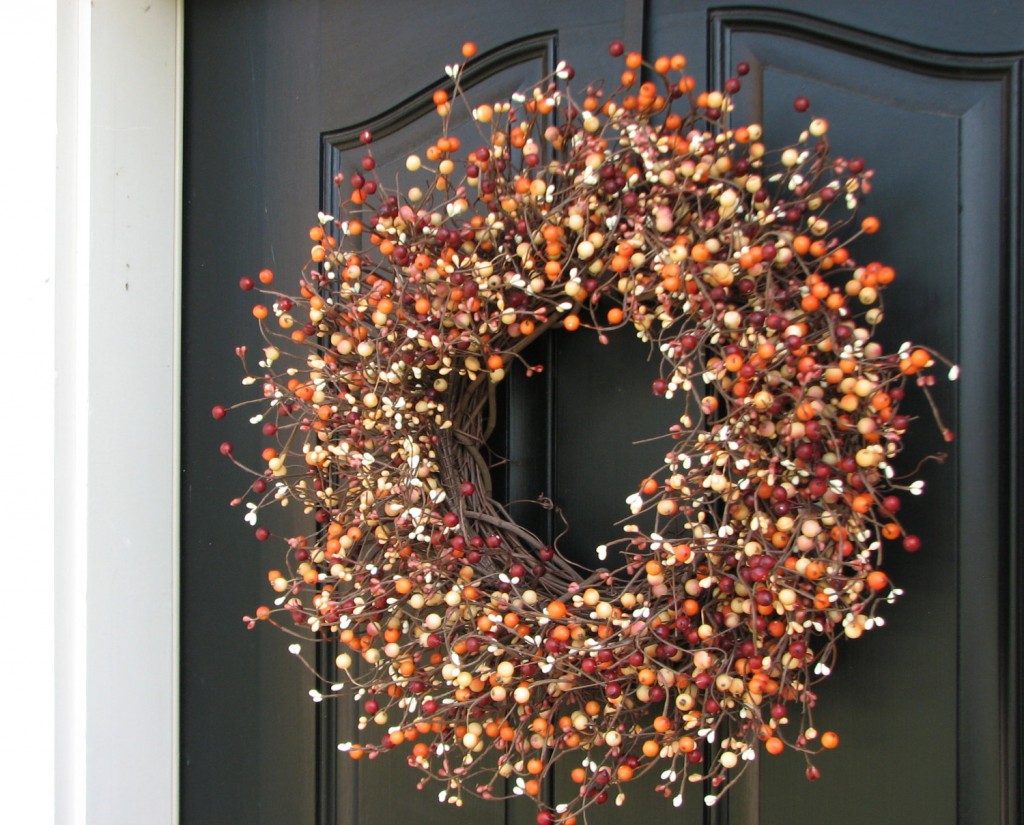 Steps
If you have a great looking set of steps leading up to your front door, then a simple decoration idea is something on each level. You can put a pumpkin, gourd, basket of leaves, or whatever else you want to invite your guests into your warm and lovely home.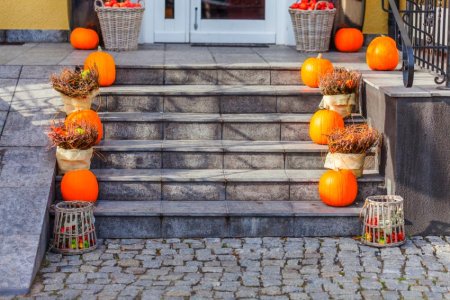 Tiers
Buy a tiered stand (or two) and set them up on the sides of your door. Then put plants, pumpkins, cornucopias, and other fall-related decorations to brighten up your porch.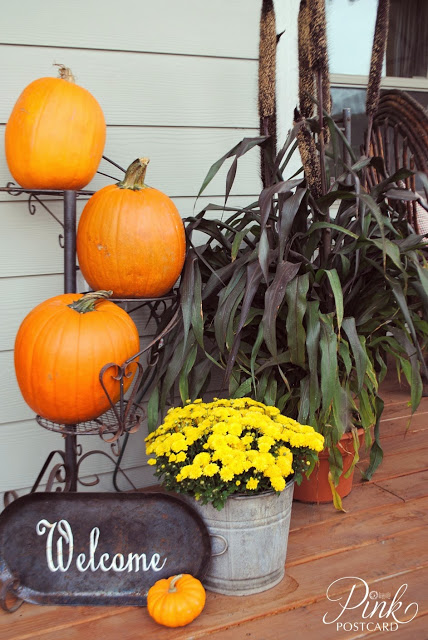 Stands
Pillars or stands are also great entryway decorations that are simple yet powerful and classy ways to spruce up your porch. Pumpkins are a great topping because their stark orange greatly contrasts with the other colors.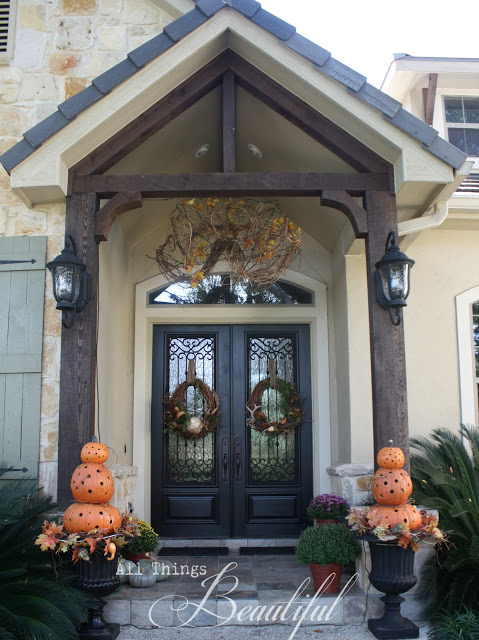 Stacked
If you're really crafty, you can arrange a few pumpkins one on top of another to get a fun looking stacked arrangement. This look brings the fall feeling into your home.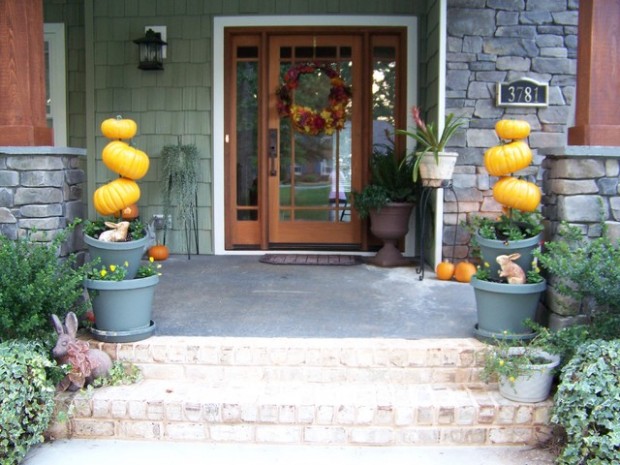 Cornhusks
Fall time means corn mazes and related decorations for your home and garden. Cornhusks are great as porch decorations because they're tall, sturdy, and pretty easy to set up. Combine them with pumpkins and a wreath and you're good to go.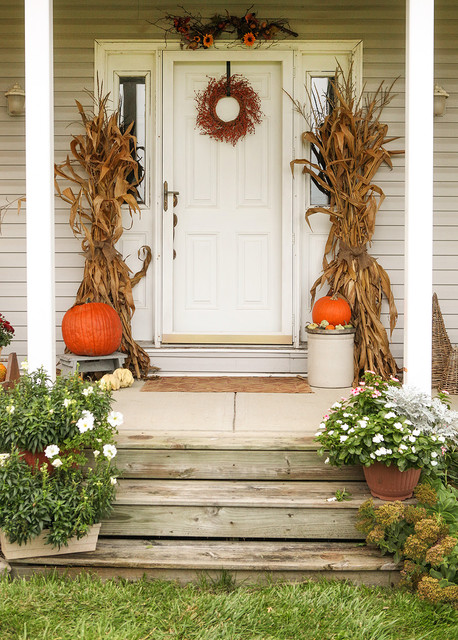 Plants and Flowers
Fall brings tons of unique and colorful foliage into existence. Take advantage of them by decorating your porch with all kinds of plants and flowers that look great with your home.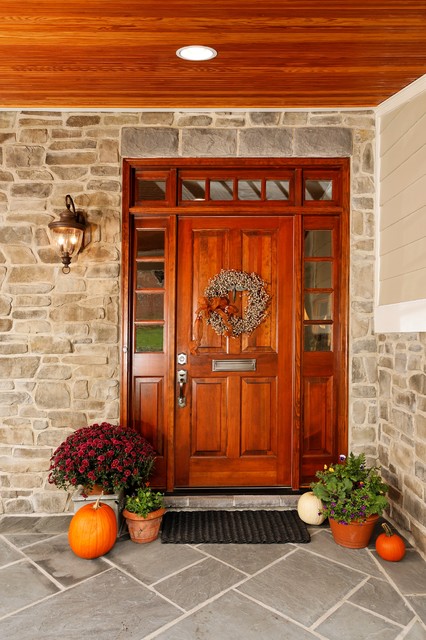 Hay Bales
You can't go through fall without something to do with hay, whether that's a hayride or just decorations. Buy a hay bale and add it to your porch as either a place to sit or resting spot for other decorations like pumpkins and gourds.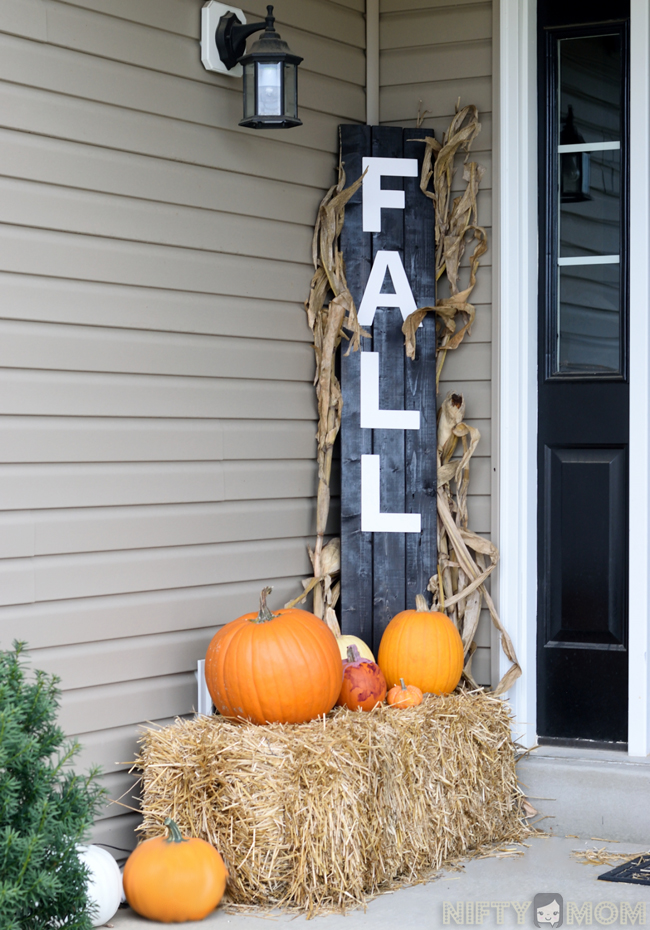 Chalkboard
This is a fun and clever idea! Simply stick a chalkboard on your front porch and then write all sorts of fall-related things on it! You can even draw pictures if you've got an artistic touch. Let the kids help for an added measure of family fun!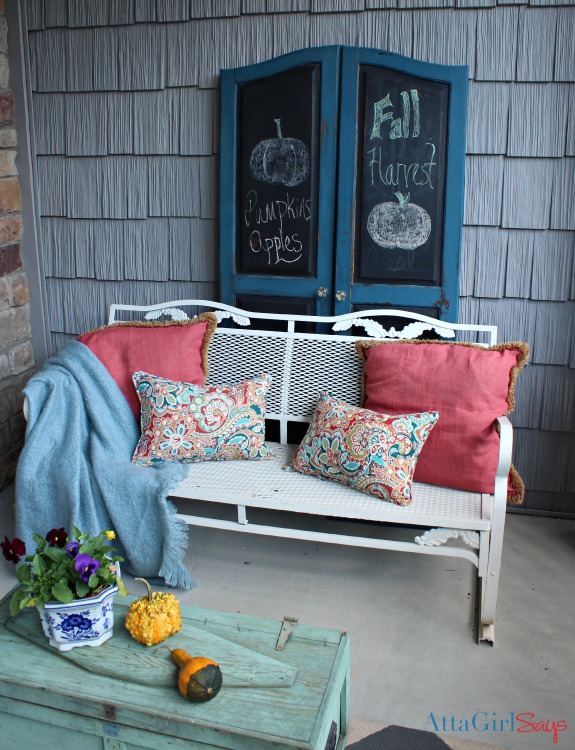 Cottage Setup
Fall is a time for feeling cozy and comfortable in your home, especially when the weather's bad. This decoration idea adds a touch of that little cottage feel with a little house, bike, and plants that tie it all together!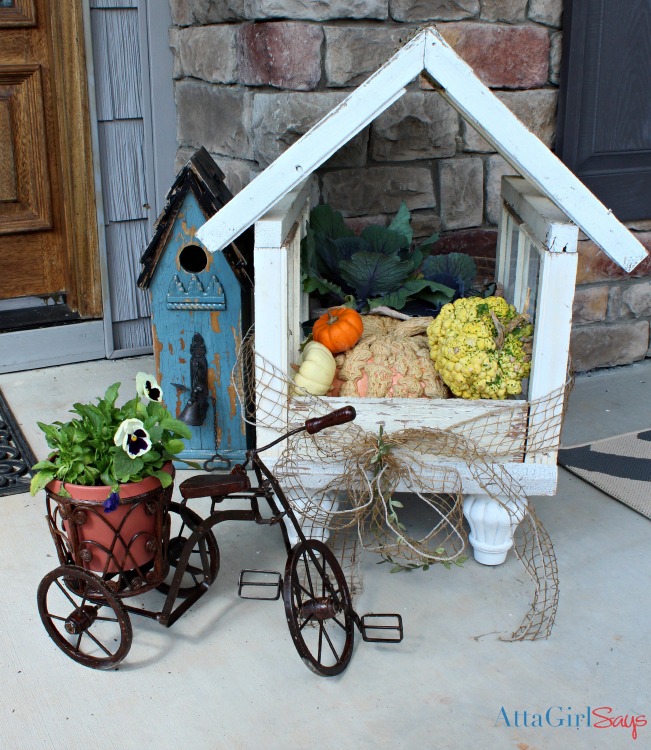 Modern
You don't have to stick to fall and Halloween colors for decorating your porch. Give it a nice modern touch with a gray, white, and beige color palette that's sure to attract all your neighbor's attention.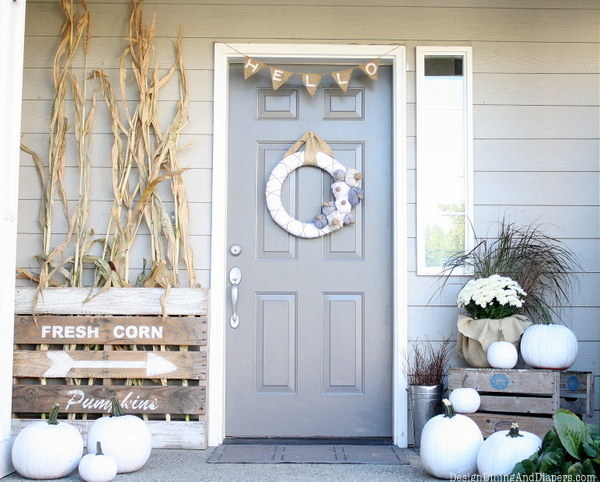 Doormat
Doormats are a necessity, especially during fall when snow and mud are so easily tracked inside. Instead of just buying a normal, boring doormat, get creative and decorate (or buy) a fall-looking one.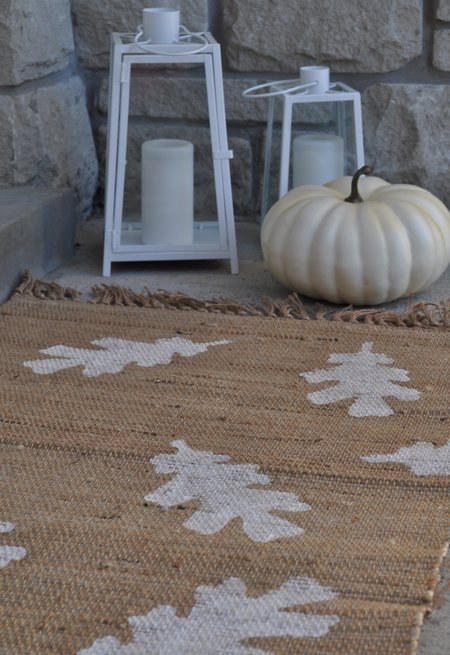 Lantern
Most people probably don't have antique lanterns sitting around, but if you do (or if you want to buy them), this idea is great and looks so classy on any porch. Simply fill the lantern with any fall foliage or plants and you're good to go!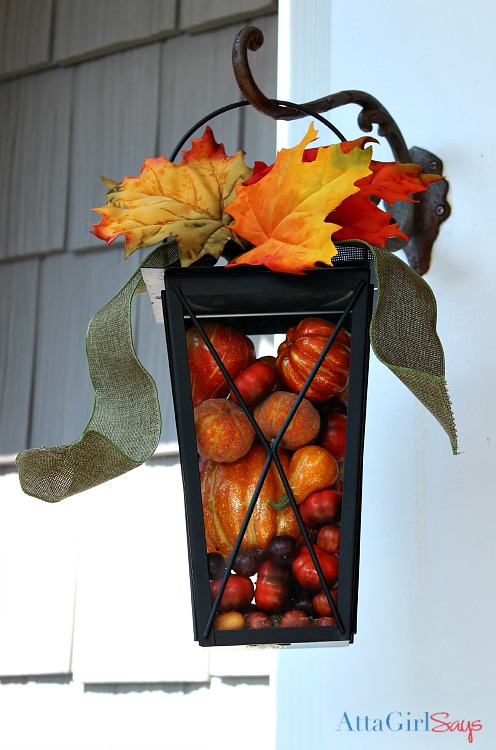 Pillows and Blankets
If your porch is big enough for a couch or a relaxing leisure area with chairs, then use the furniture as a playground for fall decorations. Add blankets and pillows (flannel works best) that accentuate the fall colors and look incredibly comfortable.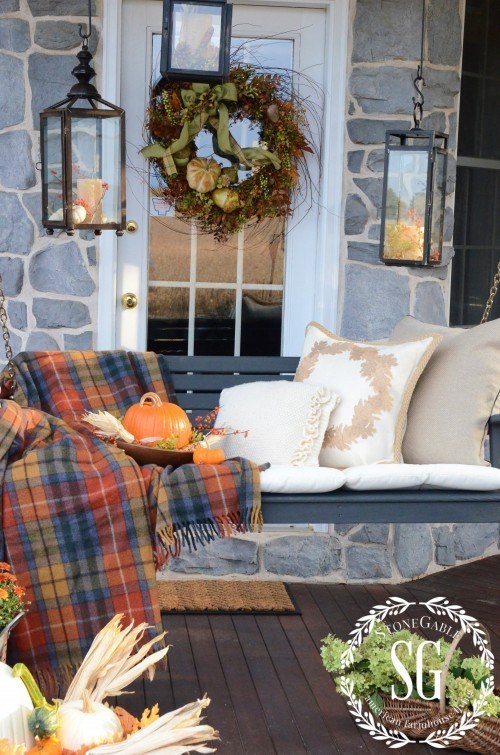 Painted Pumpkin
You don't just need to stick with normal orange pumpkins to decorate your porch. Get a little creative and paint the pumpkins any color you want. You can take this idea to the next level by even writing small phrases on them!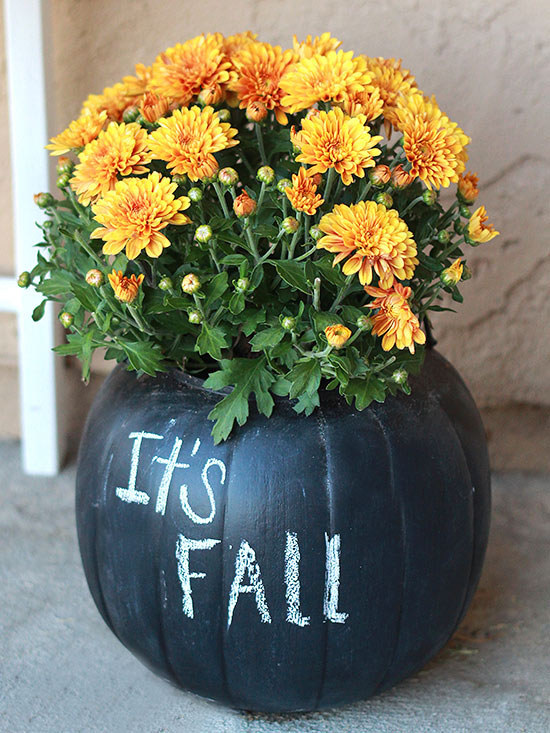 Burlap Wreath
The great thing about making your own burlap wreath is that it's going to be one-of-a-kind. It's also a great texture and color that really highlights the fall season. Add the first letter of your last name to make your home even more inviting!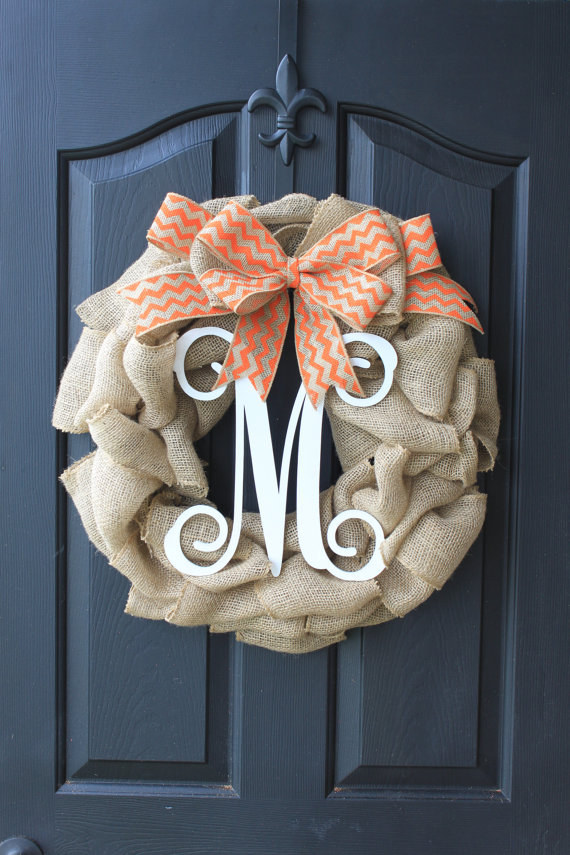 Topiaries
Homemade topiaries can sometimes be difficult to make, but they're definitely worth it. The stands are great (especially for fall) and pumpkins or gourds are easy and simple decoration ideas to go on top.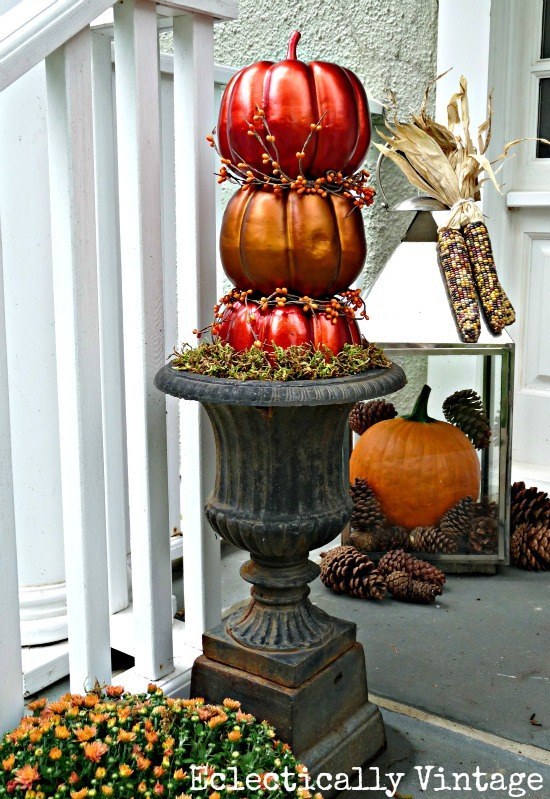 Garland
A fall garland really adds a splash of color to your porch while also going great with any other decorations you want to use. Choose (or make) a brightly colored one that really brings out the fall spirit.