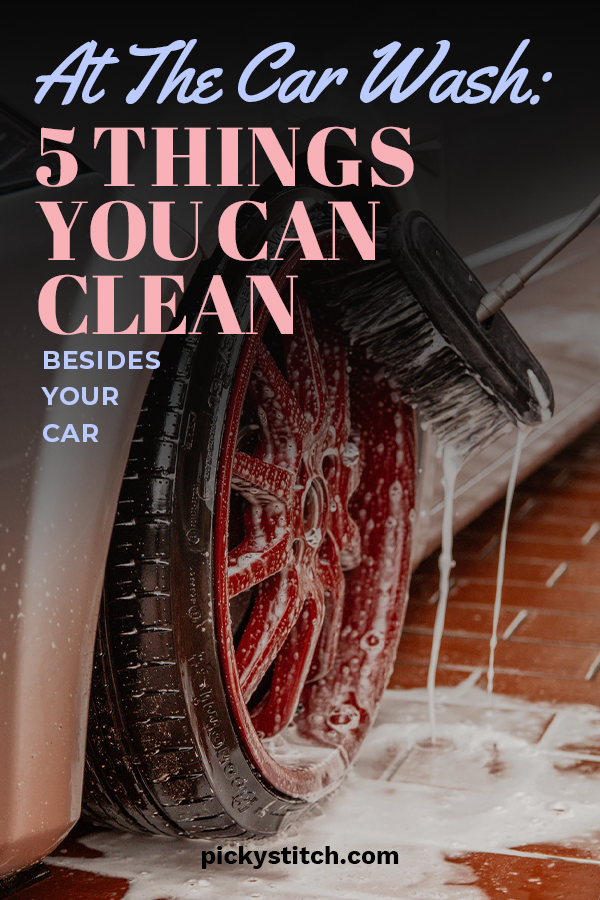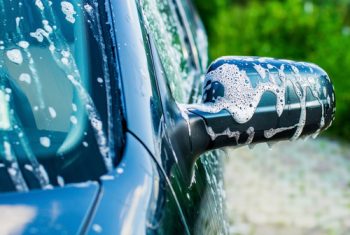 I've always been one of those people that have kept my car exceptionally clean. I love the way a nice clear car looks, it's enough to make anyone feel like they're driving a luxury vehicle! In fact, I have a monthly membership to my local car wash, I can wash my vehicle as many times as I would like for one flat fee! After many many trips to the car wash, I've learned a thing or two! Like, trips to the carwash aren't just for cleaning the outer body of your car. If you do it right, you can clean these five things in your car while waiting for the soap and water to do it's magic outside. Keep reading for my favorite car wash tips!
There are a few things you'll need to get before you can fully maximize your time at the car wash! I recommend creating a "kit" of sorts and stashing it in your trunk. Here's what you'll need:
-Glass cleaner and a roll of paper towels
-Clorox wipes (why are kids always so sticky?)
-A bristly tire cleaner (usually, gas stations have a big brush available!)
-Terry cloth towel (for spot drying, if desired)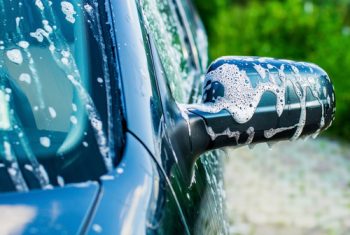 Your Tires
If you are going to the car wash and not scrubbing your tires, you're making a serious mistake! Mechanical car washes don't quite get where a brush does…Before you go through the wash, scrub your tires with a brush and soapy water. Most gas stations have a brush and water available for situations such as this. If the water is dirty, look for a hose or ask an attendant to refill it. Scrub away any mud, black asphalt, or anything else off the rims of your wheels. Just don't use it on the body of your vehicle. Don't worry about rinsing, you'll get to that later!
Pick Up Trash
If you're going through a drive-thru car wash, use the time to tidy up the interior of your car as well. Collect and throw away any garbage and stash any loose change clogging up your cup holders. Don't forget the backseat, or just ask one of your kids to give you a hand. Their little hands are so much more successful at getting any of that garbage wedged underneath the seats.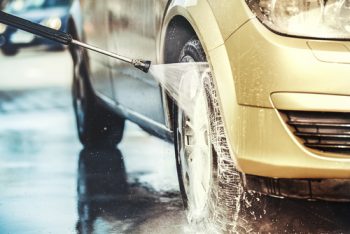 Wipe Out The Inside Of Your Windshield
You might not be able to finish all of these things in the length of a car wash, but that's okay! Simply pull into a parking spot outside and finish things up! Before you leave, make sure to wipe out the inside of your windshield with glass cleaner and paper towels. You might leave surprised at how much clearer your view is! Repeat on your other window interiors if desired.
Dust Off Your Dashboard
Break out the Clorox wipes and give your dashboard a nice wipedown, working to collect and remove any dust, grime, and dirt. Don't forget to give your cup holders a good wipe down, too. Mine are always a little bit sticky! Toss the wipes in the trash bag with the rest of your garbage. Throw this away outside the car wash or at home when you're done.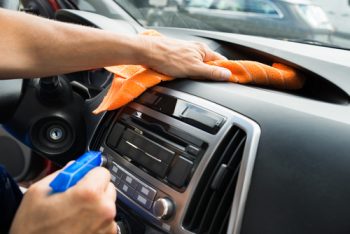 Clean Out Your Center Console and Glove Compartment
Before you can drive off into the sunset, open up your center console and glove compartment and give it a once-over. Remove any garbage or unneeded items. It feels so nice when all of that clutter is gone!