Finding budget bridal shower ideas can be really tough! Who knew it was so hard to throw a classy LOOKING event without actually sinking that much money into the festivities. I am planning a bridal shower for one of my closest friends, as she is finally tying the knot! Here are a few of my favorite bridal shower ideas:
If your budget will allow it, order your budget bridal shower invitations from Minted. You'll find cheap, finely made invitations that can be customized to fit any event. Send an eVite if printed invitations aren't in your budget!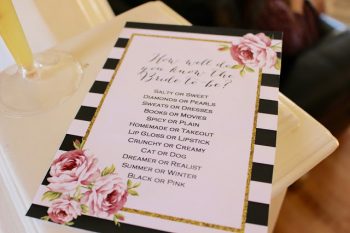 Use What You Have
When it comes to decorating for your budget bridal shower, use common household items to fill any empty space! Here, this blogger used table runners that she already had to give the room a little bit more pizzaz. Purchase your table cloth at Beau Coup or Michaels!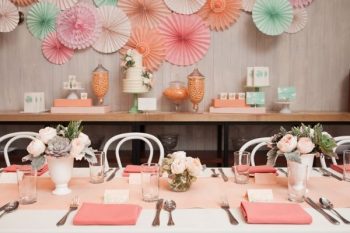 Forget Catering!
Make the food yourself! Pretzel bites are an easy recipe to follow, and with a variety of different dips, you can please any palette. If you are really crunched on time, make the event a pot luck–where each guest brings their own food!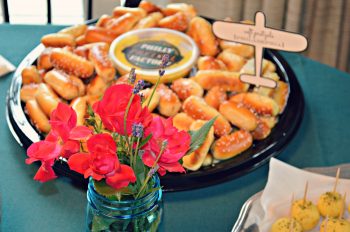 Make A Signature Cocktail
Because a bartender REALLY wasn't in the budget. Whip together a delicious cocktail that the bride-to-be would love! Of course, you could always make any drink non-alcoholic, but a guest has gotta drink! Use this link for a homemade sangria recipe. What's a bridal shower without a little sangria?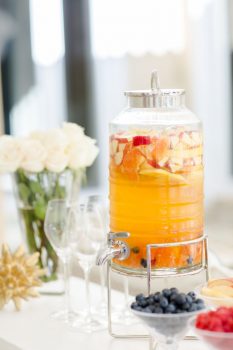 Decorate With Florals
Flowers seem expensive, but when bought right, they don't have to be! Fill vases with cut flowers from Trader Joe's. There are several sales throughout the year, and it never hurts to ask when your store's is! I've bought my cut flowers from Trader Joe's for years and I am always ASTOUNDED at the variety of flowers they have available! I would never go anywhere else!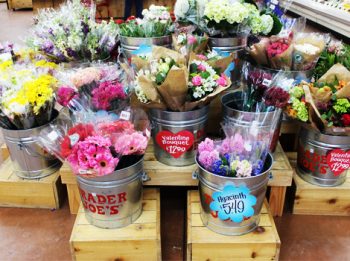 Get Creative With the Decor
Make a little go a long way by hanging it from the ceiling. These pom poms and vertical garlands fit perfectly when hung above this treat table. With a backdrop like this, you don't need any other kind of decorations!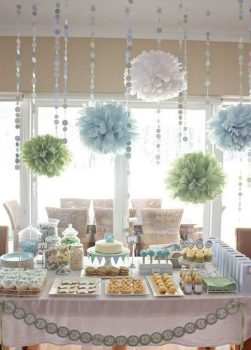 Dress ANYTHING Up
Really. Anything. Gold spray paint goes a long way in making things look more expensive and chic. Spray paint mason jars for vases, or a centerpiece reused from another event! Gold spray paint makes anything look a little better. Use my guide to spray paint anything!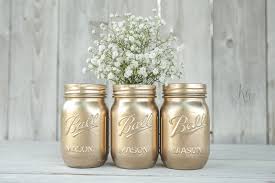 Ditch the Bakery!
Instead of spending hundreds on a store-made cake, try making your own! If you think that making a whole cake is a little intimidating (and who wouldn't) try making cupcakes instead. If you are looking for a delicious recipe, try this one from Everyday Dishes. They only take 90 minutes to make! Make sure you let them chill in the refrigerator for enough time prior to icing.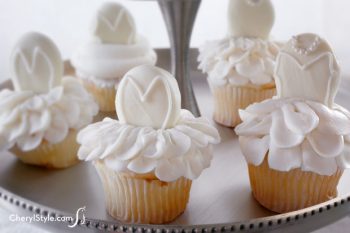 I found my budget bridal shower ideas from these websites and blogs:
Tablecloth from Beau Coup or Michaels
Pretzel Recipe from Seseo
Homemade Sangria Drink from Pinterest
Flowers from Trader Joe's
Hanging Party Decor from Vesania
Bridal Shower Cupcakes from Everyday Dishes