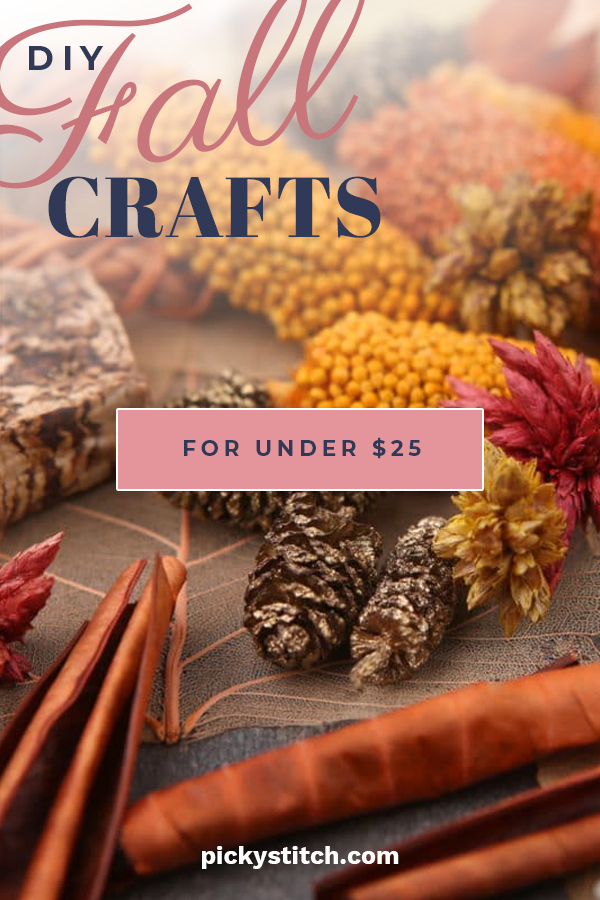 Fall is just around the corner and I've already caught myself looking slightly ahead to Halloween. I know, I know! I'm trying to live in the moment, but there's just something so magical about the fall months. Celebrate the change of season in the right way with fun DIY fall crafts that are under $25. These cheap crafts will provide hours of fun and entertainment! Check out a few of my favorites below.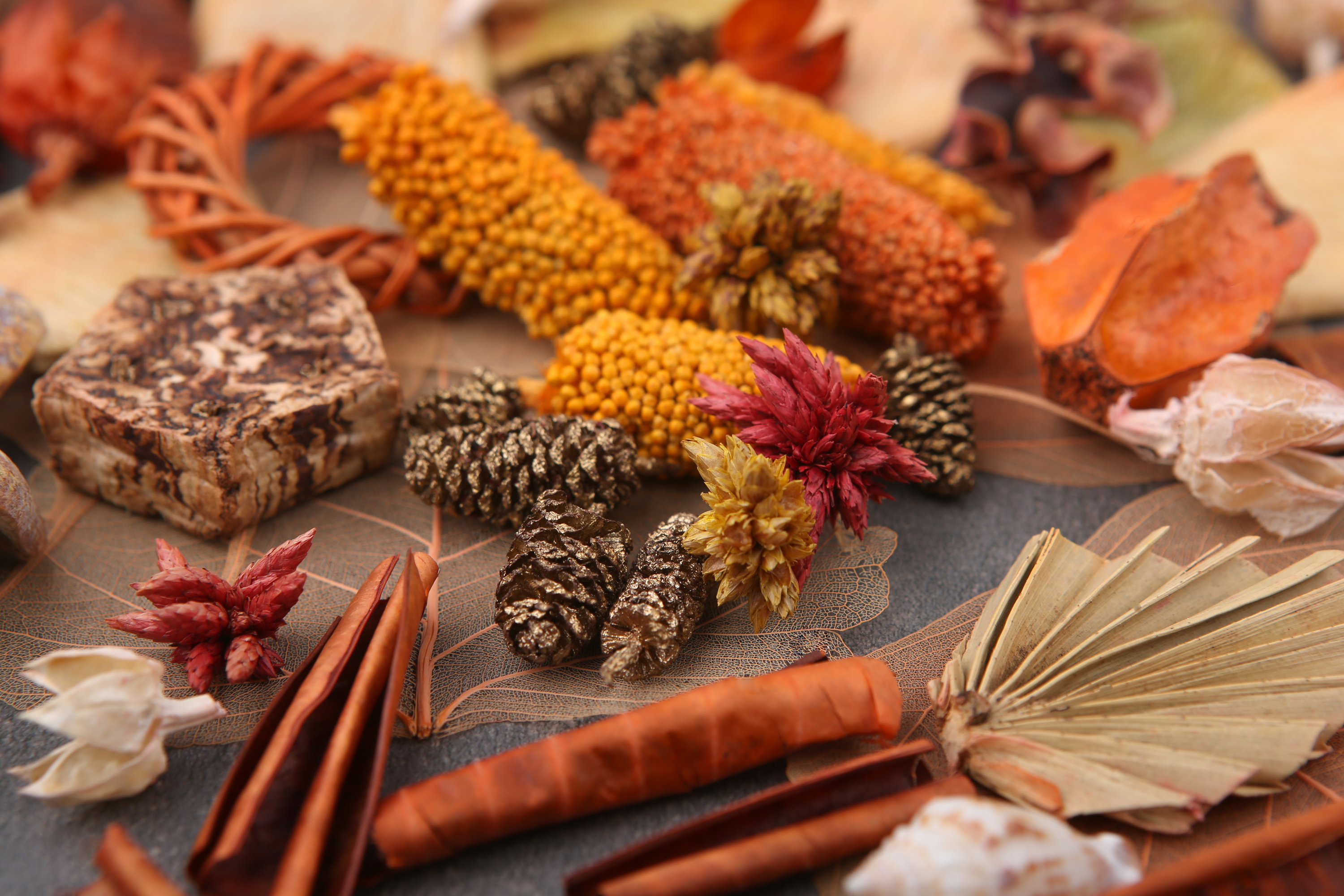 DIY Fall Crafts For Under $25
Pine Cone Garland
This is one of my favorite DIY fall crafts on the list, simply because you can create it using items you found outside! To put this together, you'll need rope or
twine
(I used twine),
hot glue
,
wooden beads
, and
pinecones
. First, string the wooden beads on your garland, tying a knot on either end to keep the beads in place. Next, use a dollop of hot glue to secure your pinecones in place, spaced evenly between the wooden beads. Wait for it to dry and then hang it wherever you like.
Sparkly Acorn Art
This craft project rings in at just over $26, but you can definitely save money if you already have some of the items sitting around the house. To make this, you'll need craft glue, acorns, glitter, glitter glue, an old picture frame, and a paintbrush.  Begin by evenly applying glitter glue to the base of the acorn. Once applied, roll the acorn in a bit of glitter, covering the surface evenly. Wait until dry, and then glue these acorns to the backs of a picture frame, creating a unique piece of fall art.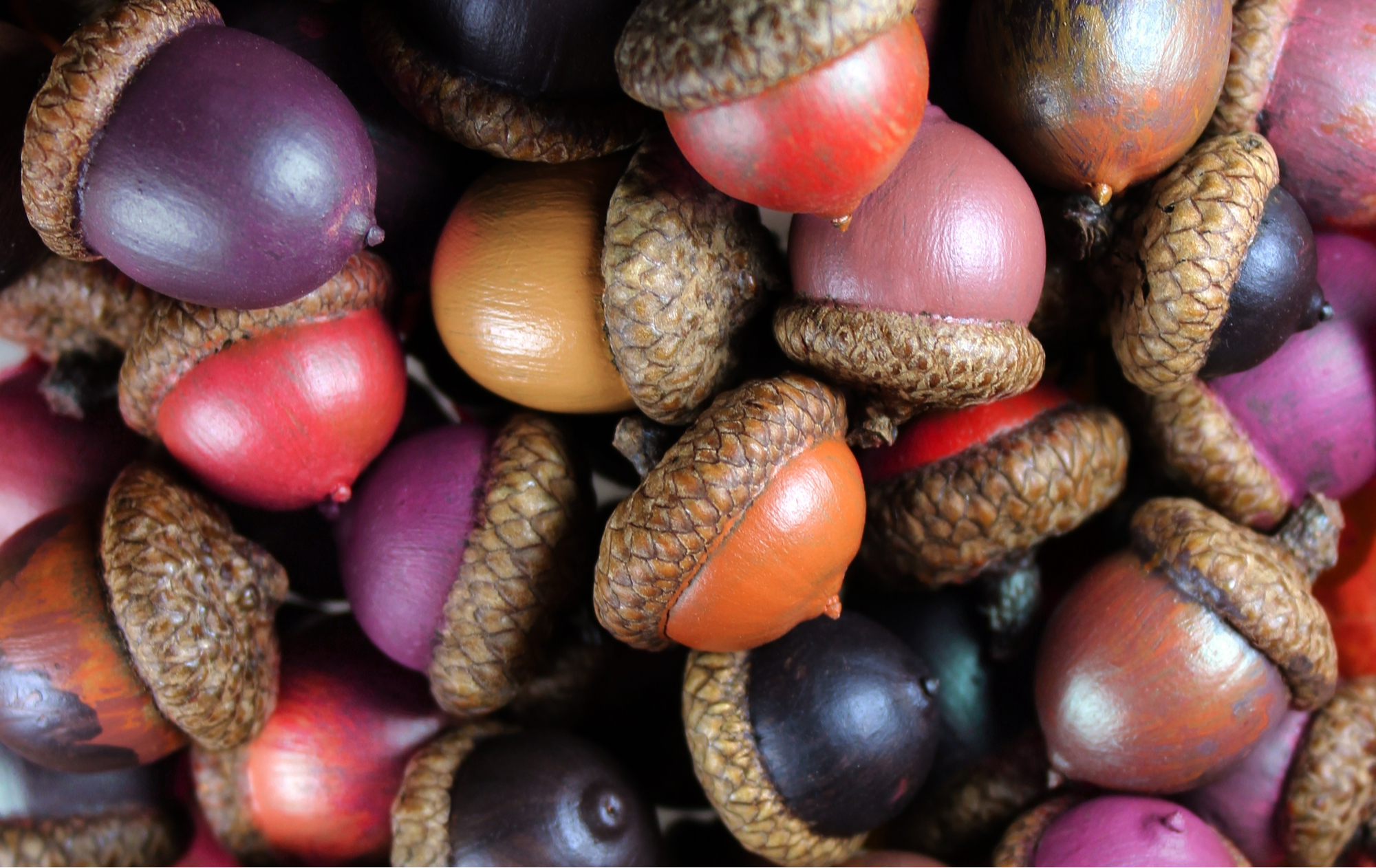 Embroidery Hoop Fall Wreath
The most expensive part of this DIY fall craft is purchasing an embroidery hoop large enough for a wreath. These usually come in at around $11. Once you have a hoop large enough for the project, you can complete the look by adding some fake floral accents like pumpkins and other fall items.
Splatter Paint Pumpkins 
This fall DIY under $25 is a great project for the family! And because you aren't carving the pumpkins (just painting them!) you can tackle this project a lot earlier in the season so you can enjoy them for longer. To create, simply cover a small pumpkin in your favorite seasonal, neutral tone. Once dry, have your kids create splatters with a different shade of paint.
Decorative Candle Vases
Fill mason jars with the fall vase filler of your choice, surrounding small candles with whatever you choose. This is probably the easiest (and cheapest!) DIY on the list, especially if you already have the mason jars from a previous project. You could even attach some autumn foliage to the outside of your jars as I did below!