I mean…I'm not saying I have an ample supply of old silverware, but I'm not denying it either. I have no idea how I have accumulated so much, but I just can't bring myself to get rid of any of it! If you can't bring yourself to get rid of it, try one of these silverware crafts instead! Here are a few easy crafts to make with old silverware!
With a whole lot of heat, and some silverware-bending skill, you can have these curled spoon hooks! They look great on the wall in a craft room, and I think they're a great way to display and organize your twine or embroidery thread collections.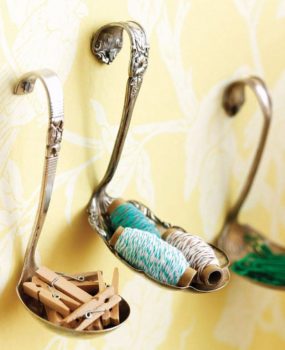 If you have a lot of extra silverware lying around, use all of it as a DIY wall hanging! Hot glue silverware to the back of a Dollar Store mirror. Use spray paint to get everything the same shade!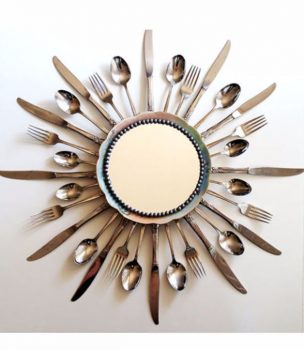 Use a sledge hammer to pound out your spoons so they lay flat. Make sure to keep the handle of the spoon untouched. Once complete, use them as a rustic set of cabinet handles. Write what can be found in each cabinet!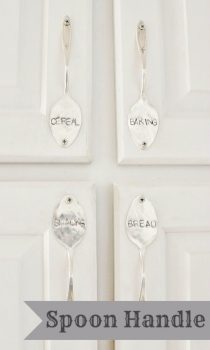 Use old cutlery to make your own flower sculptures for your garden. You'll need a washer and Marine-level adhesive, but other than that, this is a pretty simple DIY project!  Stick them into the soil of your garden for an adorable decoration all Summer long.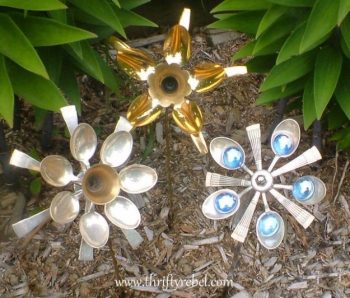 In another gorgeous piece of wall art, dip the ends of your cutlery into your desired paint colors. Once fully dry, arrange your colored cutlery onto a small wall in your kitchen. It's a great way to liven up a kitchen with some color, and it's a great way to reuse all of your own silverware!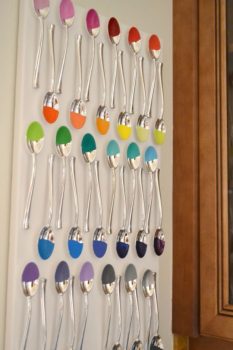 If any area of your home needs a little bit more of a rustic touch, try your hand at making this rustic lamp! As soon as your frame is ready, wrap the silverware pieces around it with some thing wiring. You can attach them on both ends, or just leave them hanging! It's completely up to you! This is the perfect craft to make and sell!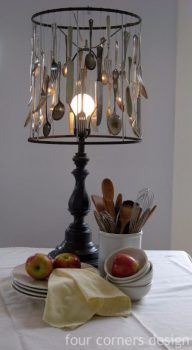 Never lose your keys again! DIYers will need a square of unfinished wood (finished, and painted in your desired color, of course), Gorilla Glue to attach them with, and three bent pieces of cutlery. Easy peasy, right?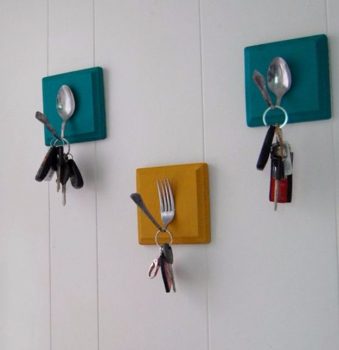 Here's where I found these DIY crafts! Use these links for more!
Spoon Hooks from DIY for Life
Starburst Mirrors from Flamingo Toes 
Spoon Handles from Thistle Wood Farms
Garden Cutlery from Thrifty Rebel Vintage
Colored Cutlery from Papery & Cake
Silverware Lamp from Four Corners Design 
Kitchen Utensil Key Rings from Design Sponge