Throwing a first birthday party is exciting! Both for kids AND for the parents involved! If you've got a first birthday coming up, check out these fantastic first birthday party themes for boys! Of course, with a few minor tweaks, these party ideas can work for girls, as well!
Don't faint…even though you'll definitely want to. Everything at this DIY birthday party was homemade. Seriously. Everything! Even if your DIY skills aren't quite up-to-par, you can't go wrong with a woodland theme like this one!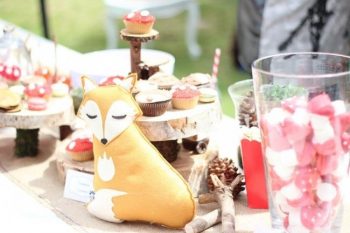 Go "into the woods" with another woodland themed birthday party for boys (or girls). With lush greens, and a ton of different candies, you can throw the best outdoor birthday party. Make sure you address the bug situation, if you have one! Citronella candles are a great way to keep guests comfortable.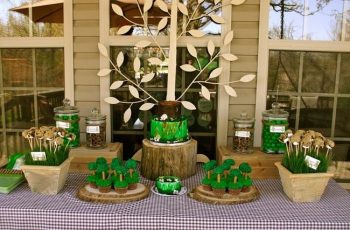 Oh So Chic Celebrations is the brains behind this baby elephant birthday party theme. Red and blue accents make the theme a little bit more exciting. Although, instead of a chevron patterned background, I think I would just go with red or grey stripes!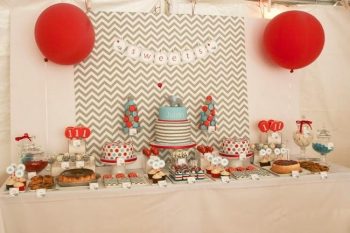 Keep things classic with a simple blue theme, and more baby elephants! With a few light blue decorations, you can turn any space into a perfect party atmosphere. Take the theme even further and design your own elephant cookies like this party designer did!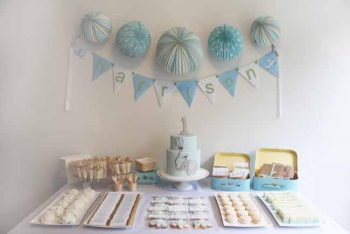 Even though the birthday guy (or girl) probably won't get to eat all of these cookies, at least all of his guests will! For a fast dessert for guests, order (or make) your own cookies for a cookie bar. Make sure you have plenty of milk as well, because dry mouths caused by cookies are the worst!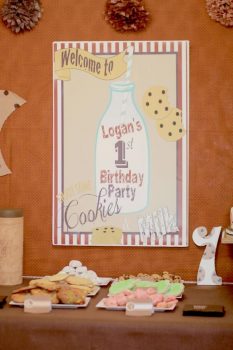 What little boy wouldn't want a teddy bear themed birthday party? With a themed cake, and several of their favorite "bear" items, this will be an adorable party that everyone is sure to remember! Consider reading Brown Bear Brown Bear to your party atendees!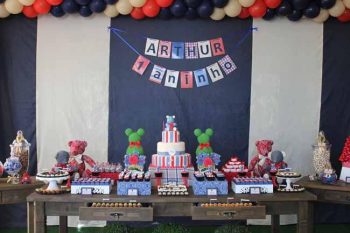 If you like to DIY, you'll find that this vintage circus themed party is right up your alley! This blogger made a majority of the party decorations by herself, including the gorgeous "Big Top" cake. Use these hacks from My List of Lists when planning your party! You'll be glad that you did!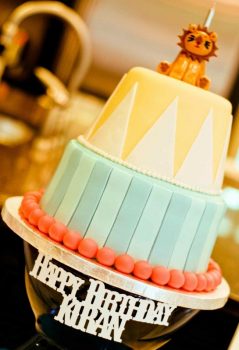 If you've got a boy that loves the beach, or just being out on the water, throw him a nautically themed birthday! The highlight of this birthday party is the adorable treat table! Use craft paper from Michael's to make an adorable garland like this for yourself!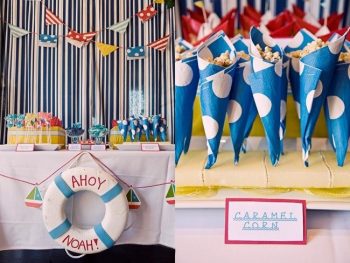 Peter Rabbit was a favorite book of mine when I was growing up. When I had kids, I looked forward to reading them my favorite children's book. Because it was my favorite book, I may be a little partial to this party idea! Theme a party around a favorite children's book. And although baby might be a little young to have a favorite, I'm sure the parents have one or two!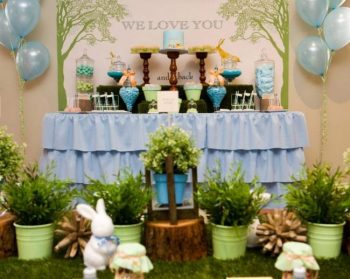 Want to know where I got my first birthday themes for boys? Check out the resources that I used!
Woodland Party from Space Ships and Laser Beams
Dark Green Woodland Theme from Katie Grace Design
Baby Elephant Party from Oh So Chic Celebrations
Light Blue Baby Elephants from Style Me Gorgeous
Milk and Cookie from Capes and Crowns
Teddy Bear Party from Space Ships and Laser Beams
Vintage Circus from Hello Lucky
Nautical Themed Birthday Party from Space Ships and Laser Beams