A "closet office" may seem like a made up concept to many, but if you are short on space, and in need of a place to get stuff done, a closet office may be the solution for you. What exactly is a closet office? It's a spare closet that's turned into an office space with a little bit of DIY ingenuity. Here's how you can do it yourself!
I love me some Tiffany blue! Gorgeous wallpaper, a bright color scheme, and a hanging desk organizer make this closet office energetic. Idea from Remodelholic. Check out that lamp, too!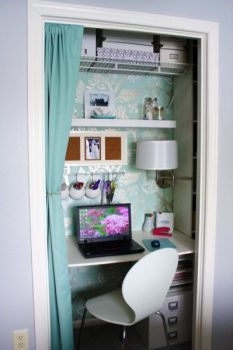 Paint the inside of your "cloffice" in black chalkboard paint. Hang floating shelves to give your space some personality. With this office, your walls are your memo pad! From No 29 Design.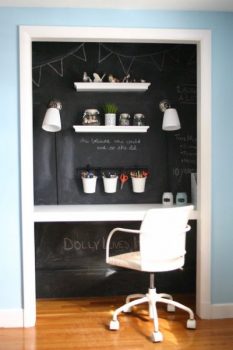 This idea appears courtesy of Apartment Therapy, and I think it's my favorite so far! Wooden baskets, bright paint, and a chair cushion with a little pizzaz give this space an infusion of light. I could definitely get creative in this work space! That light is to die for!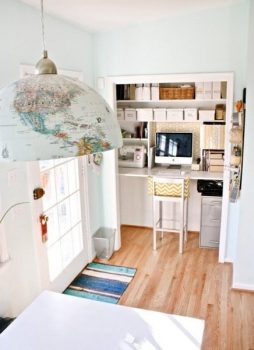 If you have a big closet to work with, utilize all the space you have! Organize files, and important items with a uniform binder or magazine holder. Wallpaper behind your computer gives the space a little bit of personality, and a bold chandelier brings everything together. From Mood Maybe.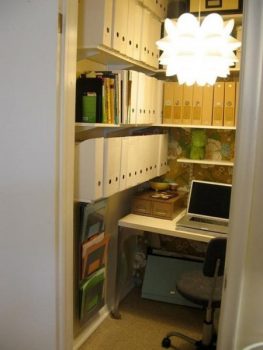 If you didn't think the idea on the first slide was blue enough, this idea might do the trick! The floral wallpaper is stunning! From Decoist.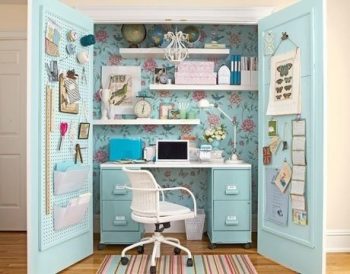 Closet doors cramping your style? Get rid of them and replace them with flowy curtains! Hang memos on a small corkboard behind your computer!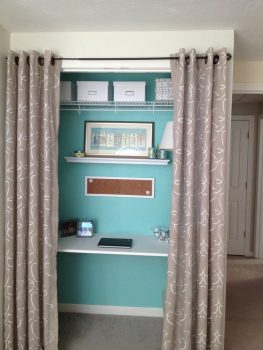 I've always dreamed of having an "In" and "Out" basket. My mother was a teacher, so maybe she rubbed off on me when growing up? Idea from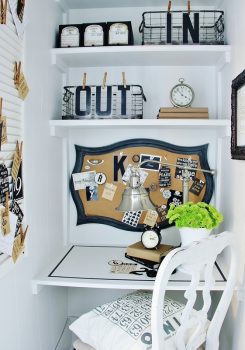 "Utterly Chic" are the two words that come to mind when describing this cloffice space! The combination of patterns, textures (hello, fur chair cover!), and paint colors come together to compliment each other beautifully here. This idea appears courtesy of Pinterest.