Pool parties are the best parties! I spent a copious amount of time years ago trying to convince my husband to help me invest in an outdoor below-ground pool. And guess what? He totally went for it! Ever since our pool was installed, throwing a few pool parties throughout the summertime has always been a fun activity for me and my family members. I've thrown so many that I consider myself an expert on throwing a great party for adults and kids! Keep reading for my tips and tricks!
Create a bright snack display that will appeal to both the adults and the kids in the crowd. Dyed white chocolate popcorn is the highlight of this snack bar, but I have to admit that everything looks absolutely wonderful! This setup is from Kara's Party Ideas.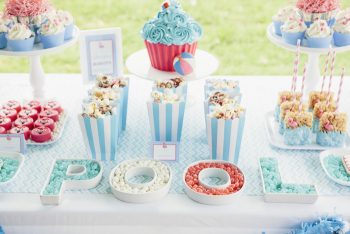 Don't make your guests get out of the pool for a refill! Even if it's 90 degrees outside, that initial exposure is definitely a vibe killer! Secure a few cut pool noodles to the outside of a cooler so it floats. Fill the cooler with beer, sodas, and water. Make sure the kiddos know which beverages are of the adult variety!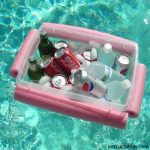 Make it easy for kids (and slightly drunk adults?) to determine which beverages are alcohol free. Fill kiddie pools with ice and a chalkboard sign completes the look!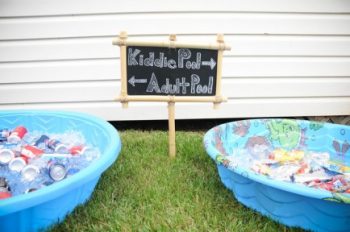 I don't know about you, but I don't think that a pool party is complete without a few fun and funky pool floats! Pool floats keep your guests looking tan while giving them a break from the harsh effects of the water. Find other cute pool floats here.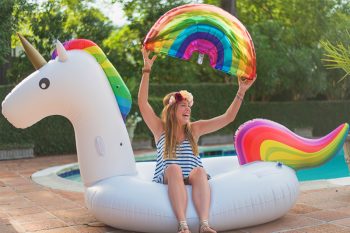 Pool side sliders make a yummy snack that both adults and kids can agree on. From The Polka Dot Chair. Take note of how she created this adorable flamingo toothpicks, too!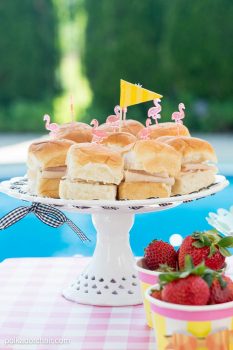 Planning on partying into the night? Your guests need to be able to see where they are walking! Toss some glow sticks into the pool to lighten things up. Depending on the kind purchased, you could have your guests wear them, too! What fun! Idea from Active Dark.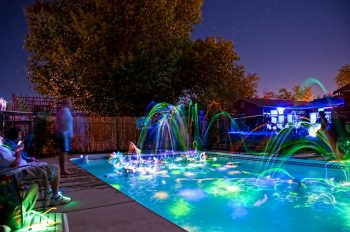 Filling ice cream cones with slices of fresh fruit make for a perfect pool side snack. Adults will be glad for the healthier snack option, and parents will be glad they're available for kids, too! Ice cream cones are perfect for Summer, am I right?