I can HARDLY believe that the Thanksgiving celebrations are only a few weeks away! The focus of my Thanksgiving holiday is always my tablescape (well, besides the food..) and I'm looking forward to making folded napkins the next party hack I conquer. These are ten of my favorite ways to fold napkins!
Ways To Fold Napkins
Make plain napkins dazzle with a sparkly napkin ring from Better Homes and Gardens. Not technically a "folding technique" but I'll take it!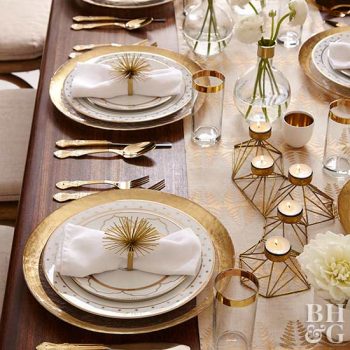 "Crinkle" up your napkins to create a fan shape. Tie these off with a themed piece of ribbon, and a sweet message. Or, as an alternative, you could swap out the heart pendant for a place card instead.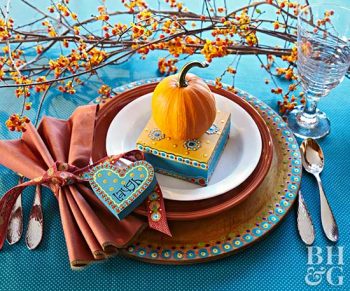 Here, it's less about the fold of the napkin, but more about what's tucked inside it! Fold your napkins in fourths and place an ear of indian corn inside. Twine, or a braided napkin ring look fantastic to tie things off.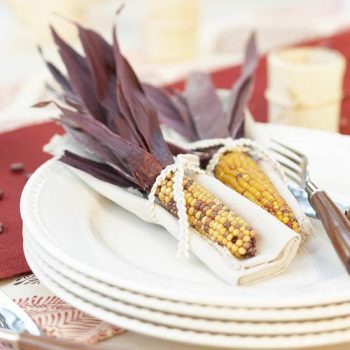 Ways To Fold Napkins For Kids
The best part of these is that your kids can help make them! Provide them with pipe cleaners of all different colors, and show them how to form ovals. Use your craft skill to turn those ovals into a napkin ring. To fold your napkin like this, simply "layer" the fabric on top of one another. Learn how to do so at A Crafty Spoonful.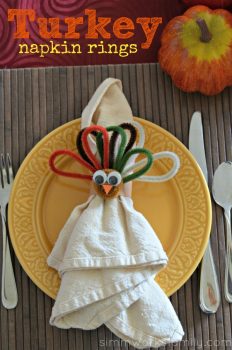 Ways To Fold Napkins With An Outdoor/Rustic Flair
Put your napkin folding skills to good use and give this Turkey his feathers! You won't need to attach the pinecone to the fabric, just create the illusion that you did! You can learn how to fold tail feathers like these at Sugar & Roses.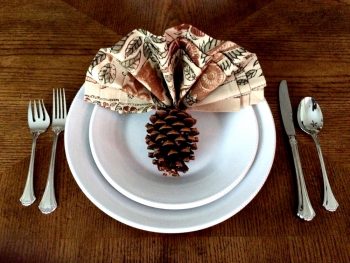 Nothing fits the Thanksgiving theme quite like something you can find on a tree outside! Learn how to fold napkins like a leaf at Mod Wedding. If you're daring enough, you can use a real leaf as an accent to your napkins. If not, purchase fake leaves at Michaels.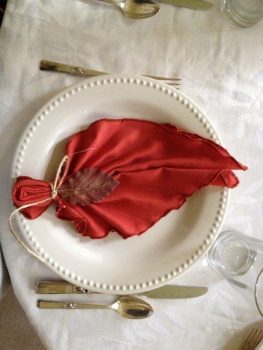 It's not the fold of the napkin that makes a statement here, It's the coloring! For an especially rustic touch, fray the edges! Napkin rings found at Better Homes and Gardens.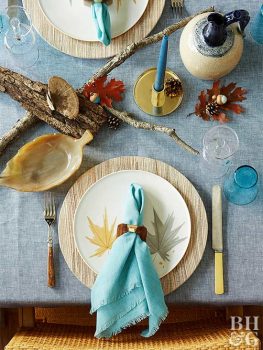 Tuck a leaf in the folds of your cloth napkins, and create a ledge for a place card to rest. Interested in folding this for your guests? You'll need these instructions from Free Home Decorating.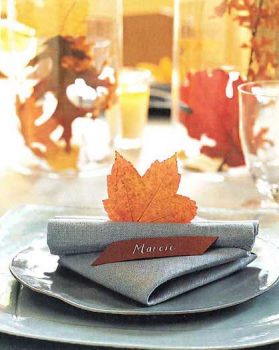 Scented Folded Napkin
If, at the end of the day you decide to throw in the "napkin"-folding, use your typical method instead. Only this holiday, dress things up with a twine tie, and a hand made place card!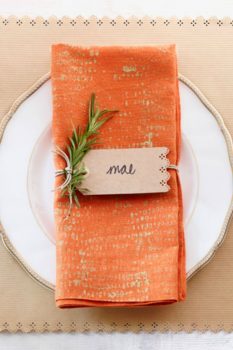 Clean and Scentsible has an easy napkin fold that will blow your mind! Paper napkins are necessary for this DIY, as fabric ones would probably be too bulky. Get your fingers ready to fly, because you'll be done with these in ten minutes.