Decorating after Christmas is always tricky for me. I want to decorate for the season, but having red and green up past New Years is kind of "frowned upon" in my neck of the woods. I spent a weekend last year rebuilding my mantelpiece, and it has easily become the favorite area of my home. I love to decorate it seasonally, and even though Christmas might be over..I love to decorate for the January chill! Check out a few of my favorite ideas.
Textured throw pillows, a string of lights, and a few candles make this mantelpiece oh-so-cozy, and oh-so-perfect for the holiday season. You can't go wrong with fluffy fur come January! Taryn Whiteaker has more.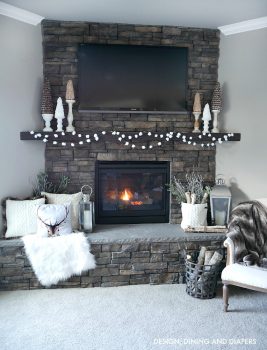 Keep things simple (and incredibly seasonal) with this DIY winter mantelpiece from DIYs.Com. You'd be surprised at how far seasonal greenery and a cozy fireplace can go! Doesn't everyone just want to cozy up around this festive fire?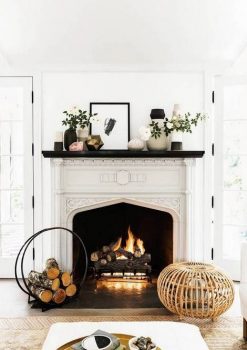 Frozen fans, rejoice! Elsa wouldn't ever say no to building a snowman, and neither will your family members once they see this mantel! Because of the red, this mantelpiece may look a bit more "Christmassy" but I think it's perfect for a January display! Via Stonegable Blog.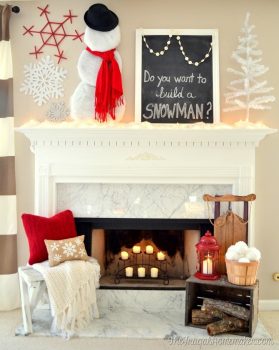 If you live in a colder environment, chances are you have TONS of snow come January. Decorate your mantelpiece in a way that lets guests enjoy the snow..without the cold temperatures! Find this snowflake garland at Amazon, and don't forget to add a ton of fake snow! More from The Frugal Homemaker.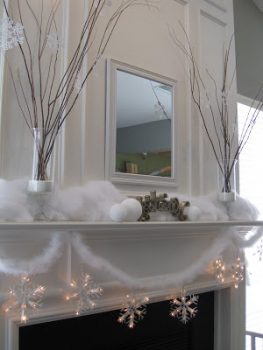 Rustic decorators are easily pleased with a DIY mantel project like this one. A giant whicker basket, and a wreath made from evergreen leaves make this mantelpiece seasonally appropriate without being overwhelming.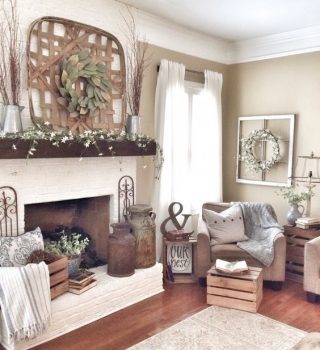 Speaking of greenery, the infusion of lush greens doesn't have to immediately resemble the holidays. In fact, this winter-themed mantelpiece doesn't even look like something leftover from the Christmas season. Isn't this lush greenery a perfect infusion of color in an ordinarily black and white space?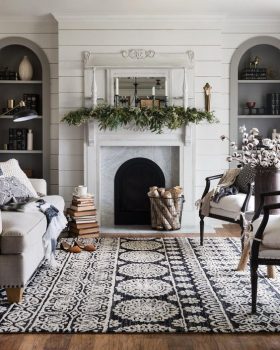 White candles immediately warm this space up, but it's the printed wall hanging that makes this space seriously perfect for any season. Who could resist a Laura Ingalls Wilder quote? I can't be the only one who practically lived for these books growing up. Via The Lily Pad Cottage.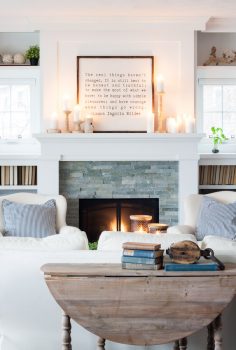 Don't store away any Christmas ornaments of yours! Instead…use the "January" themed ones as mantelpiece decor accents. Wouldn't this mantelpiece look boring without the blue ornaments? Hanging snowflakes make for a perfect accent piece from Organize Your Stuff Now.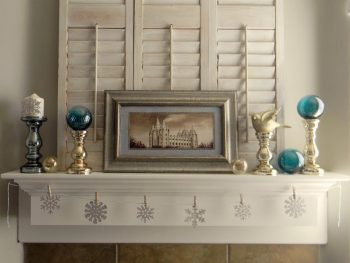 I mean, this is probably considered a "Christmas" themed craft project, but I love the message it conveys. It's never the wrong time of the year to promote peace and calming in your household! To make it more seasonally friendly, I would change out the evergreens for more of a winter themed decor piece. More at 33 Shades of Green.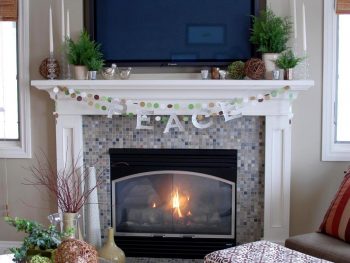 No one will ever view your mantelpiece as "Christmas themed" with decor like this one! A decorated star is the focal point here, but the snowflake adorned garland makes this perfect for winter celebrations.