Tiered trays are a fantastic (and easy) way to organize countertop spaces in your bathroom and kitchen. Of course, you don't have to only organize with tiered trays! You can add style to your countertop spaces as well! Here's a few of my favorite ways to decorate with tiered trays.
You can purchase this tiered tray on Amazon to use on your kitchen table as a centerpiece. Fill with lemons, greenery, and even a few spices. You can't go wrong with galvanized decor!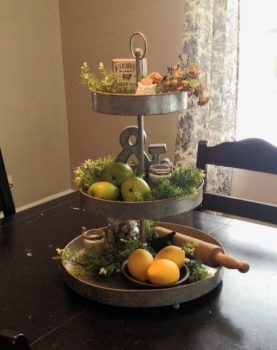 This blogger used a tiered tray in the entryway of her home. Filled with wax candles, wrapped scrolls, and greenery sprinkled around sporadically. Isn't this a tray to die for? Find candles like this for cheap here.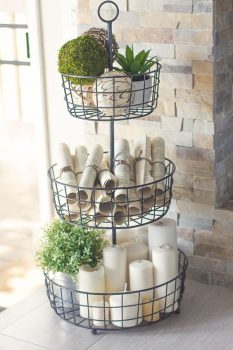 Countertop space in the bathroom can be really hard to come by! Use what you've got, and maximize it with a three tiered tray.. Keep your hand towels, extra soaps, and even a few washcloths handy for guests whenever they need to use them.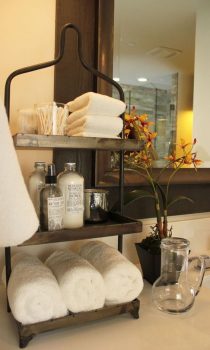 Change your decor out with the seasons! Use subtle pieces like the pumpkin, twine balls, and galvanized buckets to bring a little fall decor into any corner of your home. I'm sure you could even use a real pumpkin, just painted white!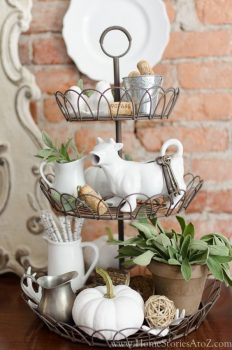 Pantry space a little hard to come by in your household? Turn a corner of your kitchen into a mini pantry with a tiered tray. Use mason jars to store things like rice, cereal, or oatmeal. And is that a little herb garden I see? Stick this near your oven for easy access!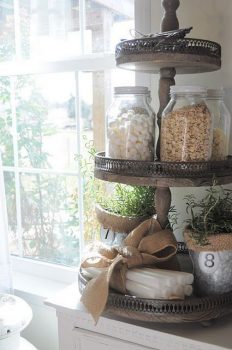 Tiered trays could even be used in the garden or on the patio to layer flower, herbs, and cut flowers together for a gorgeous arrangement. Learn how to dye glass blue like pictured with this tutorial!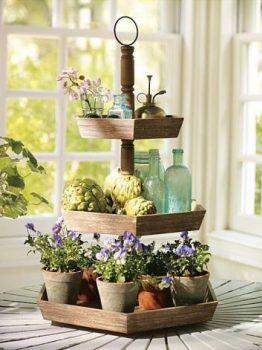 Welcome Spring, Summer and everything in between with hydrangeas and pears layered on a tiered tray. Add this anywhere for a quick infusion of farmhouse style.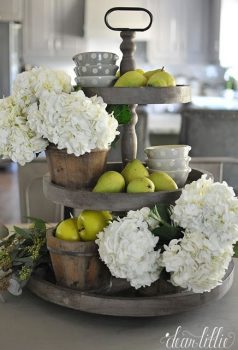 A little DIY weathering action gives this wooden tray more of a rustic vibe. Pair antique knick-knacks together on a tiered tray for a lovely vintage feel. Check out the sugar jar on the lowest layer! If your coffee maker is set up close by, this could definitely be handy to have!
Organize your fruit with a tiered tray. Pears are up top, followed by lemons and bananas! If you can, keep all like-colored fruits together for chic piece of functional kitchen decor.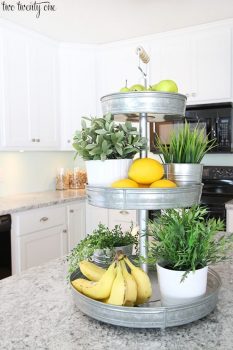 Bring a little bit of the summer sun into your kitchen with a tiered tray decorated with oranges and orange flower blossoms. Plain white china keeps things simple while the fruit does all the talking!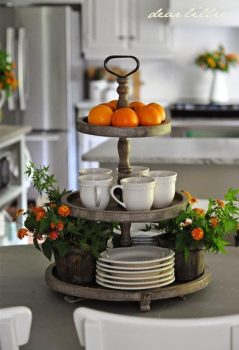 Looking for a few ways to style tiered trays? Here's where I found my inspiration for this DIY post:
Kitchen Centerpiece from Life With the Crust Off 
Entryway Three Tiered Tray from Jenna Sue Design
Bathroom Countertop Tray from HGTV
Holiday Tiered Tray from Home Stories A to Z
Mini Pantry from Buckets of Burlap
Garden Tiered Tray from SF Gate
Hydrangea Tray from Dear Lillie
Tiered Tray from Nina Hendrick
Fruit Tray from Two Twenty One
Orange Tray from Dear Lillie