Looking for a quick and easy repurpose DIY projects? Why not focus on repurposing your old chairs? I have three or four hanging out in my attic (and they have been for YEARS) and I'm finally ready to repurpose them toward something I'l actually use! Here are a few of my very favorite ways to repurpose broken chairs.
Disassemble an old chair and use the spindles to make your own wind chime. Use chalk paint to color the spindles how you would like!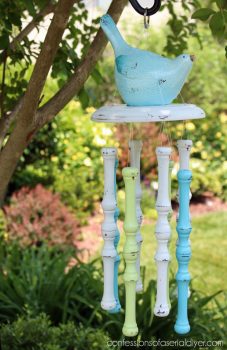 You can't really tell, but this three tiered organizer is actually made from an old chair leg. Although they don't look like it, the bowls on the organizer are actually painted vintage collanders! This is the perfect farmhouse decor piece for your rustic home.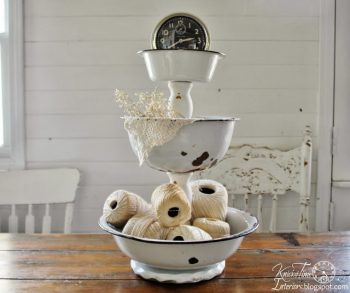 Remove the legs off of a set of mismatched dining room chairs, and hang them together for a DIY porch swing. You can paint them all in a single uniform color, but I like that these are all different, but still in the same color scheme. I can practically feel the fresh air just from looking at this idea!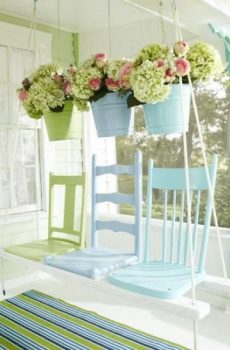 A cracked dining room table is a pretty hard thing to salvage, so most DIYers don't even bother. Remove the legs completely and use the chair as a porch hanging planter. The plant looks gorgeous, but the garden hanger is really the focal point of this!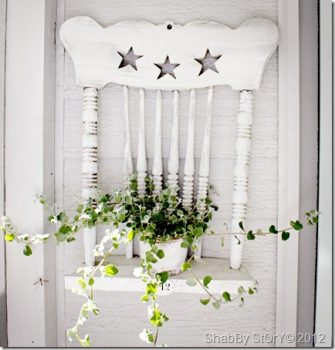 It can be hard for big dogs to bend down for a drink of water or for a meal! Ease neck or joint pain and use old chairs for a raised dog dish. Fido can't read, but I like the idea of labeling each chair according to it's use! It'll make feeding time a little easier!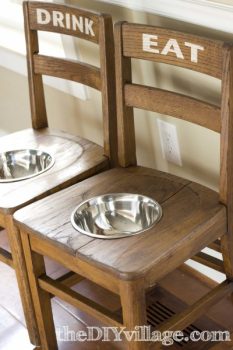 Use the seat of a broken chair and  and down the legs to fashion yourself a sewing storage box. This project is simple and shouldn't take you more than a weekend!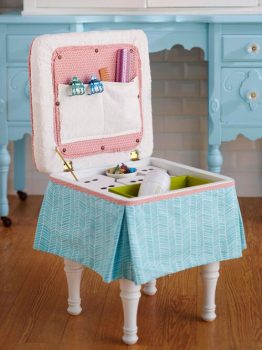 Cover the bottom of an old folding chair with black chalk paint and use it to welcome guest to your outdoor festivities! I think this could be great to direct guests where to go for an outdoor wedding.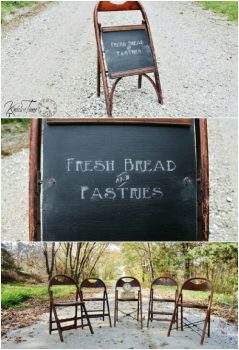 Place a metal basket in the cut out section of a chair seat. Place it in your closet and use it to store and organize jewelry (across the back of the chair) and your very favorite shoes.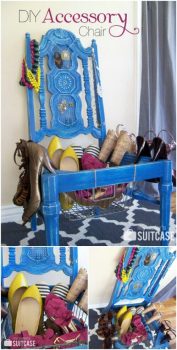 Feeling inspired? Find these chair repurpose projects here:
Wind Chime from Confessions of a Serial DIYer
Three Tier Organizer from In the Knick of Time
Porch Swing from Pinterest
Hanging Chair Planter from Shabby Chic Story
Raised Dog Dishes from The DIY Village
Storage Sewing Box from Better Homes and Gardens
Folding Chair from In The Knick of Time