Cleaning your carpet always seems like such a huge once-a-year chore. Here are 12 tips and tricks that should make cleaning carpets a lot more manageable.


eHow has an easy to follow tutorial on how to get those red kool-aid stains from your kid's favorite drink out quick and easy. Go to their website for the full tutorial.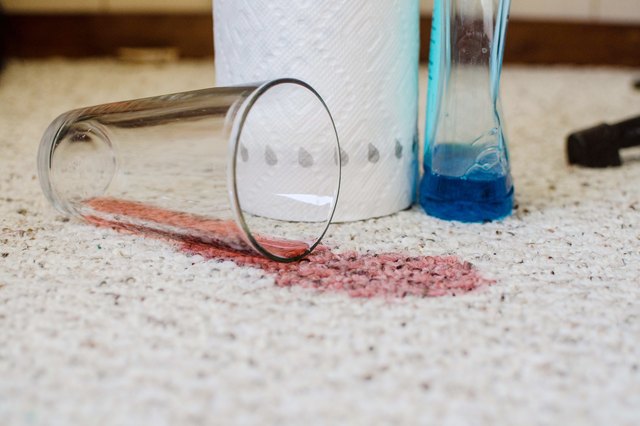 2IY (Two it Yourself) has a great solution for when you accidentally spill your favorite shade of nail polish all over your pants, and carpet… BUG SPRAY! (super random I know) Go to her site to see just how easy it is.
Baking Soda strikes again! Proven to be amazing when it comes to cleaning anything and everything, you can use baking soda to clean up last night's dinner your kid just spewed all over the carpet in their room. Kudos to New Life on a Homestead to reminding us that baking soda can be used for literally anything. 
Ever get bored with your set up in the living room, but decided against moving everything around because of those annoying dents everything left in the carpet? Here's a trick for getting those out with ice cubes! Go to Rent Fluff to get the full rundown on how it happens.
The other super versatile thing that you should always have in your cabinet is Hydrogen Peroxide, because according to eHow you can also use it to clean carpet stains!
House Cleaning Central has a great list on how to get crayon and permanent marker out of your carpet. It's chock full of information so you should definitely check it out.
Accidents happen, and sometimes they happen with candle wax. Who knew that you can use an iron to help get that wax out? One Good Thing had this idea and a tutorial to go along with it.
The Creek Line House has a great recipe for a dual cleaner/ air freshener and all it takes is corn meal and borax. Super simple right?
Are you tired of vacuuming up your favorite hairy friend's (and let's be honest, your own) hair only to feel like it's never all gone? This tip from How to Clean Stuff to use a squeegee will change your life.
Sometimes your carpets are perfectly clean, they just seem to stink. The Bold Abode has an all natural recipe to deodorize your carpets and get rid of that weird odor. Go to their site for the complete instructions.
Be sure to also check out this printable recipe for an amazing upholstery and carpet stain remover from Couponing to Disney. It's just dish soap, vinegar, hot water, and baking soda. Super easy, super effective.