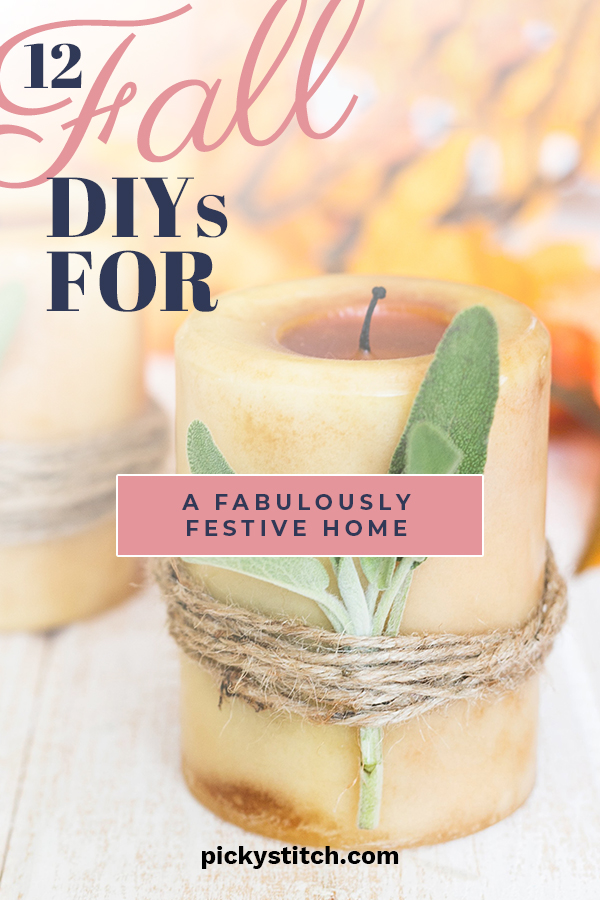 The kids are back in school, the days are getting shorter, and there is a slight chill to the air once the sun goes down. You know what that means; it's time to start DIYing for Fall! Does it make me a terrible Mom if I was excited for my kids to go back to school so I could start crafting again? Please, tell me I'm not the only one!
This week, while the kiddos are off learning, get your hands dirty with twelve of my favorite DIYs for Fall.
Paper leaves, a twig from a tree in your yard, and some fishing line make this festive wall hanging. Learn how to make beautiful leaves like this at Happiness Is Homemade.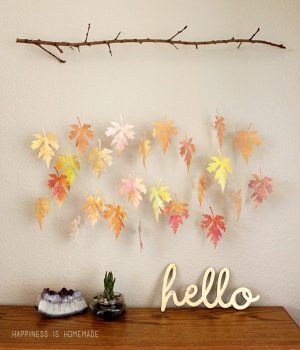 I don't have a wood slice this large lying around, but I am willing to hunt one down to make a Fall project as cute as this! Psstt…check out those eyes, they're made from mason jar lids! Find the full tutorial at House of Hawthornes.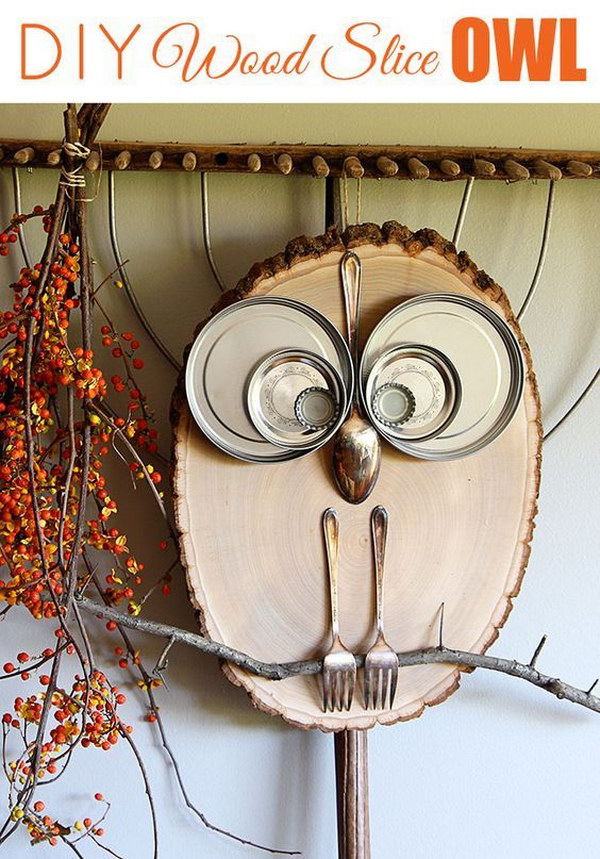 Every couch needs a fabulous throw pillow..or two. Well, if you're me, you probably have something like EIGHT throw pillows on your couch. I love the coziness they create, and it's super fun to switch them out as the seasons change. Handmade In The Heartland has this fantastic DIY, and tons of other fall decor!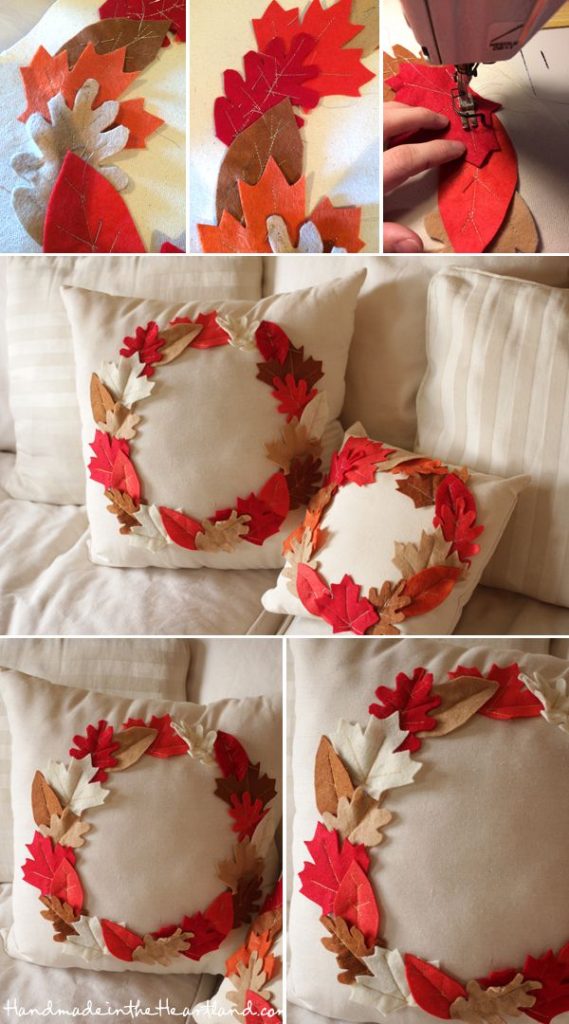 Festive centerpieces are incredibly easy with a few whitewashed pumpkins and hydrangea bunches. The antlers are optional, but I love the change in texture that they provide. Cozy things up with tea lights scattered throughout. More at Tone on Tone Antiques.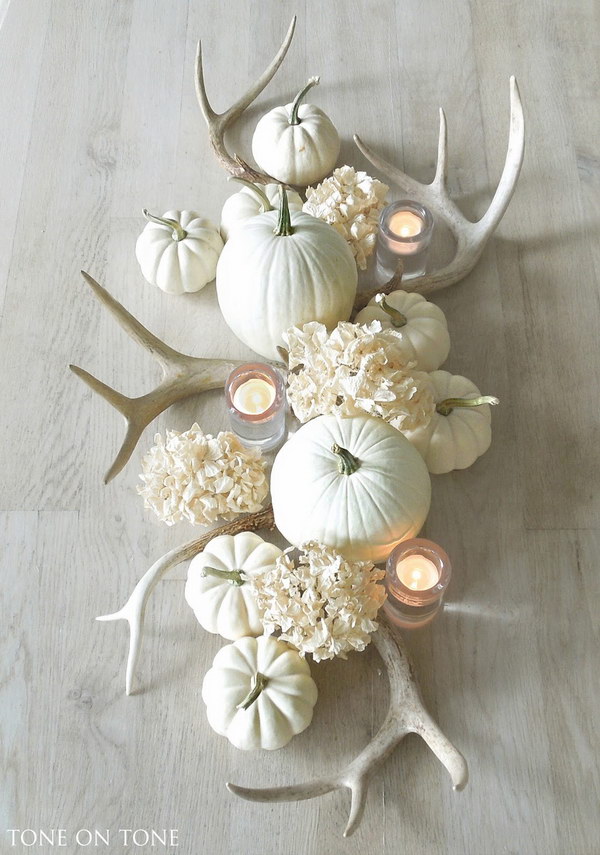 When it comes to decorating, I almost ALWAYS start with a DIY garland of sorts. My fireplace is one of my favorite parts in my home, and I love to incorporate it into all kinds of seasonal decor. I immediately fell in love with this DIY garland from Sondra Lynn at Home. You'll never guess what she used to make this!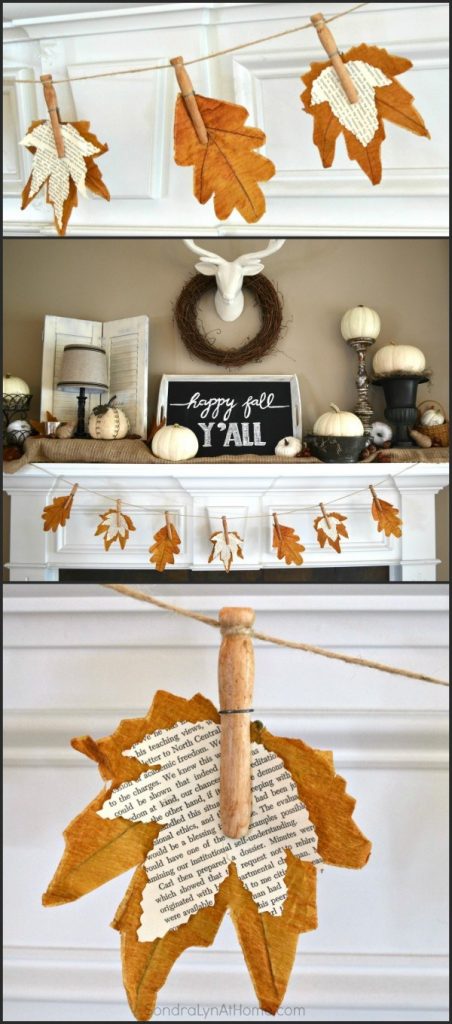 I mean…I definitely have a few empty wine bottles lying around, and I LOVE the idea of repurposing them into seasonal decor. It's makes buying wine even MORE fun when you know you can craft with the bottle later. Check out this centerpiece from here.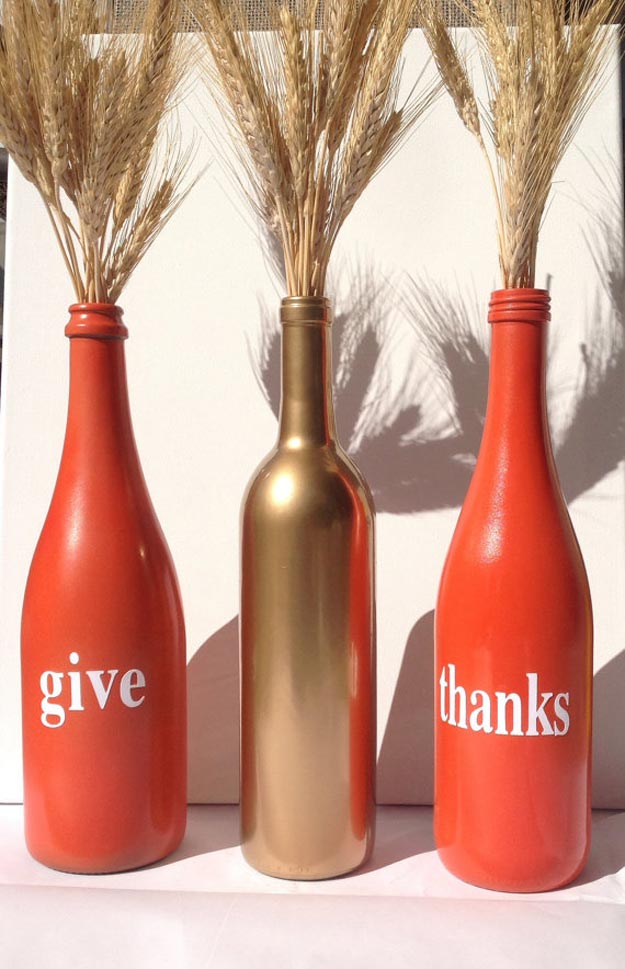 An old terra cotta pot is the base of this seriously adorable scarecrow doll. Use twine to attach it's "limbs" and burlap accents to give it clothing "patches" and a face. I want to make tons of these to hang everywhere! Tutorial from Hobby Lobby.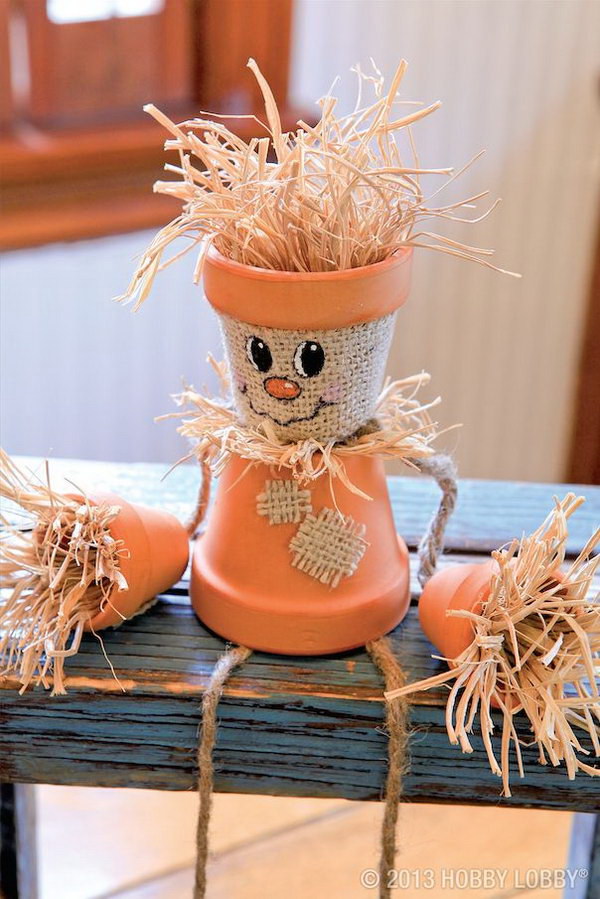 Looking for a way to incorporate your family members into your DIYing? Recruit your kids for this fall DIY! Wrap yarn around a balloon and use glue to secure it. Pop the balloon when it is completely dry! Find the full tutorial at One Little Project.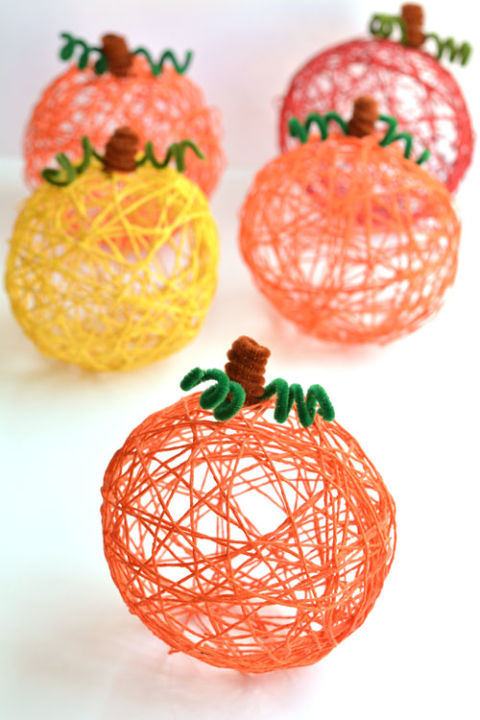 Head out to your garden for another forgotten terra cotta pot. Dress it up with a coat of orange paint, and give it a stem of sorts. Fill it with your favorite Halloween candies. Project credit goes to Real Housemoms.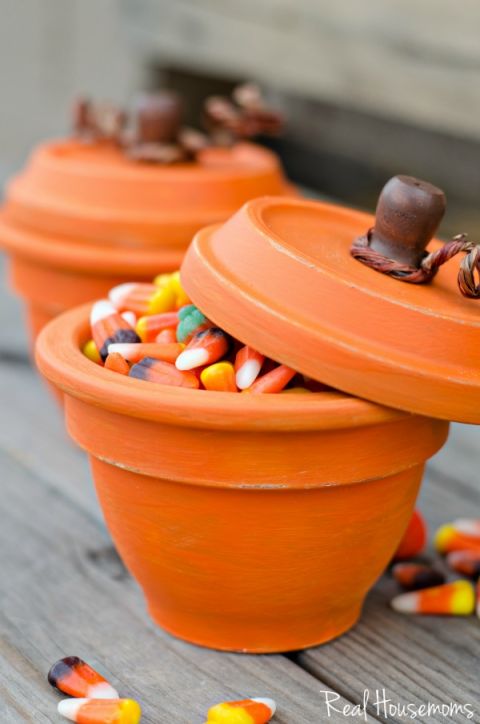 Paper mache your way to a perfect fall holiday! Create your own fall bowls with this DIY from Country Living. You can paint them whatever color you would like, but I love the gold!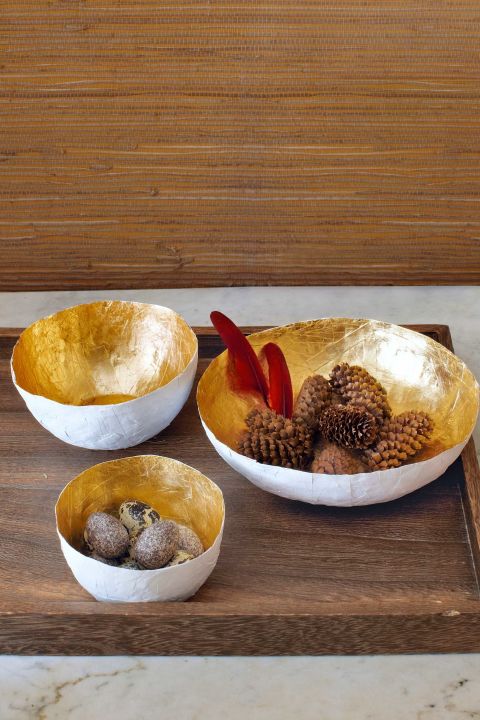 Painted acorns make the perfect vase filler! The only thing you need is some plain ol'  acrylic paint and a handy paint brush. This is the easiest DIY featured, and I plan on making this later today! More from Home Stories A to Z.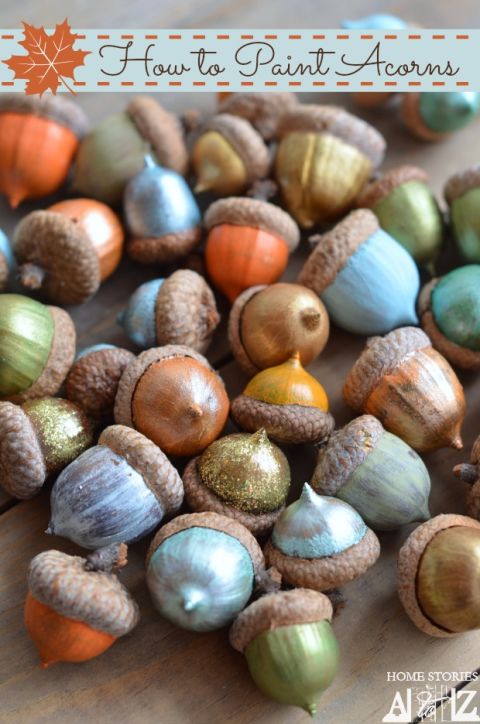 Birch bark crafts are the best, and I can't wait to incorporate this craft into my own home! What a perfect way to bring an element of "rustic chic" into your fall decor! Project from Country Living.