I've been thinking about changing up the island in my kitchen, and if you know me, you know its got to be DIY. I love fixing things up, and a kitchen island is a great way to make a big impact with relatively little time. I've collected some of my favorite ideas and tutorials for this project–hope you find one you like!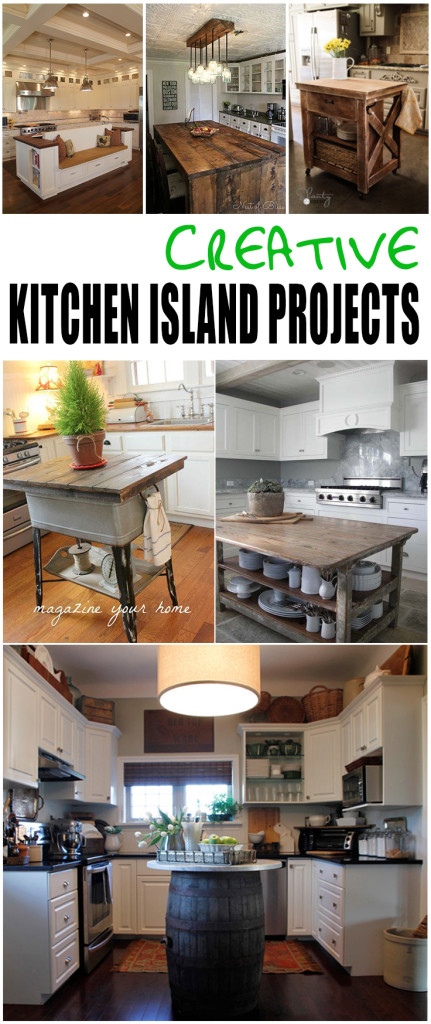 1. Rain on a Tin Roof posted a tutorial for this beautiful kitchen island, and I just can't believe this is homemade! It looks so professional and super classy. This project may take a whole weekend, but the results are obviously totally worth it. I need one of these!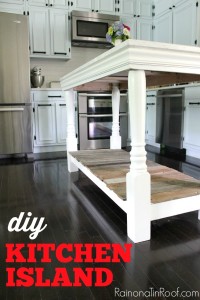 2. Paper Daisy Design posted a tutorial for this really adorable kitchen island cart. A kitchen island with wheels is perfect for a small space and makes your kitchen so versatile. I especially love the exposed shelf space on this cart–a great opportunity to display your darling dishes!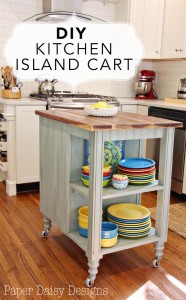 3. You're So Martha turned a vintage dresser into a unique kitchen island. I love the beautiful color and the awesome storage space! It's easy to forget how versatile dressers can be. With a little updating they can update any space–including a kitchen!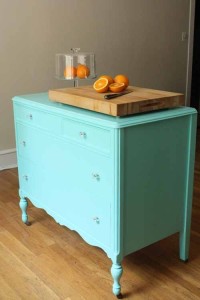 4. Shanty 2 Chic built this beautiful copy-cat Pottery Barn kitchen island, and I can't get over it! I love the vintage feel, and I also love how compact it is. Every part of the island is utilized–no wasted space! It would fit in any kitchen. Check out the blog for the tutorial!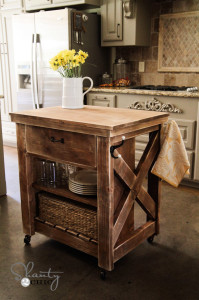 5. Hometalk shared a tutorial for updating a build-in kitchen island. By extending the island and adding places for bar stools, this easy DIY project totally updated the kitchen. Instead of starting from nothing, think about refurbishing your existing island to make it work for your space.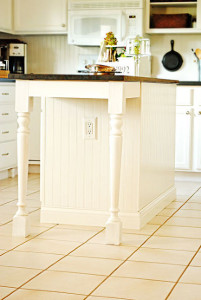 6. Golden Boys and Me built an awesome island for their kitchen with tons of storage. This could be made from scratch or you could repurpose bookcases to make this beauty. With a little paint and a solid wood countertop, this kitchen island is sure to brighten up (and organize) your kitchen space.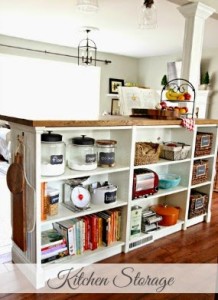 7. My Old Country House made a kitchen island out of a vintage desk! This is such a great way to make use of old furniture. By adding a marble top, a fresh coat of paint, some shiny new hardware, and a few wheels, this desk is ready to do double duty. Love this idea!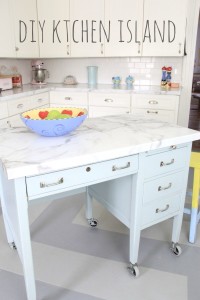 8. Homemade Modern posted the directions for this thoroughly modern kitchen island made out of a natural wood base and a concrete top. I love the simple lines of this piece–it will definitely add a modern touch to your kitchen!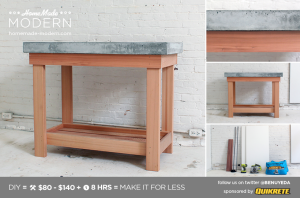 9. Evergreen Furniture on Etsy sells kitchen islands that are made out of crates, and it would be so easy to make a similar one yourself. I love making things out of recycled material, especially when it turns out this cute & rustic.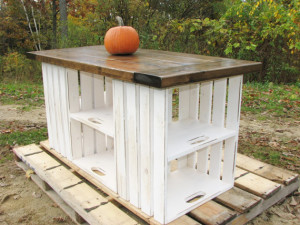 Harvest Furniture showcases this amazing rustic kitchen island.  I want this.
This kitchen Island is kind of amazing. This bench seat gives the kitchen a cozy, inviting place to hang out. Everyone wants to congregate in the kitchen anyway, why not make yourself comfortable?  Great idea found on One Kin Design.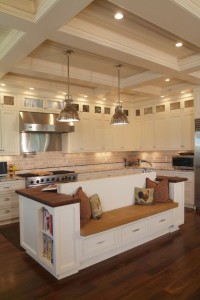 How cool is this re-purposed vintage washtub kitchen island?  I love it!  Very cute for a small space.  Very fun repurposed island project found at Country Living.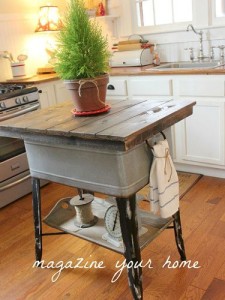 And this.  This amazing upcycled wine barrel made kitchen island is from Oliver and Rust.  Perfect accent piece for a smaller space.  I love it.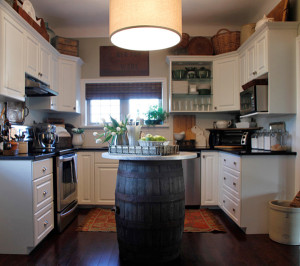 This rustic look is really fun and a nice addition to an elegant or contemporary kitchen.  Mixing rustic wood in an elegant kitchen is my favorite right now.  I love this modern/contemporary look with the rustic island at Refinery 29.