This mini Tree advent calendar is the perfect addition to any holiday mantlepiece. Only "tree" days left until Christmas!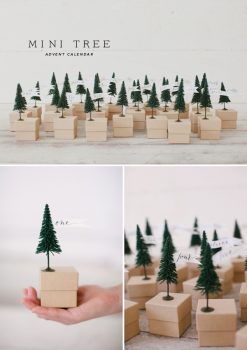 Wrap up 24 days worth of hilarious white elephant gifts! Your kids will look forward to opening their silly gifts every day. Check out this article for ideas on what to wrap up! Idea from Creation Corner.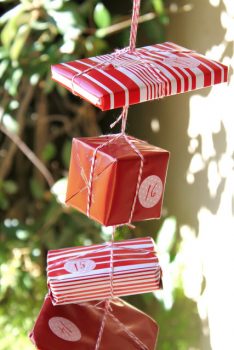 Hang up 24 ornaments on a piece of old wood. Each day, hang up an ornament on your tree. By Christmas Eve it will be completely decorated and totally gorgeous!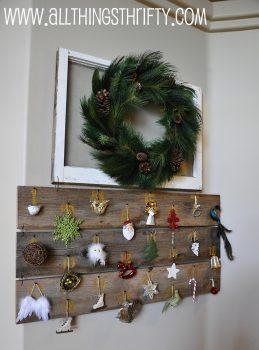 Find the printable for this traditional Christmas advent calendar here.  Fill each envelope with a cute note, or a fun Christmas themed activity for your kids!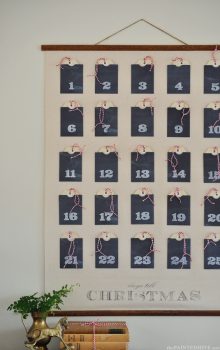 Shanty 2 Chic has the DIY for this homemade advent calendar. Fill each brown bag with candies, treats, or even holiday themed books for your kids to enjoy every day of Christmas.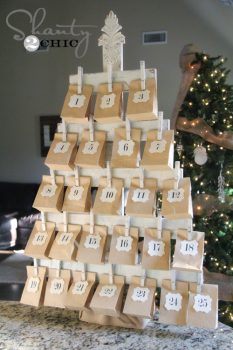 The rustic look of this advent calendar from La Petite Cuisine is absolutely gorgeous. Don't be afraid to mix colors and textures here!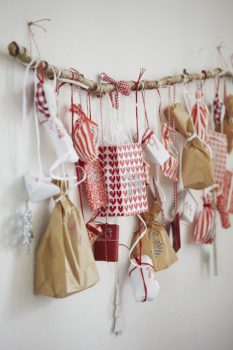 Fill a glass bowl with numbered presents!  The possibilities are endless with these cute little boxes. Idea from Folly and Glee.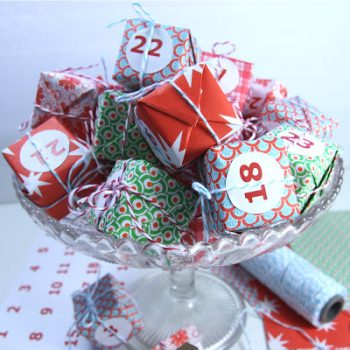 Similar to a previous idea, hang ornaments on a pallet. However, instead of hanging them up on your Christmas tree each day, hang them on a "twig" centerpiece. The colored ornaments will make the centerpiece pop! The Home Depot has the super simple do-it-yourself idea.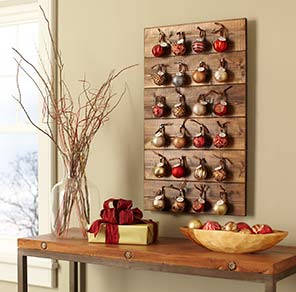 This is the simplest advent calendar featured, and it's definitely my favorite! Get the free printable poster here. All you need for an adorable calendar is some printer ink!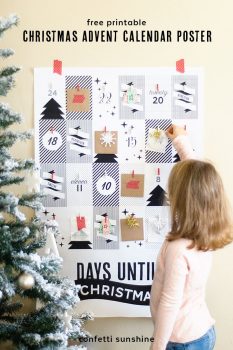 Empty toilet paper rolls are bountiful in any home! Put them to use and create a Christmas advent calendar. Put the calendar gifts inside the roll, and glue carboard over the opening. Aren't recycling projects awesome? Credit for this project goes to Morning Creativity.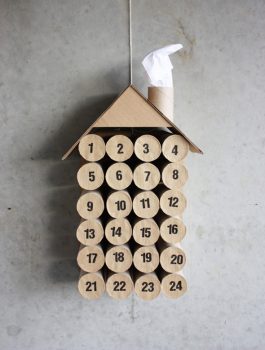 Remember those refreshing mason jar drinks you made in the summer? Their lids are laying around somewhere. Turn them into an advent calendar with this tutorial.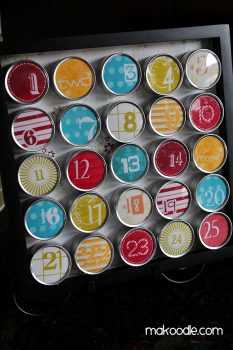 Climb up the ladder to Christmas day! Use colorful ribbon and clothespins to secure the advent envelopes. Include smaller items (like ornamnets) or candy outside of the envelopes.  The printable can be found here!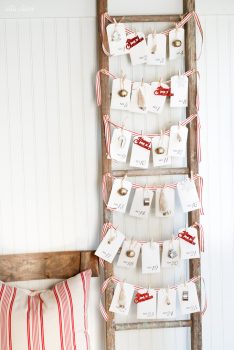 A different way to use toilet paper rolls for your advent calendar! Fill with gifts, and then wrap with tissue and craft paper. Secure each roll onto a ribbon and hang somewhere everyone can enjoy it!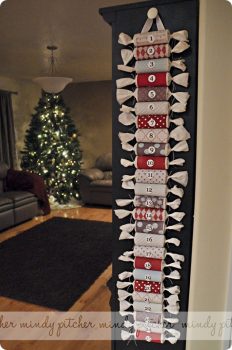 Transform a type tray into a festive calendar with this tutorial from That's My Letter.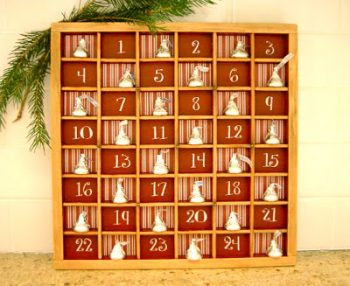 These paper Christmas trees are just as fun to open as they are to make! Construct 24 Christmas trees using this tutorial, and fill them with fun treats! These double as a great decor piece, and they would look great on a small buffet table!