DIY Rainbow Painting Garden Pot
This drip-paint terra cotta pot will surely brighten your day! They're even more fun to make than they are to look at.

DIY Metallic Flower Pots
Spray paint terra cotta pots with metallic colored spray paint to get an expensive looking DIY that cost practically nothing.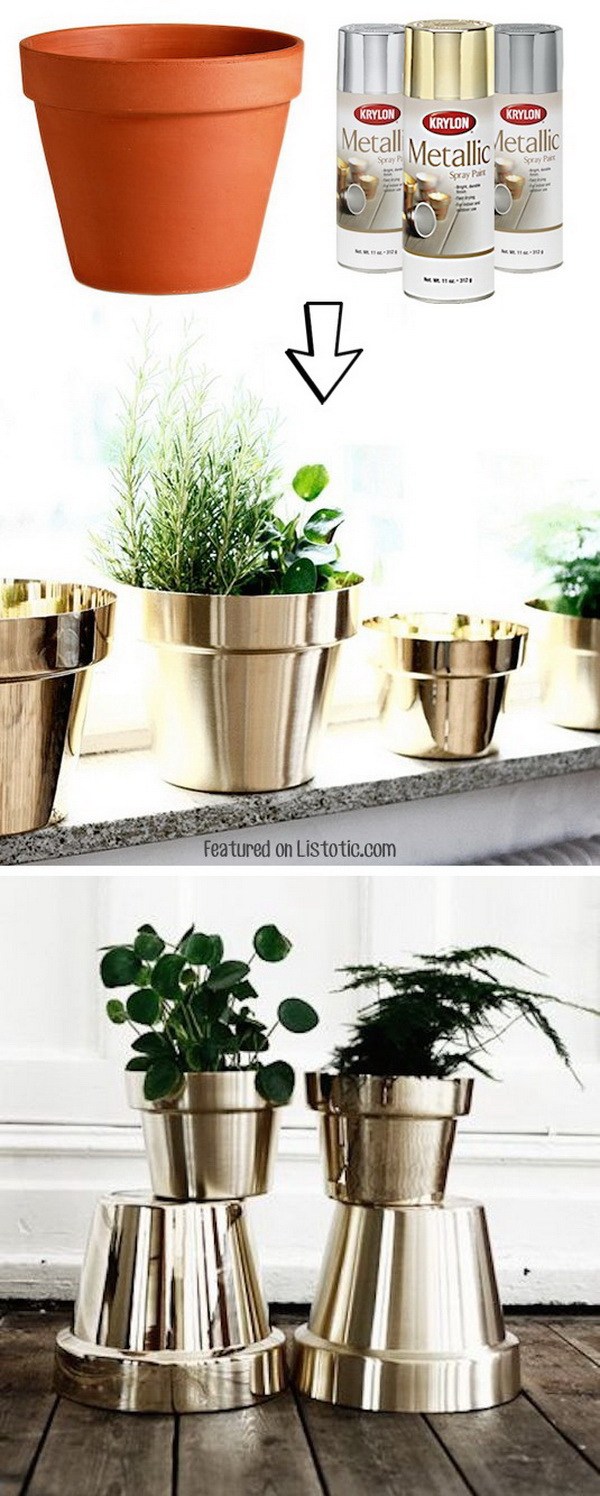 Nautical DIY Clay Pot Lighthouse For Garden Decoration
This lighthouse is easy to assemble and surprisingly adorable. Paint three terra cotta pots and stack them on top of one another to create a mini lighthouse!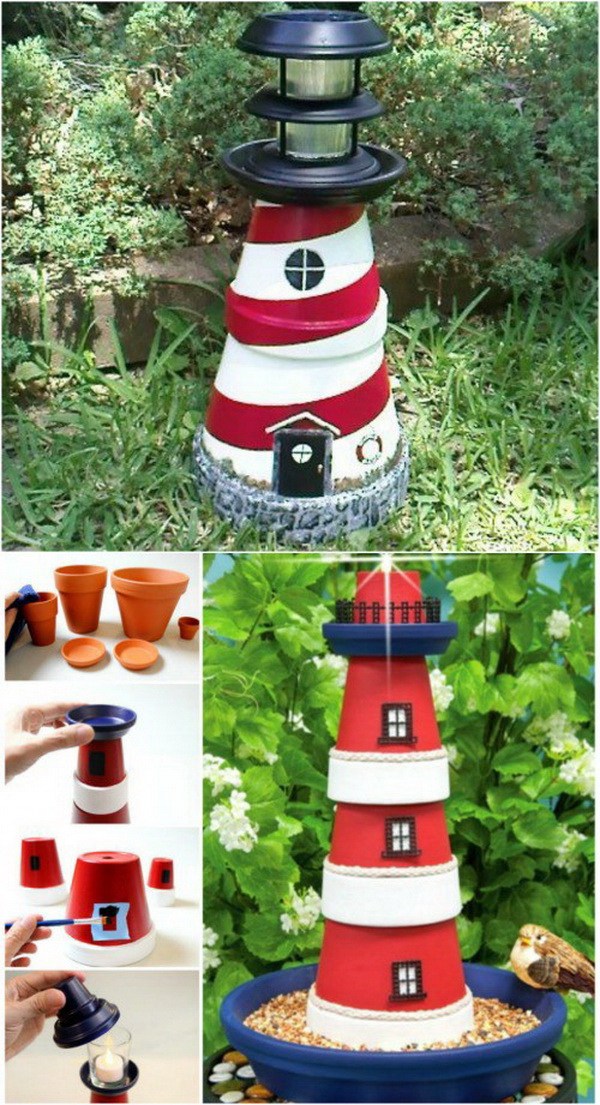 Ombre Stenciled Crooked Tower Flower Pots
Spruce up your yard with brightly colored flower pots and matching flowers. Use a Cricut machine or hand stencil your favorite gardening quotes onto each pot!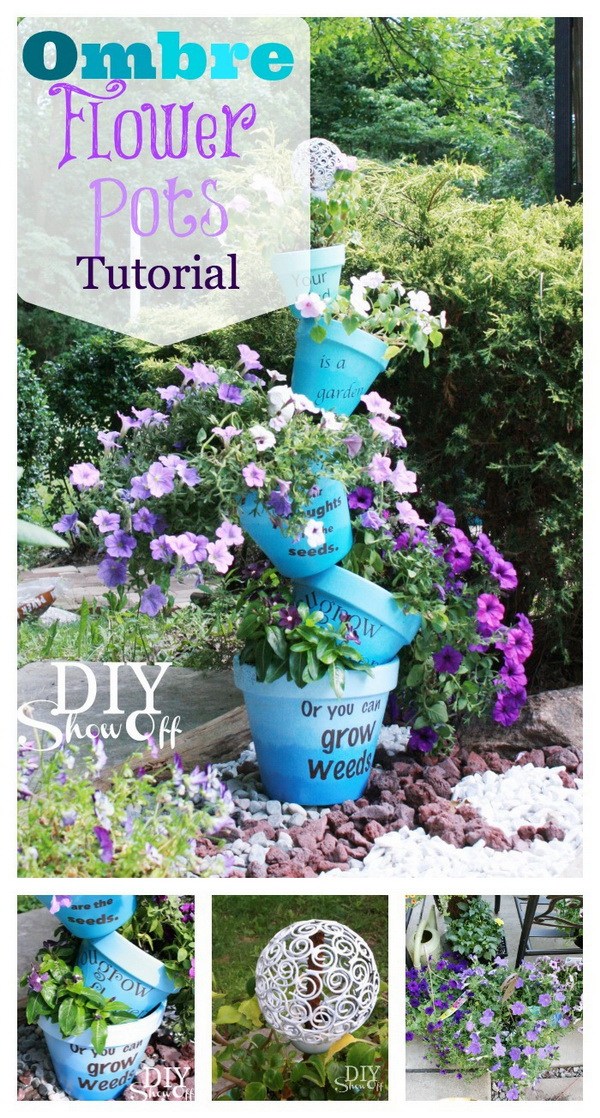 DIY Nail Polish Marbled Planters
I am so in love with these marbled planters that I plan on giving one to all of my neighbors! Rubbing alcohol mixed with a bit of nail polish is what creates the marbled paint look. It's best to set out a drop cloth, or make these outdoors to prevent any unnecessary mess!

DIY Rustic Succulent Pots
A rustic vibe comes easy with aqua-colored and white acrylic paint. Add twine for a great accessory!

DIY Silver And Gold Terracotta Pots
A modern beautiful take on a terra cotta pot. Learn how to make these at 36th Avenue!

DIY Whitewashed Terra Cotta Pots
Whitewashed terra cotta pots are perfect for a lovely summer front porch display. Learn how to make these HERE.

Scallop Shell Terra Cotta Pot
Every terra cotta pot could use a bit of coastal love. Use seashells found on a vacation to create something that's just as memorable as it is functional.

DIY Mod Podge Terra Cotta Pots
Decorate the simple terracotta pots with old newspapers and music sheets. Attach the newspapers with a thin coat of Mod Podge.

DIY Stenciled Clay Pots
Learn how to stencil terra cotta post via diy candy.

DIY Chalkboard Stencil Terracotta Pot Planters
Use stencils to put blackboard paint designs on terra-cotta pots. The best part? You can write on the stencil to differentiate between your plant varieties!

Pretty Lace Flower Pots
Add a touch of shabby chic to your decor with these lace flower pots!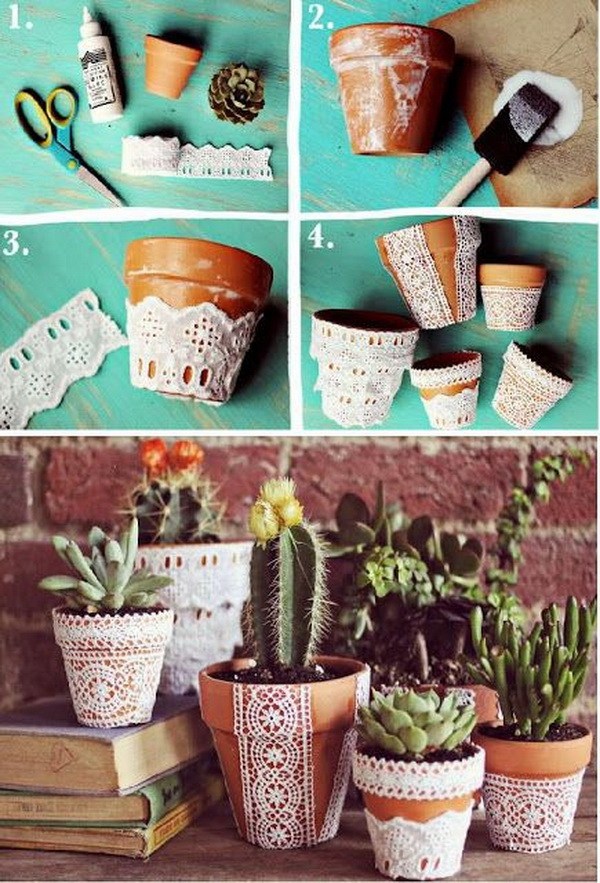 French Inspired Terra Cotta Flower Pots
Use it as the indoor decor piece or give these away as a gift! Either way, these are sure to please!

Rope-Wrapped Painted Terra Cotta Pots
Wrap rope around some cheap terra cotta pots and add a touch of left-over paint! Learn how to make them at House By Hoff.