1. Wood Planked Accent Wall
Reclaimed wood is a staple in any rustic home. Add a subtle accent to a wall in your living room or study, with this DIY wood accent wall tutorial.  Pair with a rustic metal light fixture, and some cozy throw pillows on your living room couches.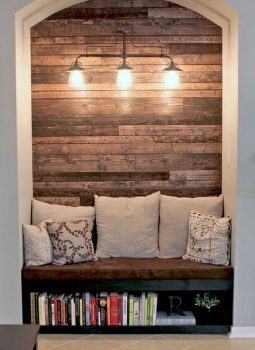 2. Hand Painted Jars
Distressed mason jars are my favorite storage item. They're perfect for smaller knick knacks! There are several methods when it comes to painting mason jars, but here is a tutorial from It All Started With Paint, this is my favorite way to hand paint the mason jars!

3. Rustic Bathroom Tile
Now, this might be a bit more of a complicated DIY project, especially if you aren't familiar with laying out tile! However, if you have the ability, remodeling your bathroom tile is a great way to add rustic touches throughout your home. Pick a tile that resembles distressed wood!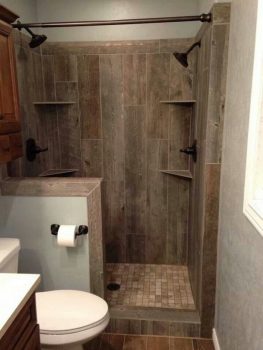 4. Rustic Bathroom Mirror
Bathroom mirrors can tend to look a bit boring! Frame your bathroom mirror with reclaimed wood to give it a rustic feel. Use this tutorial to create your own!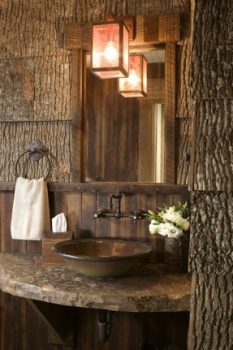 5. DIY Coffee Table
This DIY table looks absolutely beautiful, and it's full of storage options! It's important to consider your storage needs when buying or making new furniture, and this coffee table is full of storage! Here is a tutorial to create this beautiful coffee table for your home.
6. Wicker Basket Storage
I love the look of wicker baskets when it comes to storage throughout your home. Pick a dark wicker color, and pair your baskets with large galvanized buckets and lanterns. If the basket is large enough, you can use it as a small table!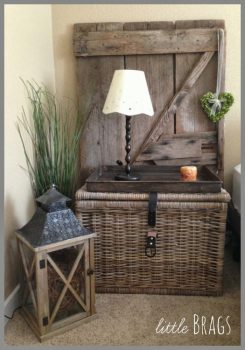 7. Refurbished Nightstand for Drinks
Turn an old nightstand into a drink stand perfect for outdoors or in! Use a saw to cut a hole in the table, and place a galvanized bucket inside. Fill the bucket with ice and other refreshments. Use this tutorial to get that amazing weathered finish.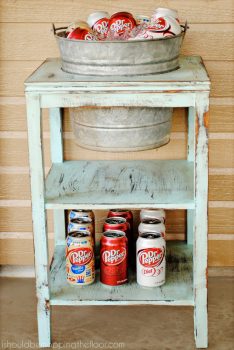 8. Stack Old Boxes
Your old wooden crates deserve a new fate! Combine your collection of wooden crates to create a large piece of storage. Fill with items like vases, pottery, books, or shoes! I have a similar creation in my bedroom that I use to store my collection of shoes! It works great!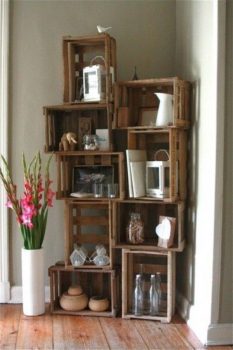 9. DIY Candle Holders
Add a touch of rustic charm to your plain glass candle holders. Use twigs from your yard (yes, really!) and paint them white, gold, or stain them a dark brown. When dry, hot glue your twigs onto the candle holders. Check out this tutorial!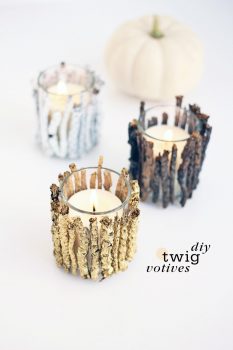 10. Rustic Corbel
Don't these rustic corbels look absolutely amazing? What if I told you that you could DIY these? Use this tutorial from Remodelaholic to create your own rustic corbels. These can be used underneath your counter tops, or you can use them to hang shelves throughout your home.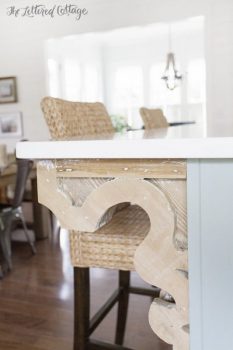 11. Reclaimed Wood Headboard
Is your bedroom in need of an update? I have just the DIY project for you! Use this tutorial from Homed It to revamp your headboard using old pieces of reclaimed wood. Depending on the amount of wood needed to create a headboard for your bedroom, and the amount of wood you have left over, this could be a totally free DIY project!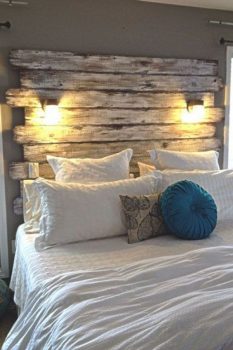 12. Rustic Repurposed Shutter
Vintage shutters look absolutely amazing throughout the home! Repurpose an old wooden shutter and create a DIY letter organizer, for only $5! This can be hung in an office, or in the kitchen for easy access to important documents. Check out the tutorial from West Furniture Revival.