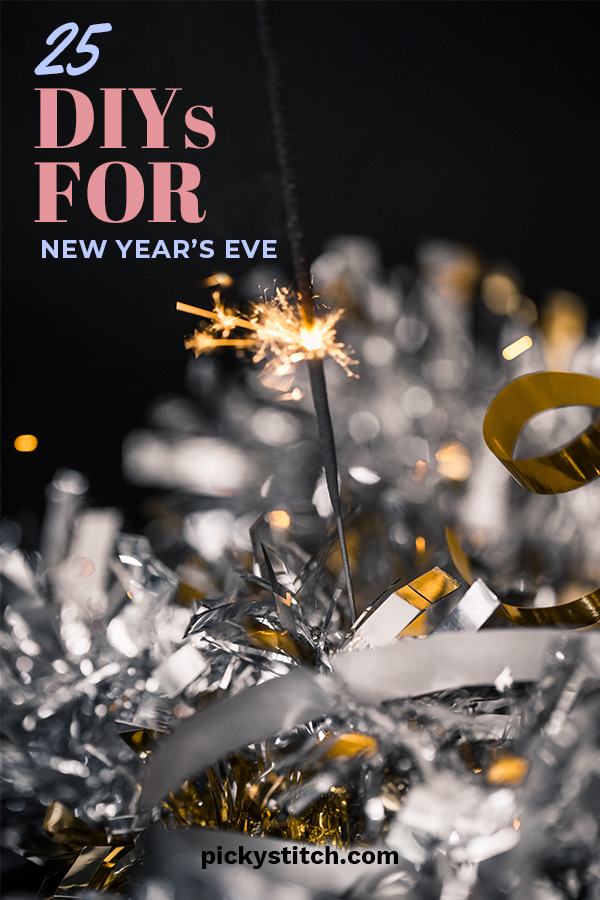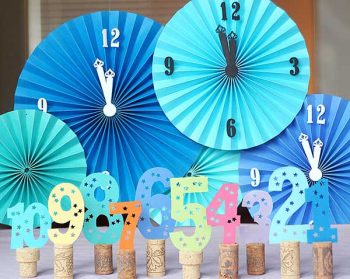 Use tissue paper to create these awesome circular fans. Glue numbers around your tissue paper to make unique clock decorations! Perfect for New Years!
Pictures are a must have when it comes to New Years Eve parties! Make your own picture backdrop that your guests can use to take pictures at your great party! If they're posted to social media, have your friends use a hashtag reserved for your party! It'll be so fun to look back and see the photos!
Make sure to include some props for them to use when taking pictures.
Cut circles out of some colorful paper and then attach them to your walls. You now have wall confetti that was incredibly easy to make!
Get (or make!) festive drink stirrers that your guests can use whenever they grab themselves a drink at your party.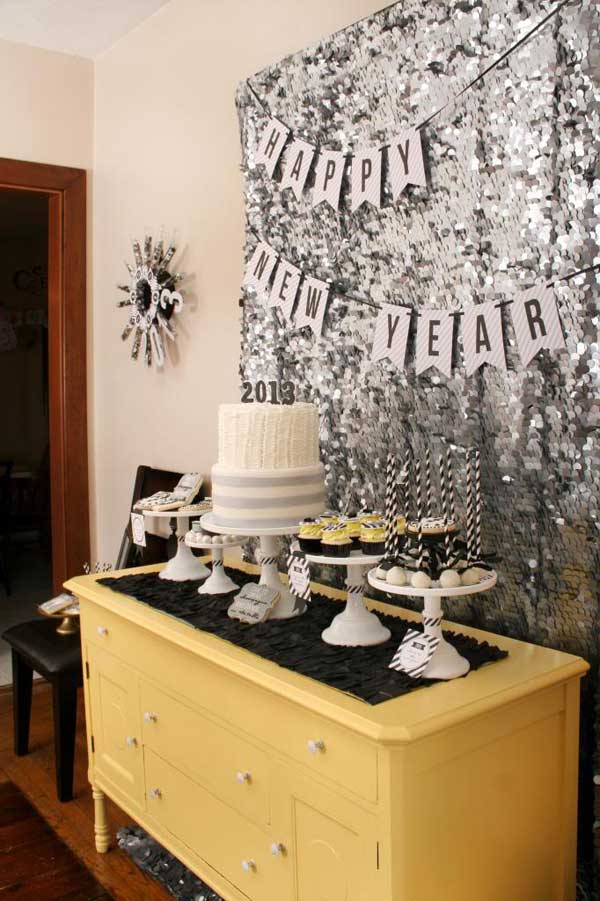 Every party needs  food! Create a fun and festive food display. Use cake stands and even a cute New Years Eve banner. It doesn't take much work to create a fancy spread!
Make your very own noise makers that you and your guests can use when the clock strikes midnight!
Have a party hat making station so your guests can make their own unique hats for the occasion! You could even have a competition at the end of the night! Offer a prize to the guests who have the most creative hat.
Cut the new year numbers out of cardboard and then add some tinsel to them to make them shine! Hang them up around your party for a needed touch of holiday decor.
If you're looking for a simple last-minute decoration, hang gold streamers around your home. Twist and tie the streamers to make a fun design!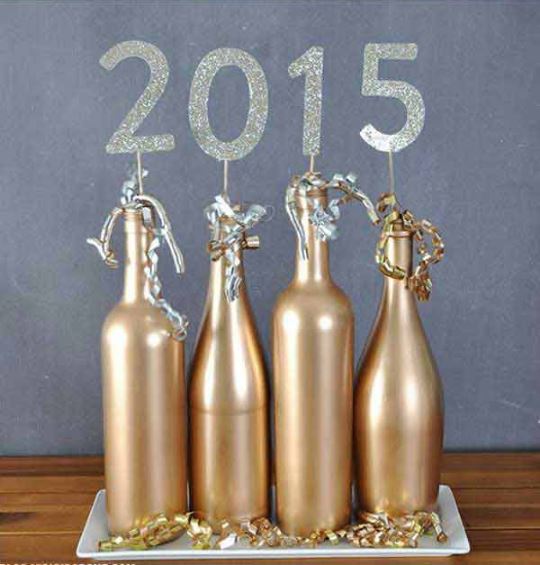 Paint any old wine or beer bottles you have sitting around your home. Add tinsel, pieces of confetti, and even the date to make an amazing centerpiece.
If you have a fan, attach a blanket to the blades and then fill with balloons. When midnight strikes, release the blanket so the balloons fall, creating a really fun atmosphere.
An alternative way to use balloons in your party decor is to fill them with confetti before blowing them up. Have your guests purchase them when the ball drops for a fun confetti filled evening.
Take some old candles and cover them with glitter and sparkles. Shape out the numbers of the new year on them, too, to have an even better New Years decoration!
Another way to use candles is to simply push thumbtacks into the sides of them all around to get an incredible sequin-like effect!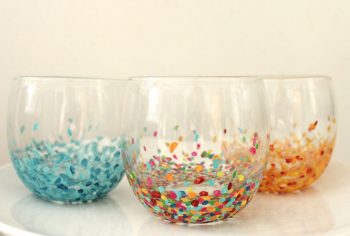 Frost the glasses and cups used at your party. You can use sharpies or any other type of decoration to dress the glasses up! Check out this tutorial from DIY Ready to create your own glitter glasses!
Cut stars out of paper and string them together to make a star garland that you can drape across a mantelpiece. You can even hang the garland from the ceiling for an added effect! If you don't have the time to DIY your own garland, the star garland is available for purchase here.
In fact, go for any kind of DIY garland in your home! Here's an amazing tutorial for your own New Years Eve garland and banner. These can be put anywhere!
Make fantastic sequin tablecloths if you're going to be serving dinner! It's such a fun idea and really adds some life to your party!
Fill balloons with helium and hang pictures of the past year from them. Put this above the table or food station.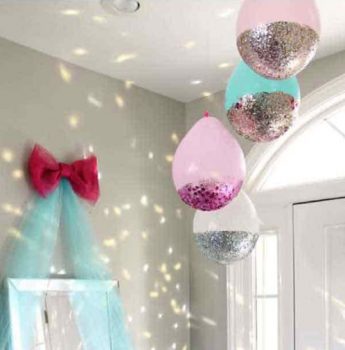 Blow up balloons, dip the ends in glue, and then dip them in glitter for a fun and easy decoration! Use this tutorial from Woo Home if needed!
Use empty bottles and fill them with string lights for a fun and unique way to light your party!
To keep your kids entertained, have them turn pipe cleaners into tiaras and crowns. They're a fun accessory and a great activity to keep them entertained and out of trouble!
Instead of serving drinks in ordinary bottles, cover them in sparkles! However, be careful to keep the drinks out of water! To keep them cold, simply place in the refrigerator.
Another great idea for bottles is to fill balloons partially with water, freeze them, and then use them as ice for a colorful way to keep drinks cool. Check out this tutorial for more information!