It's that time of year again! Here are 25 insanely clever and easy ideas to hack your gardening experience this year.

This idea comes from Smart Schoolhouse. If you cut off the elastic edges and lay them in the bottom of your pot with the absorbent side up, diapers can help keep your soil absorbent for days!
Bees Knees Bungalow  gave me the great idea to use empty soda cans as fillers for those adorable metal buckets that can get so heavy.
If you strategically place some plastic forks in among your herbs and vegetables, you can stop animals from pooping on them! Thanks for the idea Positive Gardening!
Positive Gardening also had this idea to use potatoes to help grow rose bushes from trimmings.
Give your garden a head-start by planting seeds in eggshells first, then transplanting them to the ground once they've sprouted.
Create a mini greenhouse by cutting the bottom off an old milk jug. It will protect the sprouts as well as give an easy opening for water. See the full idea on Better Homes and Gardens.
If you're thinking of growing your own melons this year, think about using this tip from Vegetable Gardener. Use an old t-shirt as a sling to make sure the melons don't fall from the vine before they are ripe. See their website for more tips on how to best grow melons.
Ever throw those instructions away because you don't know what to do with them? Empress of Dirt gave us the idea to use a key ring to keep them easily accesible in case you forget anything.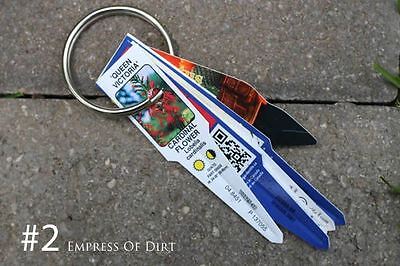 Better Homes and Gardens also gave us the idea to use a tablecloth to move heavy items around in your garden. It's easier to use and lighter than trying to maneuver a wheelbarrow.
This Old House showed us the classic idea  to use coffee filters to stop soil from draining through the hole along with the water.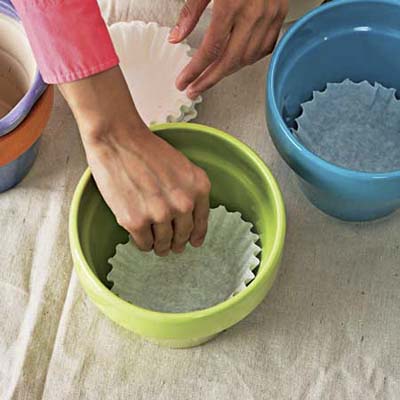 Make your own self-cleaning and self-sharpening garden tool holder. The abrasive sand will keep your tools sharp and the oil keeps them lubricated so they don't get any dirt or rust build up. Get the step-by-step instructions One Good Thing by Jillee.
You can use beer as a slug repellent. Who knew right? Just leave it in a shallow dish and in the morning you should wake up to dead slugs in the mixture. See how to set it up here.
Plant an empty water bottle with holes in it next to your plants to make sure the deep roots get the water they need. Find this and other ideas at The Gardening Cook.
Sweeten your tomatoes by sprinkling baking soda in the soil. The baking soda will absorb some of the acidity in the soil, taking some of the tart out of your tomatoes.
Don't spend extra money on expensive seed tape, use toilet paper! Find the full tutorial at HGTV Gardens. 
 To stop animals from burrowing in your raised garden beds, consider covering them with chicken wire in some way. You can line the top with it, or as they did at Instructables, you can make a hinged chicken wire cover for those vegetables you care about so much.
Another way to make a starter pot for seedlings is to use a citrus peel! My Roman Apartment showed us how to accomplish this. Recycling at its finest!
Don't have a ton of room to garden? You can use an over the door shoe rack to make a vertical garden! Find the full instructions here.
Oregon State did a study on how coffee grounds can enrich the soil and repel animals at the same time. Sounds like a pretty good combination to me! Check out the link for the full rundown.
If you're as fond of hydrangeas as I am, then you'll be happy to know that adding a little Alum to the soil they grow in or to the base of the stem will help them stay perky and bright wherever they are. See how it works at Home is Where the Boat Is.
Florida Friendly Plants gives us a great tutorial on how to plant your flowers so they can be changed out seasonally! That way you can always keep your outdoor decor as up-to-date as the interior. 
DIY & Crafts has an amazing article on how you can re-grow vegetables from kitchen scraps. This could save you a TON of money. Check it out!
If you don't want to spend the money to buy a watering can, or the ones you've found just don't work as well as you hoped, I have a solution for you! Take an old milk jug, poke holes in the lid and voila! you're own personalized watering can(jug?). Find the full tutorial on A Journey to a Dream.
Fashion biodegradable planters with old toilet paper or paper towel rolls like they did on Earth 911. It's environmentally conscious and easy at the same time. Win-win!
 And finally, if you're really adventurous Apartment Therapy has an amazing tutorial on how to grow 100 pounds (45 kg) of potatoes in 4 square feet.