Don't throw away your old cardboard boxes…but them to use throughout your home instead! You can make mini kitchens, playhouses, and just about anything else!These cardboard box ideas for kids are adorable, and they'll love to help you make them!  Recruit your kids for help making these, because making them is just as fun as playing with them! Here are things to do with your old cardboard boxes.
Your kids can go anywhere with this DIY van and a wild imagination. They can keep track of their travels with pins on a globe!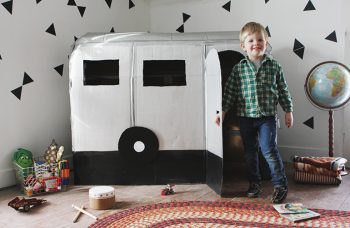 You can decorate these cardboard box houses however you would like, but I think I'd theme mine after the famous Diagon Alley! Now, was The Leaky Cauldron near Weasley's Wizard Wheezes? Or no?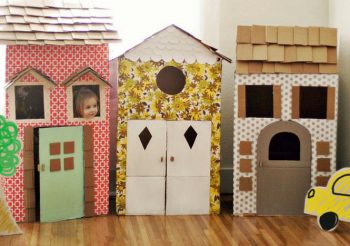 We're going on a trip…on our favorite "rok it" ship! This looks to me like an old water heater box (?) but I think it looks like tons more fun dressed as a rocket ship! Use scrap fabric to give your ship some character!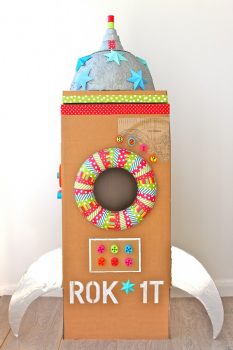 A cardboard box dollhouse folds up easily, and is a cheap alternative to a store bought house. Use crayons or paint to draw on home accents. You can purchase a doll house furniture set for cheap here.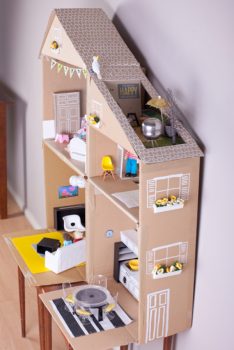 Set up a farmers market stand in your backyard with only a few large cardboard boxes. I think the fruit stand out front is my favorite feature of this market! And is that a cake I see? I'd take a piece of that, as well!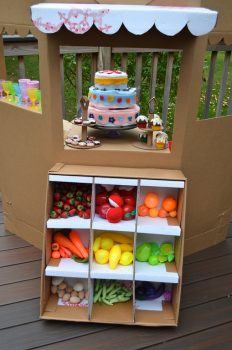 If the dollhouse wasn't quite your kiddo's cup of tea, use cardboard to make small trucks and cars instead! Use leftover pieces to make a small town.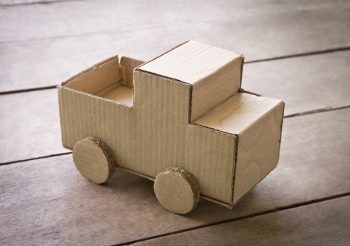 Christmas isn't close, but who says you had to decorate yours like this? Use cotton balls, pipe cleaners and even Washi tape to give your mini cardboard houses a little pizzaz. Of course, cotton balls do make for good "snow" if you choose to go that route.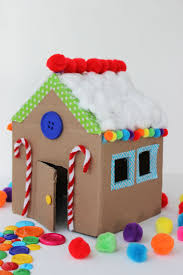 Got a little that loves to help with laundry? I mean, you could always have them help with YOUR laundry loads, but that could be dangerous. Make them their own machine, instead! The knobs are actually repurposed from milk caps and bottle caps!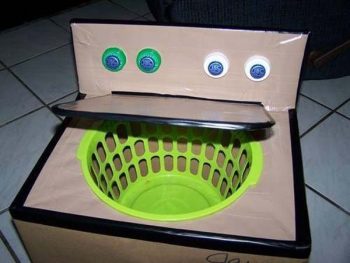 Make the featured products for yourself! Use these links:
DIY Camper from A Merry Thought
Cardboard Box Houses from A Beautiful Mess 
Rok It Ship from Kate's Creative Space 
Cardboard Doll House from Flikr
Fruit Stand from Good Housekeeping
Cardboard Cars from PopSugar
Mini Cardboard Houses from Jane Can…
Washing Machine from Kiddy Crafty