My porch is one of my favorite areas to hang out and relax on during the Summer and Fall months. My saying is, "if it's over 70 degrees, why aren't we drinking iced tea?" but only on the porch, of course! This year, I was determined to give my porch a little bit of love with a porch swing. Break out your hammer and nails, these 10 swings can all be DIYed.
Ana White comes to the rescue again! This time with a fun and fabulous porch swing project from Shanty 2 Chic. It looks like you spend quite a pretty penny on this bench, but you'll probably amazed to learn how much it really cost.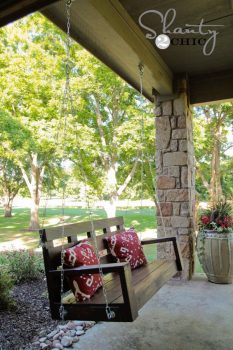 Make this outdoor porch swing with an old pallet and only $30. Use rope to hang it from a tree, from your porch, or anywhere else! Would I be insane if I wanted to put this in my daughter's room?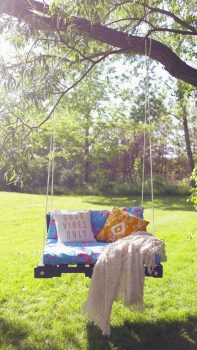 Sunset Magazine comes to the rescue with this seriously easy swing project. They'll walk you through the step-by-step progress, and I'm sure your project will end up looking this amazing. Paint it the color of your choice!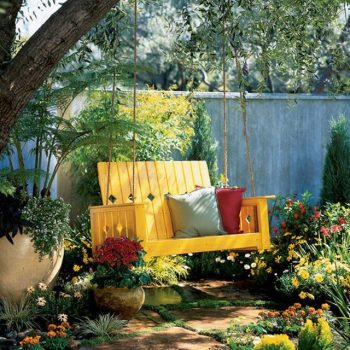 Head on over to A Beautiful Mess for this porch swing DIY! I love these pillows, and I love the kind of color contrast that they create! I'm enlisting my husband to help out with this one!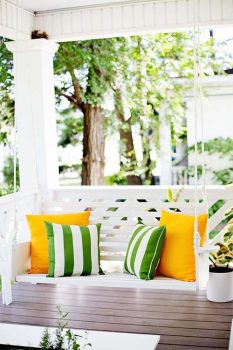 A porch swing in the middle of your living room? Say what? Sawdust to Stitches shows that this is totally possible! I love furniture pieces that can be used indoors and out!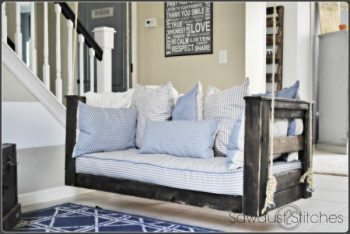 If hanging out fireside is your place to be, this swing project from Instructables could very well change your Summer! Roasting marshmallows would be so much fun!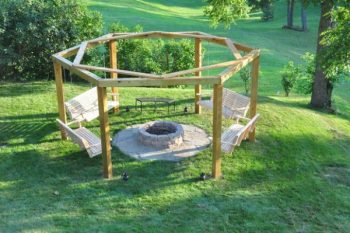 This porch swing from Thats My Letter is a classic. Only, it isn't hung on a porch! If you have the space, hanging a bench from a sturdy tree in your yard could be the perfect summer getaway.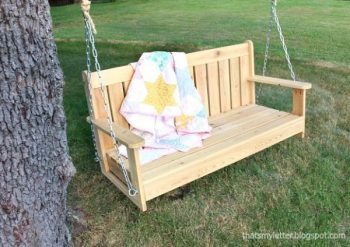 Warning: this project from DIY Joy may make you want to move your bedroom to your porch.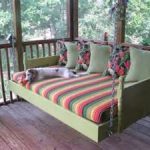 Can't let go of your baby's first crib? I can't either! Instead of keeping it stored in the attic, repurpose it into a porch swing! This way, you can enjoy it and keep it for memories sake! From Pinterest.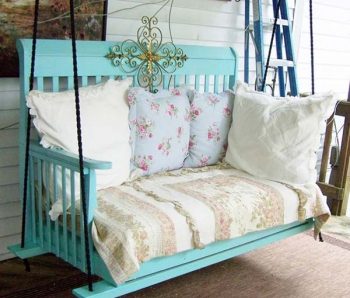 Pop on over to Pinterest for this tutorial, and a whole host of other ideas! Old doors might be a hard-to-come-by item, but they make powerful statements when repurposed in the correct ways. Here, it 's the baking of a porch swing.