We can't get enough of our porch and patio during the Summer months! Lately, we've been having to return inside WAY earlier than we would like due to a lack of lighting. I'm over it! I want to spend as much time as I possibly can outdoors during the summertime, and these easy-to-make outdoor chandeliers will help keep my family outdoors for as long as possible.
Tine, balloons, glue, and twinkle lights are all you need to create this outdoor chandelier. This project appears courtesy of the Heart and The Home.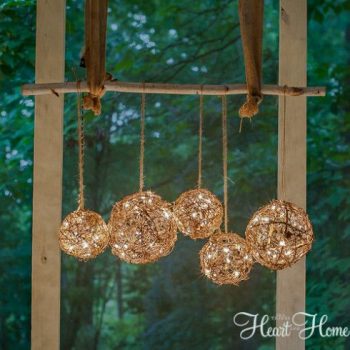 If you wanted more of a minimalistic project idea, this outdoor DIY from Bob Villa definitely hits the mark. Mason jars and tea candles are what make this chandelier glow! Add succulents for depth!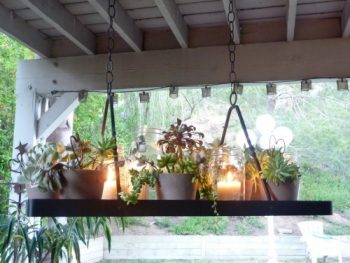 If you're short on ideas (and maybe even materials!) this project from Shelterness shows you how a plain ole' ladder can be transformed into a piece of furniture that it literally the "light" of your space.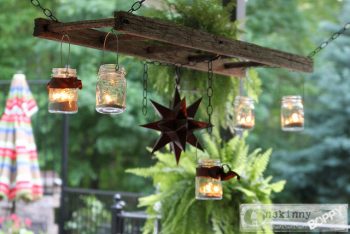 As most of you know; mason jars are one of my very favorite things to craft with! Hang vintage mason jars from your outdoor tree branches. You won't believe how much light these can provide! Tutorial from Earth 911.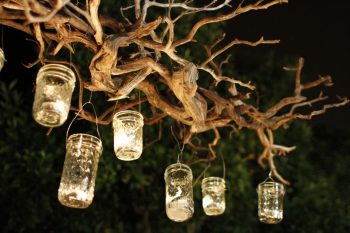 If your garden needs a little light, check out this tutorial from The Empress of Dirt! She has several great ideas, and she shows you how to make each one of them. You won't want to leave your garden, ever!
I mean, I MIGHT have several wine bottles that I am looking to repurpose in some way, shape or form! I think this project from Paul Rainville is the perfect way to repurpose those old items that can be found around the house!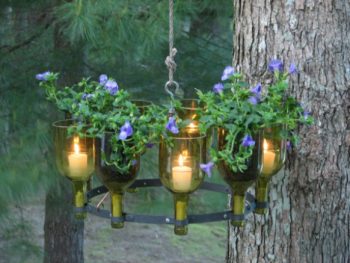 This project is perfect for any rustic decor lovers! Who would have thought that old chicken wire would make for such a great centerpiece? Consumer Crafts has the full tutorial, and it will only take you a couple of hours to complete! However, one should be warned: chicken wire is incredibly sharp! Make sure you wear gloves when working with it! I've ended up with many a nasty scrape!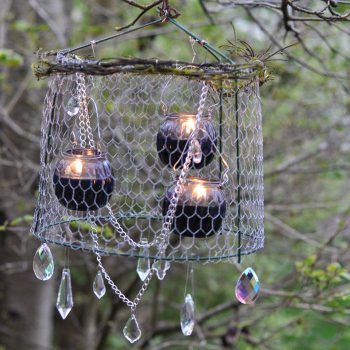 This isn't exactly an outdoor chandelier, but it creates such a beautiful glow that I had to share the DIY idea! Poke holes through old cupcake liners for a fun and festive outdoor lighting feature. This tutorial will help you create these using a sting of decorative lights from IKEA!