In my home, one can never go too far when decorating for Christmas. In fact, all of my kids were bummed last year when I skipped out on applying the fake snow around the windowsills! We regularly have snow here on Christmas…so who knew they would be so bummed out when I skipped decorating with the fake stuff! It's probably pretty obvious that we take the holidays very seriously in the McCoy household. We like to fill every spare corner with a bit of holiday cheer! Needless to say, sometimes regular-sized ornaments just aren't enough for my Christmas-obsessed family! We like to decorate with ornaments as big as they come! Giant Christmas ornaments can be tricky to find in-store so we had to learn to make our own a long time ago.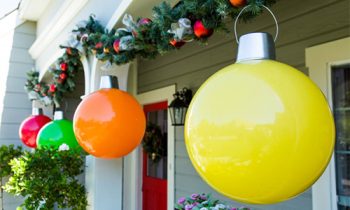 Image from The Hallmark Channel
Follow my tutorial below to make your own DIY giant Christmas ornaments! The process is easy and they are sure to absolutely light up your yard with a touch of Christmas cheer.
Here's what you'll need for this easy tutorial:
-Kids play balls (found at Wal Mart, or any similar store)
-Small deli container (this will be your ornament hanger)
-Coat hanger (unwind the hangers so they are straight)
-Spray paint (this is for the ornament holder–so pick a metallic shade!)
-Art knife (I used an X-Acto knife)
Step One: To begin, use your Xacto knife to create tiny holes on either side of your plastic deli container. Once complete, take your coat hanger and string it through the holes made in your deli container, creating a loop of sorts. Make sure you bend the ends, so they stay fastened inside of the deli container. This will be your ornament holder.
Step Two: Use your metallic spray paint to coat the deli container and the hanger hook. Let dry completely before moving on to the next step.
Step Three: After the spray painted deli container has dried, apply a bit of silicone glue to the outer edge of the spray painted deli container. I like to use silicone glue because it holds up rather well against any storms or potential bad weather.
Step Four: Place your glue-lined deli container on your plastic ball so it covers the label or price tag if there is one. If not, place your ornament holder wherever you would like on the plastic ball. Once attached, smooth out any of the glue lumps with your finger and let it dry for 24 hours before hanging.
Step Five: If desired, now is the time to add a pattern or some glitter to your DIY giant Christmas ornaments. This part is totally optional!
Voila! Those are all the steps needed to create your own DIY giant Christmas ornament. Wasn't this DIY giant Christmas ornament tutorial just a breeze to complete? Once they're fully dry, you can hang your giant ornaments from your porch or anywhere else that needs a little extra holiday love. These look great both indoors and out!