The holiday season is quickly approaching, and I am incredibly eager to start planning my Christmas gifts now. It's never too early, right? Like many an avid Pinterest-er I find myself falling in love with all the mason jar crafts. This season, I am determined to make a personalized gift for each one of my best friends; using a mason jar as a holder, and I challenge you to do the same!
Pssst…if you are DYING for new mason jars, click this link for a special deal on Ball and Kerr mason jars!
For the busy Mom….
Remind her that it's important to take care of herself, too! Fill a mason jar with a homemade body scrub, homemade bath bombs, and a DIY footsoak. To fit the theme, you could also include gold nail clippers/ file, and a jar of golden nail polish! Find this and other pampering ideas from The Gunny Sack.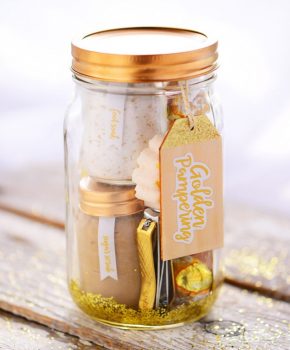 For the neighbor you don't know super well…
I love to bake, and I look forward to making a batch of Christmas sugar cookies with my kids. Over the years, my sugar cookies have gotten quite the reputation around the neighborhood (if I do say so myself..) . This year, I plan on giving my neighbors my recipe! I love how this blogger put together her Christmas cookie package, and I want to do the same!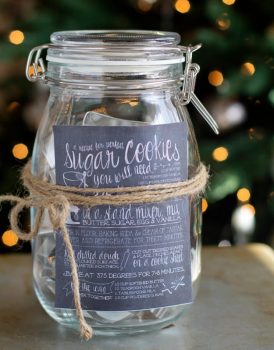 For the gardener…
Succulents are extremely low maintenance and when displayed in a mason jar, they look absolutely stunning. Cambrian Co. shows you how to layer rocks, pebbles, and other colorful filler to create this fabulous DIY gift in a jar!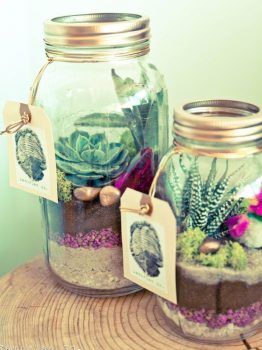 For the host…
Heading to a holiday party at a friends house? They'll definitely appreciate this homemade air freshener from Bitz & Giggles. I'm sure they'll put this to use as soon as the party is over!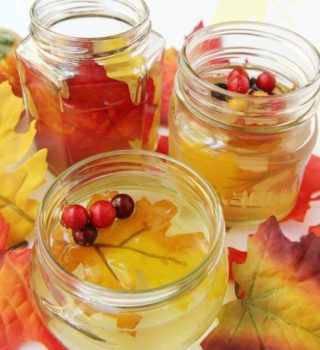 For the foodie…
I, for one, don't think there's a better gift out there than food! Food is comfort for the soul! The holidays can get stressful, so give your friend everything they'd need to make taco soup. They won't even need to hit the grocery store. One Good Thing has more.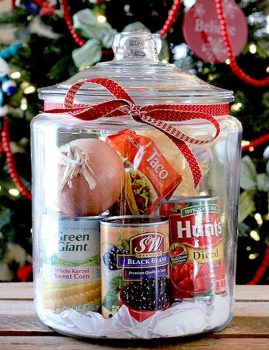 For the homemaker…
DIY Lizzy has a recipe for a homemade laundry detergent that will knock the socks off of you and your gift recipient! Include the recipe in your gift, so no one will have to pay full price for laundry detergent ever again!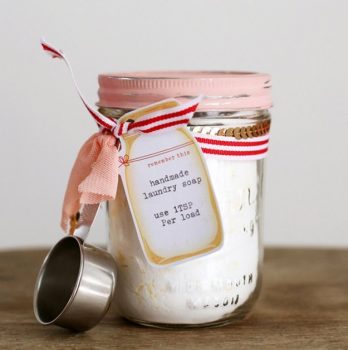 For the sweet tooth…
I can think of several friends (and maybe even myself…) who would love a jar of "Hugs and Kisses" for Christmas! This cute gift in a jar can be made in minutes, jar accessories included! The Suburban Mom has this gift idea, and tons of others!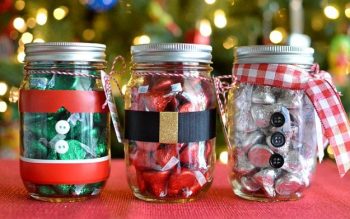 For the caffeine junkie…
Ah..hem…this could be great for me as well! Fill a mason jar with favorite bags of loose leaf (or bagged!) teas. Include honey, agave, or other sweeteners. You can't see it…but a handheld tea strainer is included, as are a few delicious tea biscuits! See what else is included at The Gunny Sack.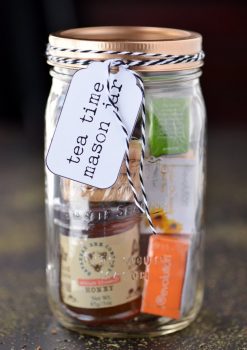 For the gardener…again!
Mini everything is adorable, but mini terra cotta pots are probably the cutest things I have ever seen. Be sure to add a few packets of seeds, as well as a packet of soil, or sand starter. You could even add tiny plant markers to determine the difference between herbs! Did you notice the washi tape around the lid? Adorable! See how to do it at The Country Chic Cottage.