I love to make my own Christmas decorations whenever possible. It's a great way to save money on holiday decor, and I've found that I have grown sentimental over the things I made myself over the last few years. If you're like me and always looking for a cheap DIY Christmas decor project, try out the one below! You'll need a few mini Christmas trees (found at the Dollar Store for practically nothing!) to create this amazing wreath! It's such an easy DIY that you'll want to make one for every door in your home. Find the tutorial for this Dollar Store DIY Christmas Wreath below:
Dollar Store DIY Christmas Wreath
Here's what you'll need….
-6 mini Dollar Store Christmas wreaths
-Floral wiring
-Wire cutters
-Hot glue gun
-Chalk paint (optional, if you want to make your wreath "snow-dusted")
-Berries and other items for embellishments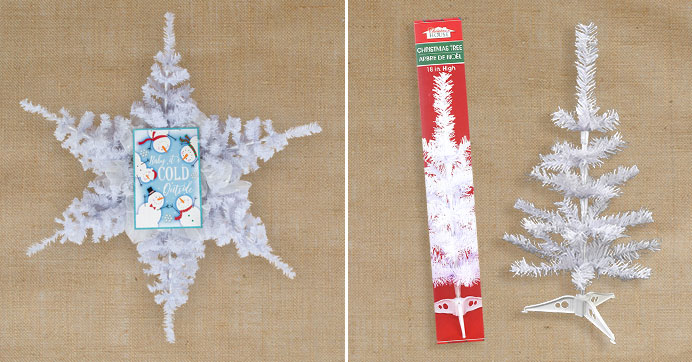 Image from Dollar Tree
Step One
Remove the Christmas trees from their packaging, disposing of every portion of the plastic stand. You won't need these to create your wreath. Next, group the trees in groups of two and tie the bottoms of the trees together with the wire and hot glue. Repeat this process two more times, or until all Christmas trees have been used.
Step Two
Now, place your bundles on top of one another so that they resemble a star shape. Use the wire and hot glue to attach everything together nicely. I always go a little overboard with my gluing and wiring. I want it to last for years to come, and I feel this is the best way to do so. Make sure that the bundle is attached so that none of the Christmas trees move around.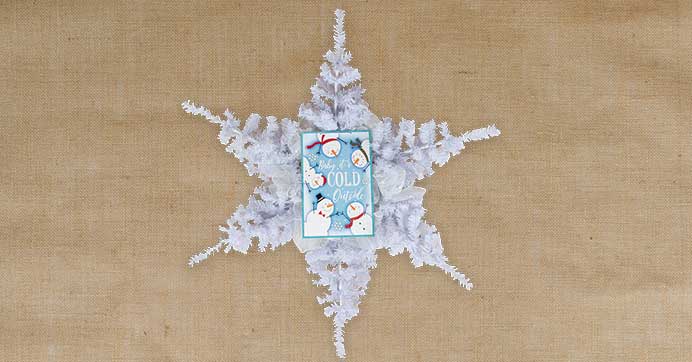 Image from Dollar Tree
Step Three
Now's the time to spruce up the branches of your Christmas tree! They're probably all flat and clumped together! Take some time to separate the branches and make it look like more of a tree. Trim the tops off of your trees as soon as everything is fluffed and assembled. If desired, now is a good time to dust the branches of your leaves with the white chalk paint. If you'd rather not, skip on to the next step.
Step Four
The final step is to cover up the wiring in the center of your wreath with berries, more pine needles, a big ribbon, or a mixture of all three. Just make sure that you arrange them in a way so that the wiring is covered up! Now all you have to do is find a perfect spot to hang it up.