It wasn't more than a week ago that we were enjoying our family Christmas; the kids were laughing, wrapping paper was everywhere, and I suddenly had a voice asking me, "Mom, where are the batteries?"
Uh…batteries…you mean the ones that I forgot to pick up at the store? Yeah….those batteries. I thought I was about to ruin my poor children's Christmas, but I remembered I had some tucked away in a secret stash.
Batteries are a lifesaver in many a kid-related or outdoor emergency, but they kind of create havoc for your organizational systems. Why are they so bulky? And sort of hideous to look at? But an organized mind is a happy mind, right? So we figure out what to do with those pesky (but necessary) batteries; and here's how we do it!
Coin purses found at Dollar Tree (or Target) make perfect little containers for batteries of all shapes and size. This is the method that I like to use, and it's been a fantastic solution. Use letter tags to label their kind.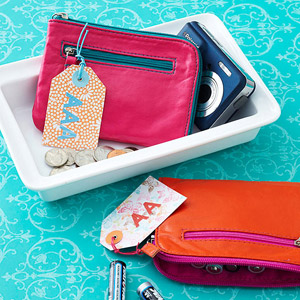 I have a ton of these hanging out in my cabinets, I do love my lunchmeat. Use old lunchmeat containers (or tupperware from the Dollar Store)  to store batteries. Use a label maker so you'll know which one is what!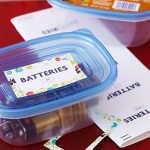 The easiest way to hide these ugly things? Tuck them into vintage tea cups! Again, letter tags make an appearance as an adorable label display.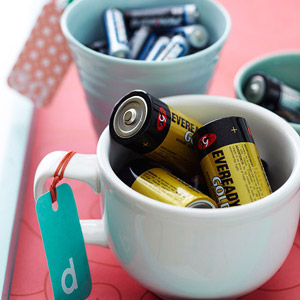 I've always thought that storing batteries in a bead case or tackle box is a genius way to keep things organized and out of the way. If you too liked the idea, but want to beautify it a bit; use pieces of duct tape or ( scrap paper) to cover the bottom of the case. This works best if the dividers can be easily removed!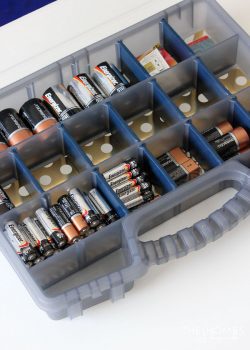 Keep your batteries even MORE out of the way with a silverware organizer in the bottom of a set of plastic drawers. Roll them away when not in use.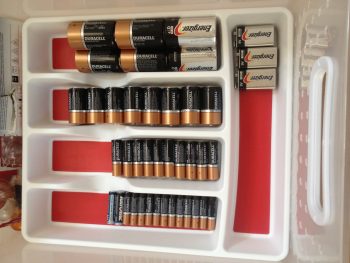 Wait, wait, wait! Don't throw away those old cereal boxes…cut them to fit your needs for an in-drawer-organizer. Once cut, cover your boxes in washi tape and tuck them in their drawer. Label, and then organize your batteries. Life changing, isn't it?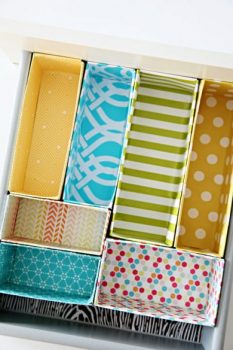 All battery organization methods were first found at these listed blogs. Visit to enjoy!