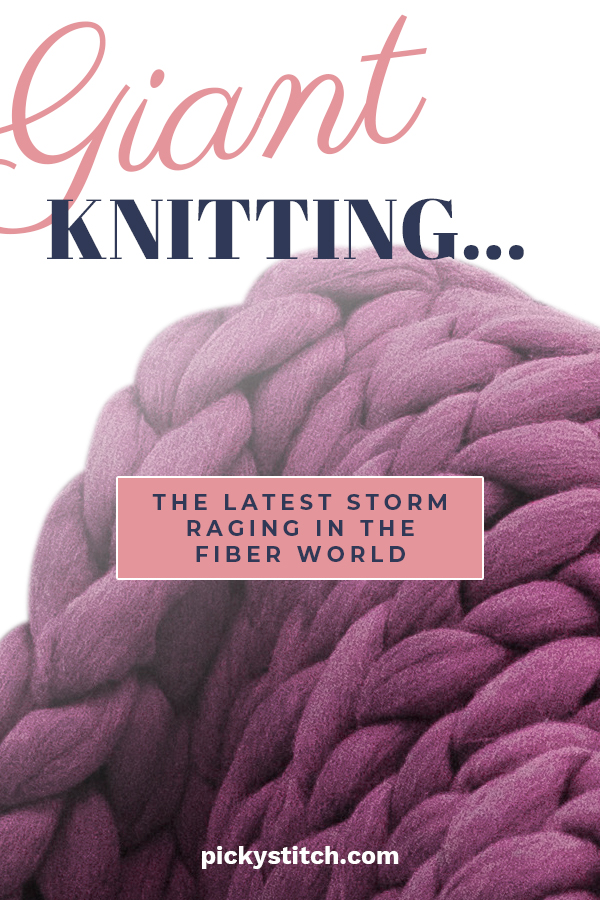 One of the first things my grandma taught me when I was old enough was how to use a set of knitting needles! She taught me everything I needed to know when it comes to knitting! It didn't take long for me to become a self-proclaimed knitting expert (not to toot my own horn, but I can finish knitting a hat in record time!) and it's still one of my favorite hobbies. Recently, my young kiddos have expressed an interest in giant knitting projects and being the crafty Mom that I am, I was determined to get in on the giant knitting action! Together, we made a giant blanket, I just can't get enough of how cozy the finished result is! Here are a few tips you need to get started with giant knitting so you too can get on board with the latest trend in the fiber world.
To get started giant knitting, you'll need to pick up a few items from your local craft store:
-You'll need chunky yarn (without chunky yarn, you won't have a giant knitting project!) I like to use this kind from Amazon.
-Two arms that act as a set of knitting needles (two arms and some giant yarn is seriously all you need to get started…you don't even need to make yourself a giant set of PVC pipe needles!)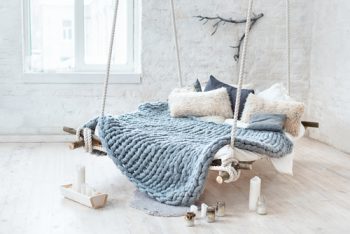 Tip #1: If you know how to knit with a set of regular knitting needles, you should be able to pick up giant knitting in no time at all. I recommend that all giant knitters watch this YouTube tutorial to get started without a problem.
Tip #2: If you're in the middle of an arm knitting project and have to stop knitting, I recommend moving each stitch individually on a cardboard gift wrap holder. If you don't have one available (and really, I only ever have one available around the holiday season) you can also slide the stitches through on a long piece of yarn. Be sure that you label which of your arms the last row of stitches was on so you can get back to work more quickly.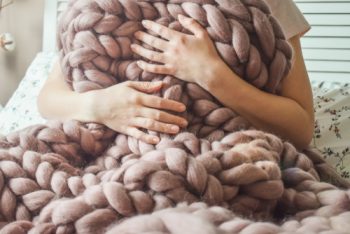 Tip #3: When giant knitting, many DIYers ask me if it's possible to tighten the stitches. Though giant knitting projects are naturally loser by nature, there is a way to tighten loose stitches! To do so, simply keep your stitches as close to your hands as possible and pull each stitch ever so slightly to gradually tighten them. Easy enough, right? You'll have a giant blanket in no time at all!
Tip #4: If you want to make your yarn even thicker, you can actually learn to knit with multiple strands of yarn. To do so, start with multiple balls of yarn and hold the strands together as you "cast on." Continue to work from multiple balls of yarn as you complete your giant knitting project. Always remember that it's never a good idea to wind the yarn together beforehand. Often times, this doesn't work out and it only leaves you with a tangled, jumbled mess!