It's that dreaded time again. The kids rush through the door. Backpacks hit the ground. Food flies around your head. The dust eventually settles, and you ask about homework. The kids look at you like you have 3 heads. The horrors start again. If this is you, keep reading. There is hope! Try these ideas to improve homework time.

1.) There always seems to be a million things to do after school. Organize those things by writing them on ice-cream sticks as shown. Assign a jar to each child with their after-school responsibilities. Homework, of course, is one of them.
(This idea is from Ginger).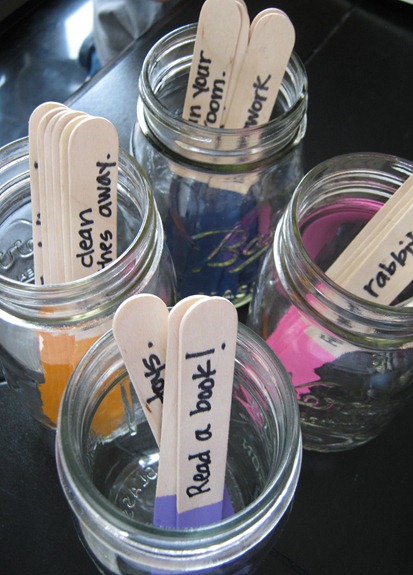 2.) Create a homework station for the kids. It can be anywhere in your house, and can use objects from your child's specific schooling. For example, put a clock, a calendar, a multiplication table and so on on a wall above a special desk just for them. (from Katie)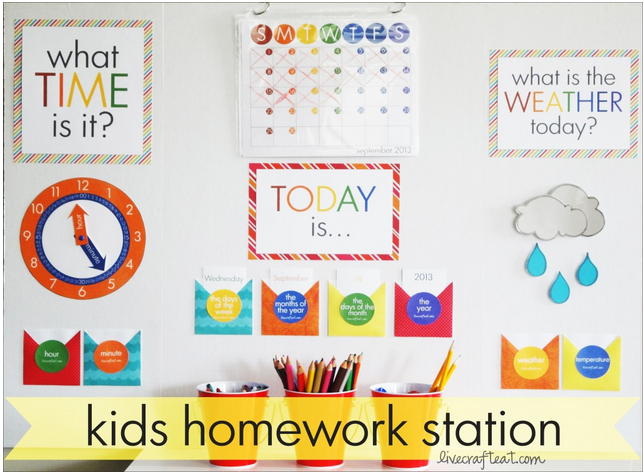 3.)  This is a portable study station. If you don't have space for a personal homework station, create on that could be moved. Buy a poster board from a school supplies store and clip on various homework assignments, checklists of things to do, and so on.(From Mom Advice)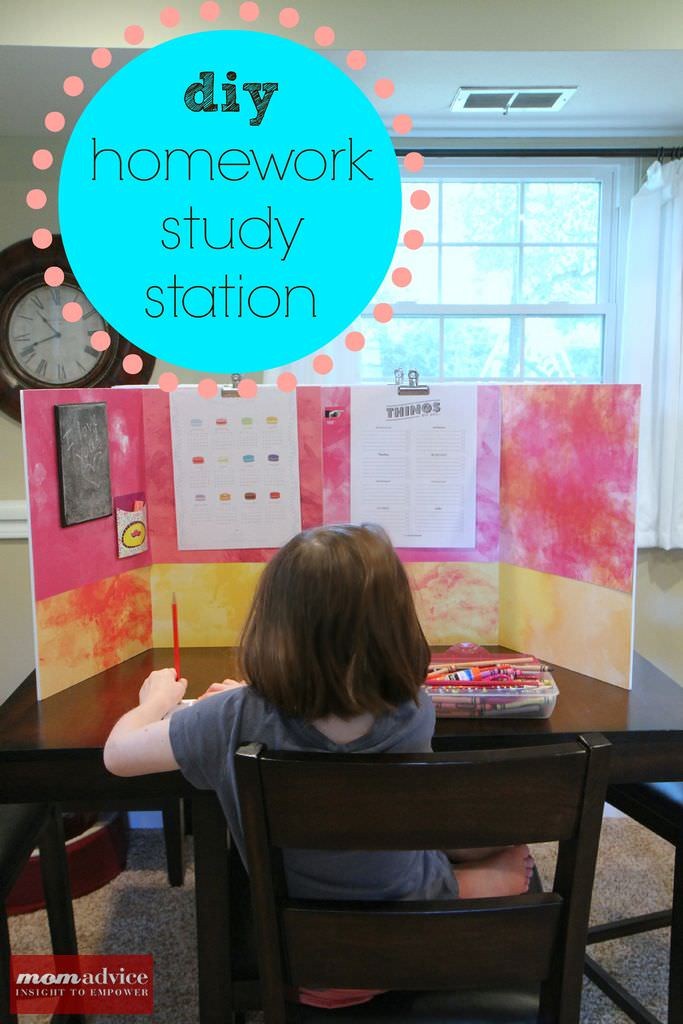 4.) This idea comes from a professional! Engage your child's senses–all of them! Find a cozy space for their homework (for example, sitting in a laundry bin!) It seems weird, but it actually helps the child feel focused. Angie has studied the difficulties of homework, and her ideas are gold. Trust me, you want to check her website out.
(Angie)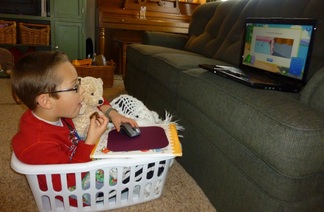 5.) For the difficulties of reading with your child! Try this idea: divide and conquer. You don't have to do all of your homework at once. Take 15 minutes for reading a favorite story, then take a break. Take 30 minutes for math, then take another break. This helps homework time become more manageable.
(Check out Allison's blog for even more ideas)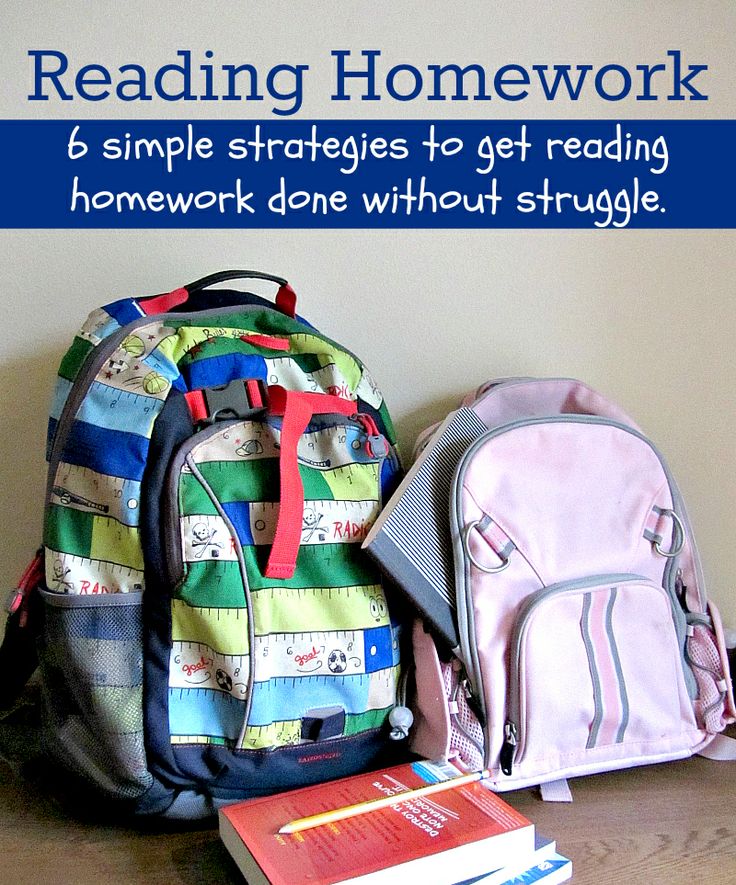 6.) From professionals, try this tip: "Don't make your child's behavior about you. When you react as if your child's behavior is about you, then it becomes about you. But her behavior is her choice-how you decide to respond to it is always your choice. This is where you have control over yourself, and no one else. The bottom line is that your child's behavior is ultimately hers to decide. It is not about you."
(Behavioral Charts)

7.) Offer positive reinforcement! When your child does something well, praise them! This actually cements the good behavior and helps them want to achieve more.
(Ashley)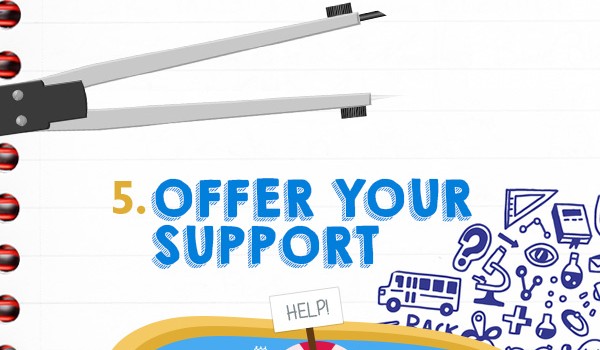 8.)This is a great idea for teaching kids responsibility with homework. Give them planning books and help them to do it themselves!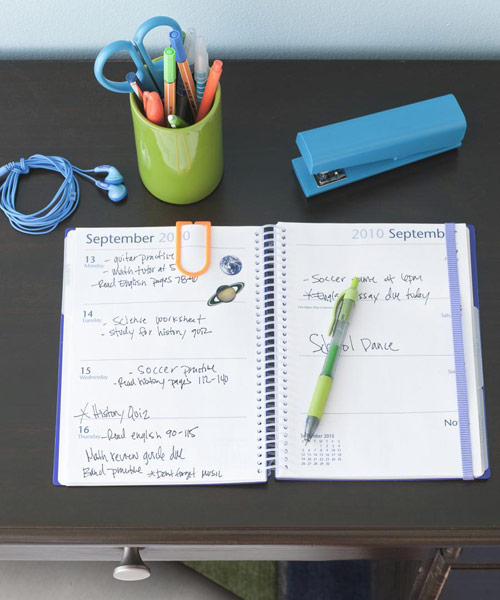 9.) One of the best ways to get kids to focus is to engage their senses. When they're doing homework, let them do it with calm music they love, good smells, or comfortable seats.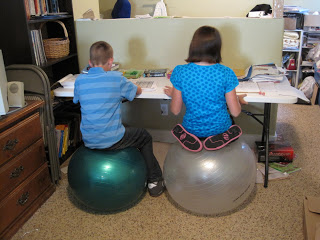 10.) Kids need brain fuel to get through their homework. Some of the best brain foods are proteins (such as nuts), whole grains, and raw fruits and vegetables. This is so much better than a sugar rush!(Tashween via Buzz Feed)