Centerpieces are often one of the most under-appreciated parts of a fantastic tablescape. It's almost as if you never really notice how great a centerpiece is…until you see a bad one! Never fear! I've gathered by favorite Fourth Of July themed centerpieces from around the internet, and you're sure to be the hit of the party!
Keep things simple with a red, white, and blue themed lollipop centerpiece. Encourage your guests to take a few home with them! Bonus points if you can find a Blow-Pop variety in a Fourth of July theme. From Country Living.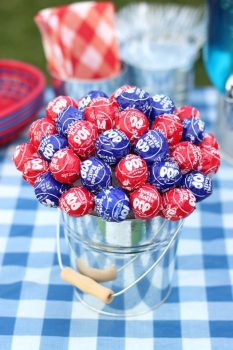 Aren't these blue vases everything? I'm swooning over the deep hues! Decorate with red and white flowers but don't forget the American flag. This is another fantastic idea from Country Living.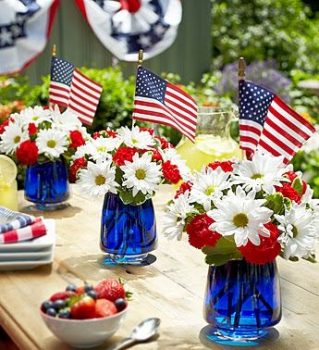 Nothing says patriotic like a top hat that looks like it was made for Uncle Sam! Learn how to do it here!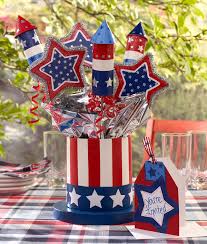 Do you love a centerpiece that is simple, yet savvy? Fill a few mason jars with sand and add some fun Fourth of July sparklers. From Raves, Faves and Must Haves.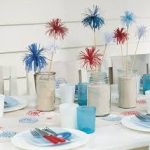 If you love a good repurpose project, this one is for you! Repurpose your old water, soda, or beer bottles with this awesome craft tutorial from Element Design.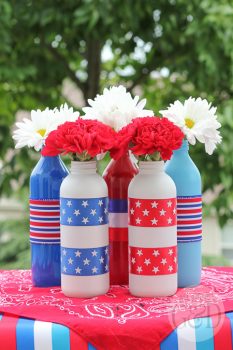 I was unable to find the original project source for this image, but I had to share! Fill a square vase with multi colored M&Ms and skewered fruit. Add paper flags for even more of a holiday touch!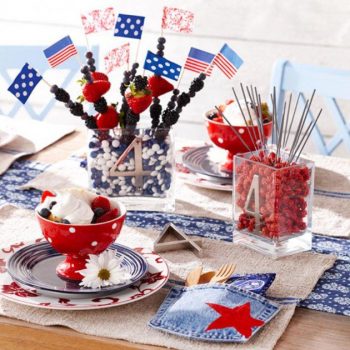 A white, metal bucket is the perfect "vase" for any Fourth of July themed centerpiece. Fill yours with a green moss (doesn't it create a lovely contrast?) and a ton of crazy colorful Fourth accessories. Wouldn't this look A-M-A-Z-I-N-G on any table?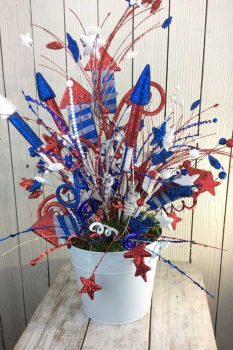 Colorful flowers are the focal point of this dramatic centerpiece. Pair red, white, and blue flowers together in a dramatic bundle to create something similar Fresh fruit makes a lovely contrast!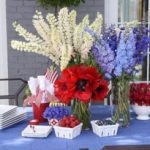 Paint a set of old beams red, white and blue. Decorate them with a bright ribbon and a confetti "stem."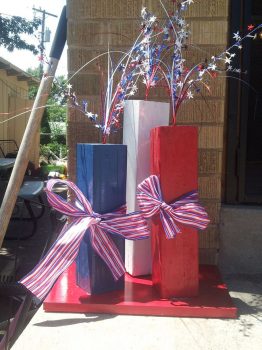 Fill a vase with painted branches and colored ornaments. The fabric scraps that the vase is resting on is what really makes this DIY project perfect for Independence Day!