Picking toddler Halloween costumes can be seriously tough! It seems like your vision and your toddler's vision never seem to match up. This year, instead of spending a fortune on a store bought costume that will likely rip before the night is over (yes, my daughter's Tinkerbell costume didn't even make it through the night one time!), try making one yourself! These toddler Halloween costumes are super simple to whip up yourself and your toddler will definitely approve!
Toddler Halloween costumes don't have to be elaborate! Sometimes, all you need is a set of angel wings. You can find a toddler-sized set of wire wings here (give them a little embellishment with some glitter and feather boa) and you can use a plain white onesie to complete the angelic look. This costume only set you back about $5.00 for the wings and embellishments!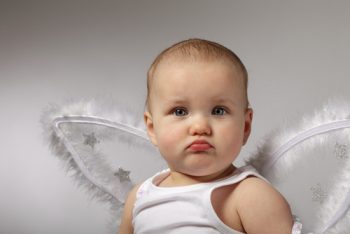 Who else loves easy Halloween costumes? Everyone? Good! I've got another one for you! A pair of cat ears (found here) along with some face paint and a cheetah-print t-shirt makes for a five-minute costume that would please even the most difficult kids. With differently shaped ears and changes to your face paint, you can become any kind of animal that you'd like!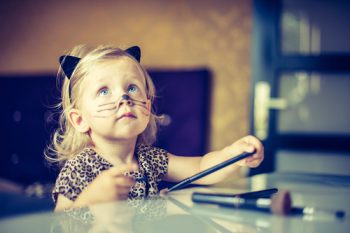 As far as I'm concerned, this is my favorite costume idea on the list. For an easy toddler Halloween costume, outfit your kiddo in a set of overalls (of course), a bandana, a cowboy hat, and boots (obviously, the look of these isn't that important. He was wearing rain boots here!).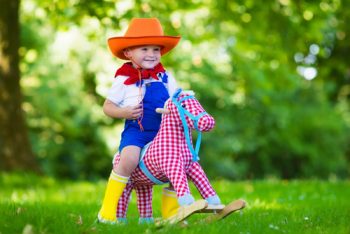 With longer overalls and a different colored hat, I think you could turn the basic farmer costume into an outfit fit for the wild, wild west!
Arrggg, matey! A pirate costume is as simple as tracking down a striped shirt (I find my kid's clothing everywhere, I swear they have legs) drawing on a quick mustache (that rejected eyeliner stick at the bottom of your drawer has a new use, finally) and topping it off with a party hat. If you can, give them a prop of sorts to stash their treasure (candy) in!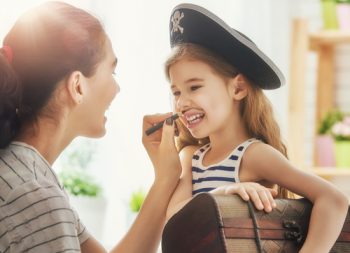 Witches and wizards are found in plenty every Halloween; probably because it's one of the simplest costumes to make! After you throw a witch hat on their heads, all you have to do is decide how to dress them! My daughter always liked to make her witch costume complete with a pair of striped tights and a flared skirt, but the options are truly endless!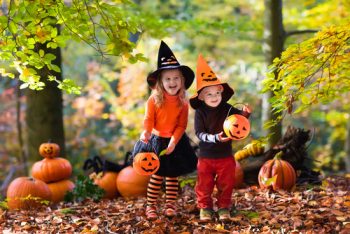 Mommy and Me costumes were always my favorite, but as my kids have grown, they don't love to participate as much! While they're young take advantage of a matching costume set. Here, the all-red costume came together with a DIY tutu (simply tie pieces of tulle around a waist-width piece of ribbon) and a red dress for Mom. Don't forget the details, though, you can buy the hat, eats, tails, and pitchfork here.