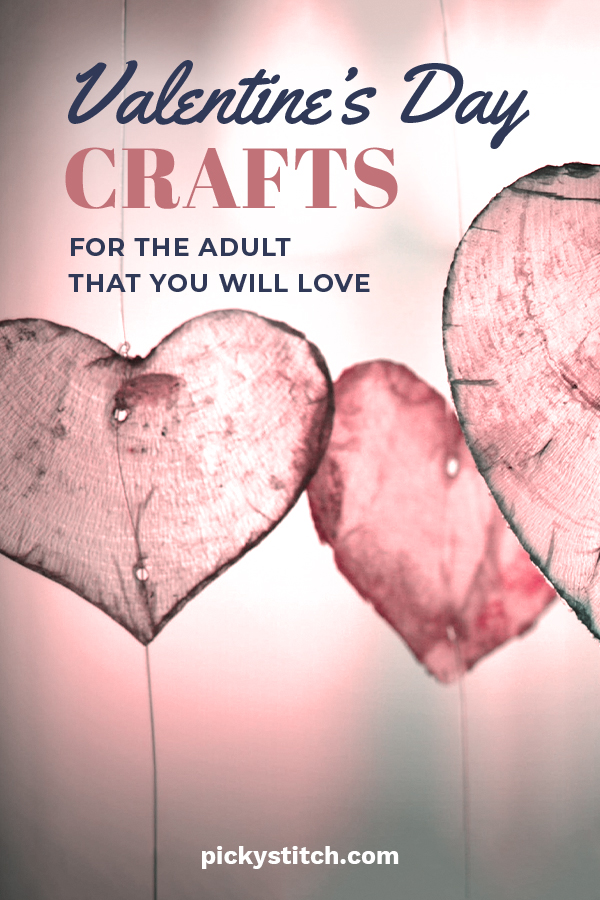 One of my favorite holidays of the year is quickly approaching: Valentine's Day! I love the day of love and all that it stands for. I love spoiling my husband and kids even more! I start decorating (and crafting) for Valentines Day at least three weeks before February 14th is actually here. As I crafted over the years, I noticed that it was incredibly easy to find Valentine's Day crafts for kids, but a little trickier to find Valentine's Day crafts for adults! Fortunately, I've completely scoured the internet and I've found a list of Valentines Day crafts fit for ANY adult. If you love Valentine's Day, you'll absolutely adore these adult crafts! Let's get going!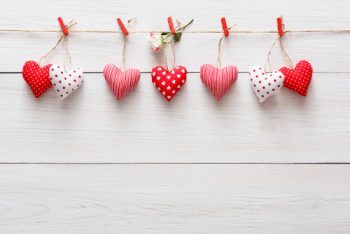 These adorable planters are a breeze to create and a more adult-friendly craft for those of us looking to celebrate the holiday with a craft! To create, paint 6-inch terra cotta pots in the holiday-themed colors of your choosing, and finish things off with a painted or stuck on heart. Complete the craft with punny Valentines day plant labels!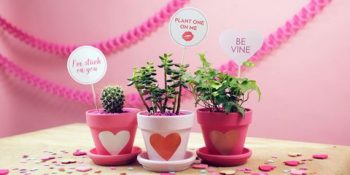 Image and project from Good Housekeeping
I always find it difficult to find appropriate Valentines-day themed home decorations. Of course, I want to celebrate, but how to do so without being overwhelming is the key! I thought these framed XOXO pieces were the perfect medium of everything I was looking for in homemade Valentine's Day decor. To create, pick up four picture frames in a similar size and place tightly-pulled fabric swatches into them. Hot glue colored candies (or buttons, for a more sustainable alternative) to the fabric so they read a sweet message.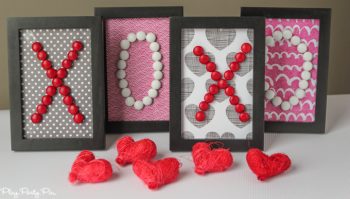 Image and project from This Grandma Is Fun
There isn't a holiday where candles are more appropriate..well…other than Hannuka of course. Make any night a little more romantic with a set of wrapped candles. To create, crochet yourself a set of tiny hearts and attach them to the face of the candle with a bit of white embroidery twine. Change out the ornaments so they work for ever holiday!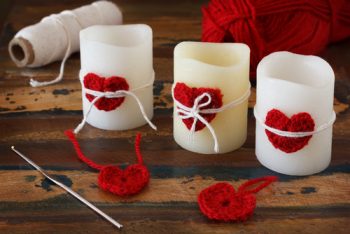 Ahh, time for the quintessential mason jar craft! This Valentine's day craft for adults is probably one of the easiest on the list to create, if not the most versatile. You can put almost anything inside of a mason jar. To create, cover your mason jars with a layer or two of white paint and wait for it to completely dry before moving on. Once dry, hand sketch some mini-hearts strategically around the jar. Fill with flowers for a fun floral accent.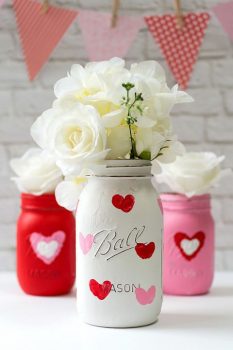 Image from Country Living Magazine
No dining room table is ready for the season without a fun centerpiece! Though this centerpiece looks fit for kids (and trust me, I've made this before and all of mine have loved it!) but it's a blast for adults of all ages to create. Fill a tall vase with pink bubblegum, sparklers, confetti, and these adorable bird cutouts. Assemble, and you've got yourself the easiest centerpiece ever.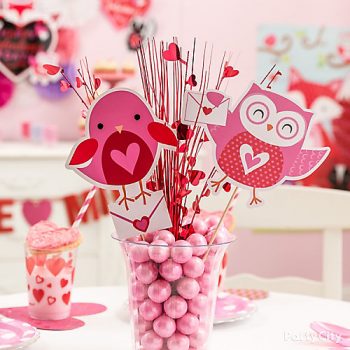 Image and idea from Music Makers
Cozy up this Valentine's Day with a homemade heart-shaped pillow. This DIYer knitter her own using a large, chunky knit to give the finished piece a bit of oversized appeal. Just make sure that you use a pattern to achieve the desired shape.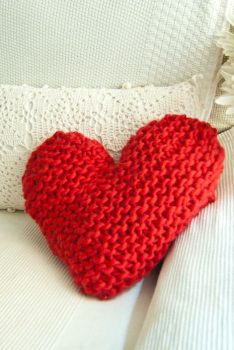 Image and project from Good Housekeeping