Looking for winter crafts best suited for after Christmas? You've come to the right place! These adorable winter crafts have nothing to do with the holiday but will keep your fingers busy until Valentine's Day. The holidays may are over, but doesn't mean the rest of your winter has to be dark and dreary. Winter crafts like these will make your first month of the brand new year a ton of fun. Let's get crafting!
Making a snowmen family out of an old set of socks or gloves is a favorite craft of ours every year! Choose patterned socks if you're going for a themed look, or simply dress them up with colored scarves, and accessories. Stuff your creation full of rice, craft store stuffing, or just about anything else that you could think of!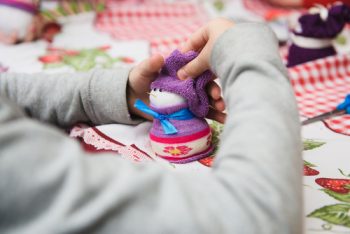 Another simple craft perfect for kiddos of any age, turn three craft sticks into a snowflake fit for a winter wonderland. When crafting, feel free to decorate your snowy creation with anything from white paint, glitter, or even beads. The options are truly endless and every bit as unique as your guests! Image and craft idea from S&S Worldwide.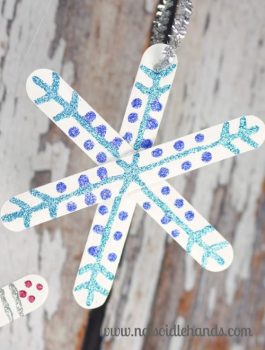 Though this craft is a bit better suited for older DIYers ( or at least ones with a bit of cross stitching experience!), it's probably my favorite winter craft idea on this list! Winter crafts are notoriously cold-colored but I love the warm hues of this project!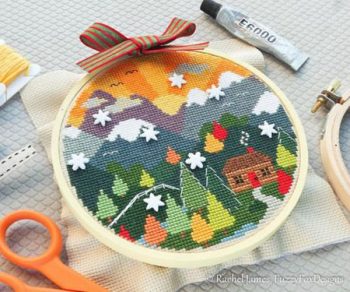 Speaking of embroidery crafts, this one is a bit easier for newbies to manage! All you'll need is a paper plate, yarn in the color of your choice. This is the perfect craft for a Snow Day off from school! You can find the full tutorial for this project at I Heart Crafty Things.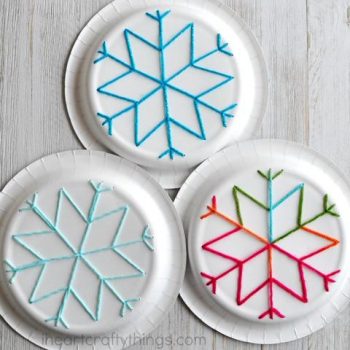 I keep my snowman-themed decor up until Valentine's Day every year! Their friendly faces are a great way to make your home a little more welcoming in the blues of mid-January. You can make this snowman garland out of white cardstock, and various shades of scrap paper to make the scarves and other accessories. Learn how to make it for yourself at Craft Ideas.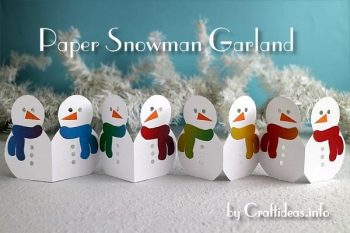 If there's one thing that I've learned, it's that there is a mason jar craft fit for ANY time of year, winter or not! To make your mason jars sparkle, roll the outside of them in a coat of craft glue. Once the glue is applied, all that's left to do is bring on the glitter! Use as much (or as little!) as you would like! Image from here.