When it comes to Christmas decorations, I like to keep my color scheme completely traditional. While some bloggers like to fill their Christmas trees with schemes of colorful ornaments, I prefer to keep mine red and white. Not that there's anything wrong with colorful Christmas decorations! There's just a little something about that classic red and white Christmas decor color scheme that feels so Christmassy to me.
This last weekend, I spent my Saturday adorning my home in all things red and white and it felt so right! Hey, what can I say? Now that I'm done, I feel officially ready for the holiday season! It's incredible what a few decorations (and the right color scheme) can do to a home. I'd have it no other way! If your home is lacking some holiday love, try adding in one of these red and white Christmas decorations for a little holiday love.
Red And White Christmas Decor
Candy canes aren't just for eating..they're great for decorating, too! Tie a length of ribbon around real (or fake, found here on Amazon) candy canes. Once tied off, attach them to a garland of greenery with traditional ornament hooks. As you can see by the photo below, this string of candycanes and garland look great above windows. I have this exact decor piece hanging in my home!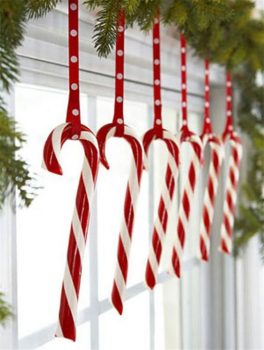 Where I live, snowflakes always make an appearance around Christmas. Both on my driveway and in my home! I found this clever DIY wooden snowflake from one of my blogger friends Jenn, at How To Build It. The project looks impossible to complete (it must be something about all of those angles!) but it's easy to manage with a stencil and a jigsaw. Find her tutorial here.
A perfect decor addition inside or out, a colorful red plaid blanket warms you up just by looking at it. Find similar throws at World Market and place on a couch in your living room, or on a garden bench outside (weather permitting, of course!) Take things further with a garland of greenery tied off with small strips of ribbon. It fluffs up your garland and adds even more visual appeal to your space.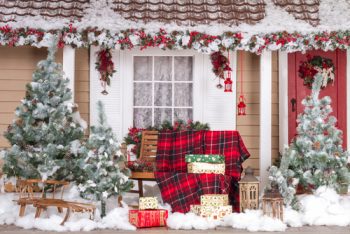 Candle holders for Christmas shouldn't be expensive, especially when you can just make your own! To create, paint small terra cotta pots in the paint color of your choice (though the rustic coloring looks great below, I think I would go with a white shade, instead!) When dry, fill the bottom with a square of floral foam and place springs of holiday greenery into the foam to secure. Once fully secured, wrap a candle (or a tealight) in ribbon with hot glue. Cover a set of wooden oraments in polka-dotted fabric for a fun finishing touch.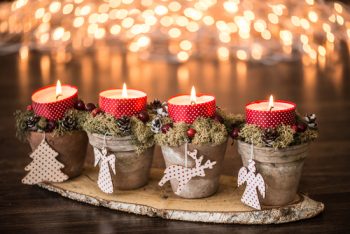 Your Christmas tree ornaments aren't the only place you can sneak in a color scheme! Tie your presents in red and white ribbon for even more holiday fun! If you look closely, you can see that two different shades of red are used on the presents and the ribbon. It's these kinds of sneaky touches that will make your home look even more magical. Pssst…if you're going for a look similar to the one below, I recommend writing your recepients names on the BOTTOM of the gifts! You'll be glad you did.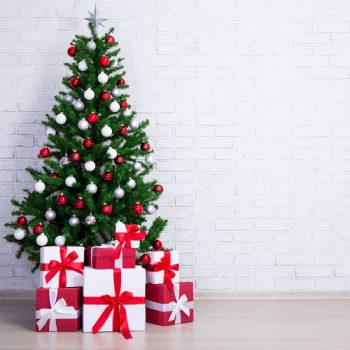 Throwpillows have a wonderful way of making ANY space look instantly complete. Outfit yours in these red and white checkered throw pillows from Amazon! They're super affordable and you may even get away with reusing them for the Fourth of July!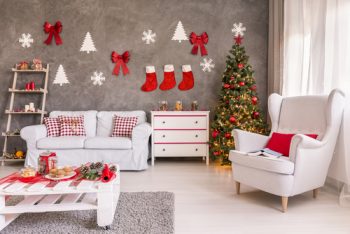 Comment below and tell me which of these red and white Christmas decor ideas is your favorite! Don't forget to check out my post on 12 frugal holiday porch decor ideas.