Will I ever grow tired of pallets and their insane ability to find some way to work themselves into virtually every DIY project, ever? No way, man! My youngest recently expressed a desire to have a small sofa in the corner of her bedroom. I have no idea what on earth she plans to do with said sofa….
But, her birthday is coming up, and I think I could manage to make her an inexpensive couch….made out of PALLETS, of course! Here are 10 ways to make a piece of furniture out of your reclaimed pallets.
I think this one might be a little too big for my daughters room…but I love the idea of using it as a patio sofa! This DIY from The Sassy Sparrow Blog requires only a few of those tools stashed away in your toolbox.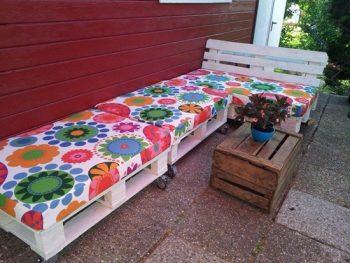 This pallet sofa is a bit smaller, but I still think it would be best on a back porch somewhere! As with any home decor project, make sure that you pick a contrasting color that stands out! The red looks beautiful! Freckles & Fluff shows you how it's done.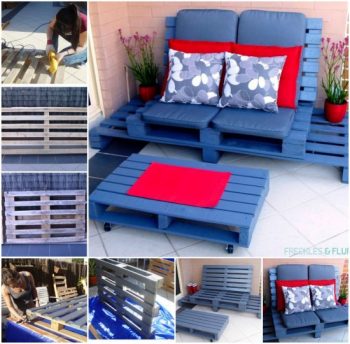 I don't think my family would be able to find me anywhere during the summer time! A twin sized mattress gets a fabulous new life with this DIY! See The Merry Thought for the full project!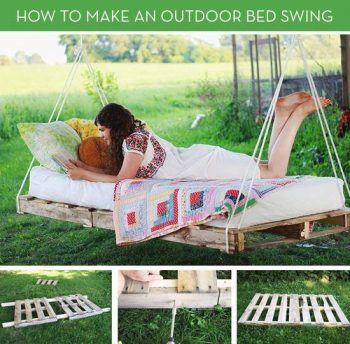 Outdoor bars can be expensive to install, and often require a long installation period! Instead of forking out some serious cash, make one out of an old pallet instead. Of course, a pallet can only make for a smaller bar, but it's a nice outdoor feature that any guest would surely appreciate.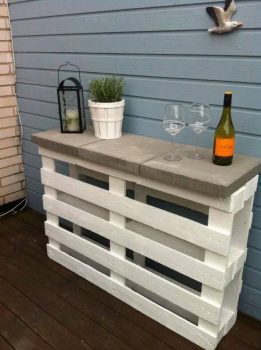 If a larger outdoor bar is more your speed, check out this project from Stacked Designs!  Make sure you seal the tops of the barstools and the bar top with a sealant to protect your homemade furniture from typical wear and tear.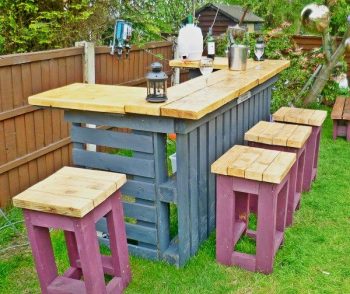 You can find the tutorial on Instructables and you'll be shocked at how simple it is to fashion yourself your own hanging porch swing! You WILL need a saw to cut your pallet into smaller pieces for the backboard of the swing…but it's nothing a beginner can't handle!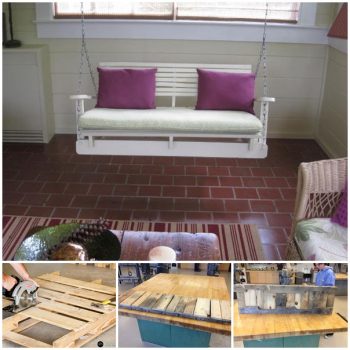 A patio coffee table that moves? Heck, yes! I love piece of furniture that can be moved as you need it to for your entertaining desires. However, you should definitely warn your guests that it moves…or there might be an accident or two! 😉 Tutorial via Joy Ever After.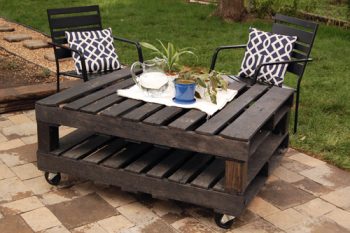 I think this would be perfect for my daughters room! The burlap sack cushions aren't quite my daughter's style, but I'm sure I could think up an appropriate situation! The queen of home DIYing, Funky Junk Interiors has the full DIY tutorial!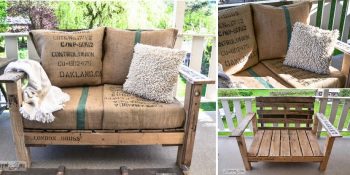 Planning a family movie night? A popcorn cart is ALWAYS needed! Purchasing a rustic popcorn cart like this can be pretty expensive, but making yourself one is LOADS cheaper. You can find wooden letters like this at Michaels, paint them in the color of your choice!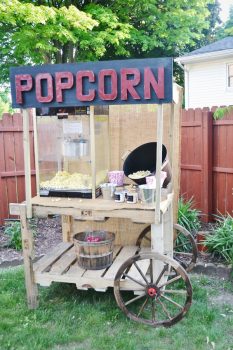 I've been SO inspired by this post that I think I'll make this pallet sofa set for my basement! I fell out in in love with our couch YEARS ago, and I want to put it to use elsewhere! In it's place, I think this couch could be perfect. Minus the "arm chair" planter (although that is adorable!) perhaps I'll substitute it for a small table!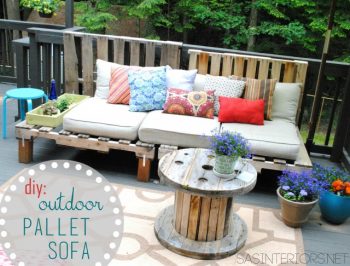 Didn't find the pallet project of your dreams? These articles might help you out!
10 Fast Pallet Projects Even Beginners Can Handle