If you want cleaning tips, you won't top this list of 36 brilliant cleaning tips! Any cleaning perfectionist is going to love this list. Get ready for a faster, more efficient clean!

Cleaning Tips to Make Cleaning Easier
1.  Microwave Your Sponge
Microwave your sponge to disinfect and sanitize it. This method is more effective at killing E-coli than the dishwasher. It's faster too!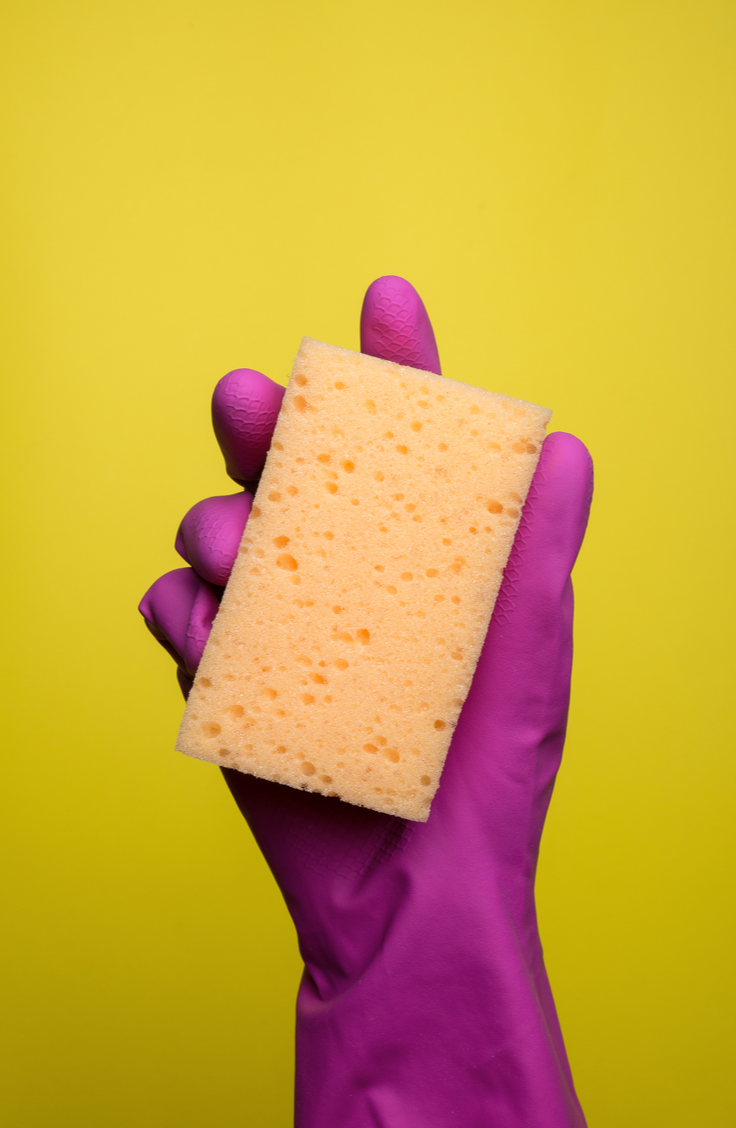 2. Get Rid of Fingerprints
If you can never seem to get rid of hard water spots and fingerprints on your faucets, polish them clean with wax paper.
3. Clean Your Vacuum Filters
If your vacuum is running a little less than optimal, it is probably time to clean out the filter. Don't let the thought of this scare you. All you have to do is run it through the dishwasher.
4. Clean Stainless Steel 
Are your stainless steel appliances looking a little grimy? Use a mixture of cream of tartar and water to make it look new again. 
5. Clean Cast Iron
Cast iron skillets are a staple in any kitchen, but they can't be cleaned by an ordinary method. Clean your skillet with salt and a sponge, followed by a quick water rinse. Dry thoroughly!
6. Freshen the Disposal Drain
We know it sounds awful, but you have to do it! Just use baking soda, a little water, and an old toothbrush. Finish it up with some lemons through the disposal.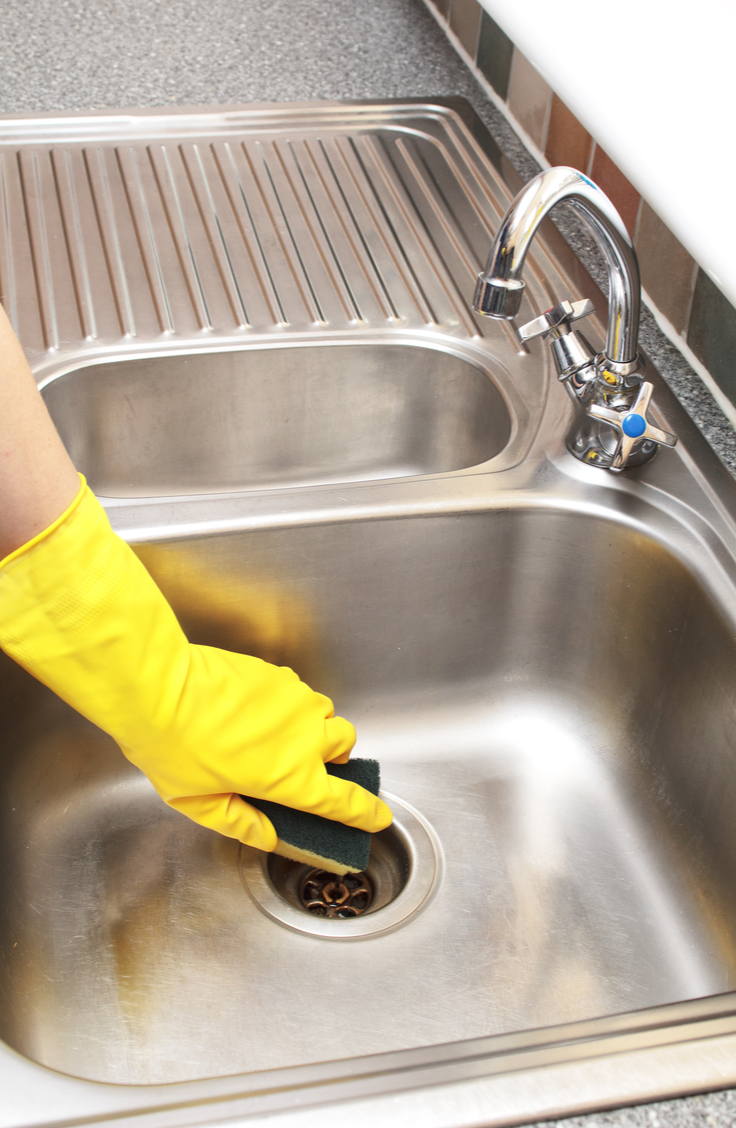 7. Use A Bagel
Wait, what? You can clean with a bagel? Bagels are a surefire way to safely clean and dust old paintings. Just rub the cut side of half a bagel gently over the surface of the painting. 
8.  Freshen the Washing Machine
Contrary to popular belief, washing machines don't clean themselves. Run a cycle with nothing but water and vinegar to clean away mildew and hard water buildup. 
9. Make Your Iron New Again
Get rid of starch buildup by simply ironing salt with the iron warmed up.
10. Baking Soda
Baking soda works wonders when cleaning, especially on your mattress. Sprinkle baking soda, let sit for 15 minutes and then vacuum up.
11. Dryer Sheets 
Reuse your old dryer sheets and clean your baseboards with them.
12. Oven Glass Cleaner
Do you have trouble seeing into your oven? Get rid of that grimy buildup with a paste of baking soda and hydrogen peroxide and a soft cloth.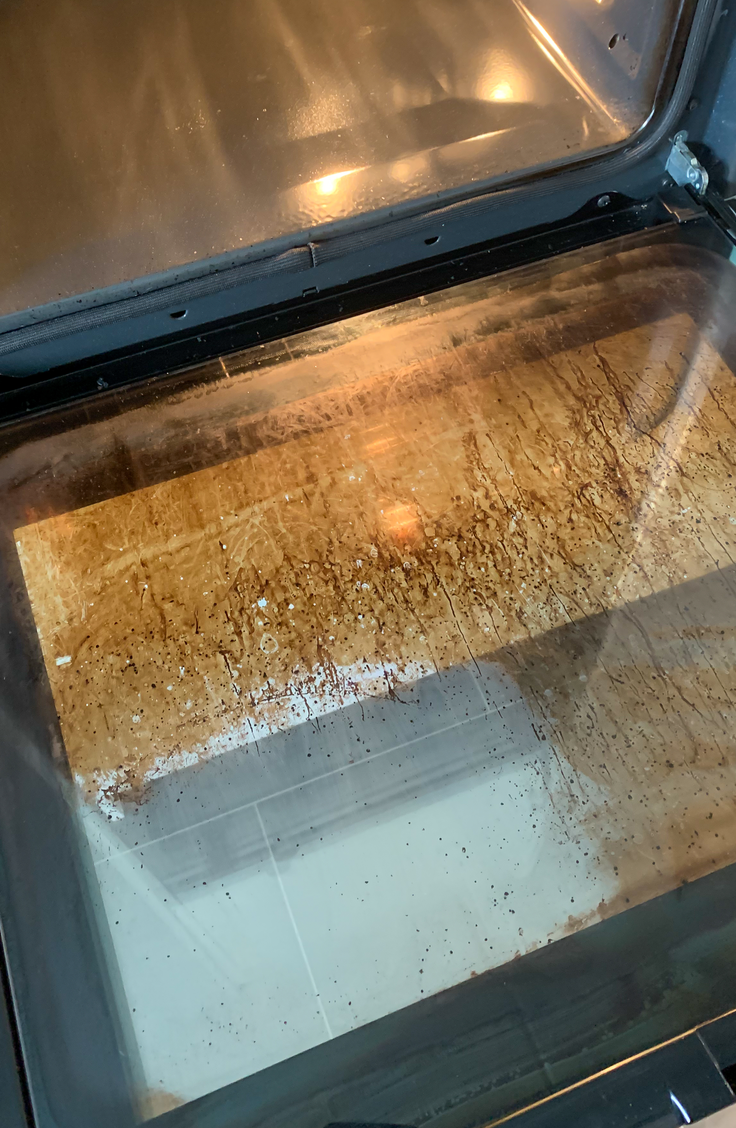 13. Seam Rippers Aren't Just For Sewing
Use a seam ripper to free your vacuum roller brush! You can literally rip all of the hair out in less than two minutes. 
14.  Oven Hood Vent Filter 
One Good Thing By Jillee recommends using baking soda to clean your greasy oven hood vent filter. You will be astounded at the amount of grease it removes.
More Tips For Cleaning Tricky Spots
15. Tackle Washing Machine Mold
Has your front loading washing machine been smelling a little funky? You only need bleach and a wash cloth to get the door gasket thoroughly clean.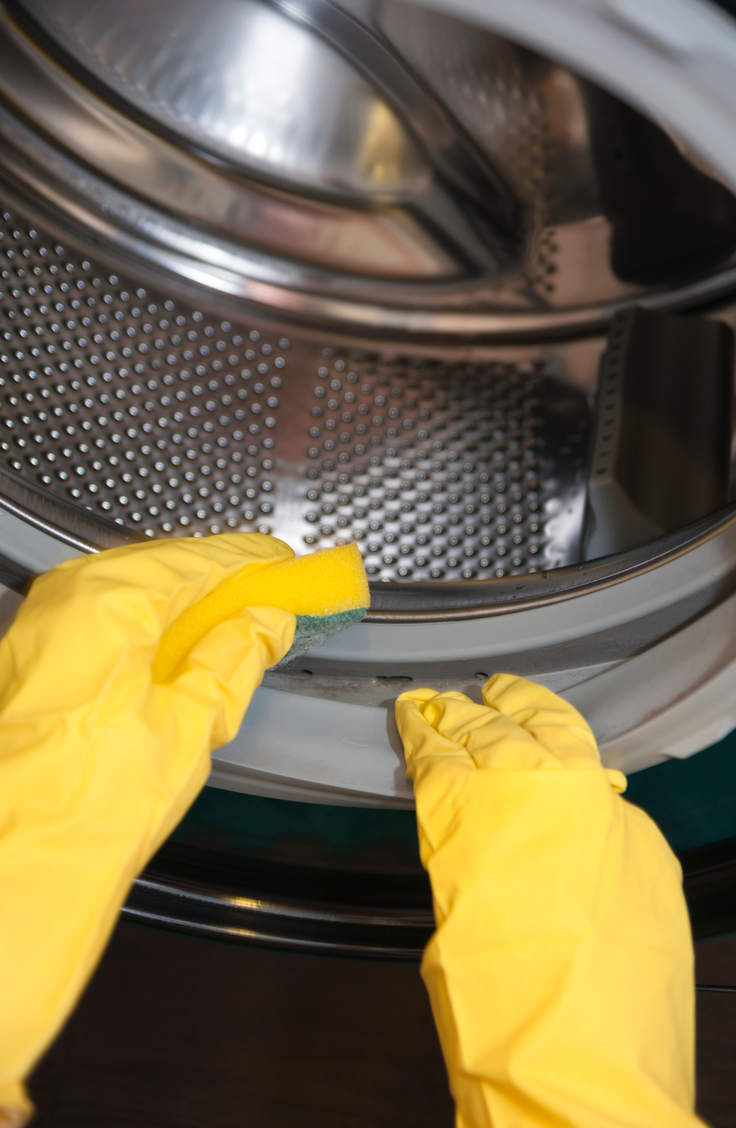 16. Clean out Dryer Vents
Use a vacuum to really clean out your dryer vents. This should be done every six months to prevent a fire.
17. Window Tracks
You know that are on your sliding door that you never thought you would be able to clean?  Use a cotton swab dipped in vinegar to clean away the grime. 
18. Steam Carpet Stains
Lay a damp rag over the stain, iron over it, and viola! The stain is gone. Here are some more carpet cleaning tips.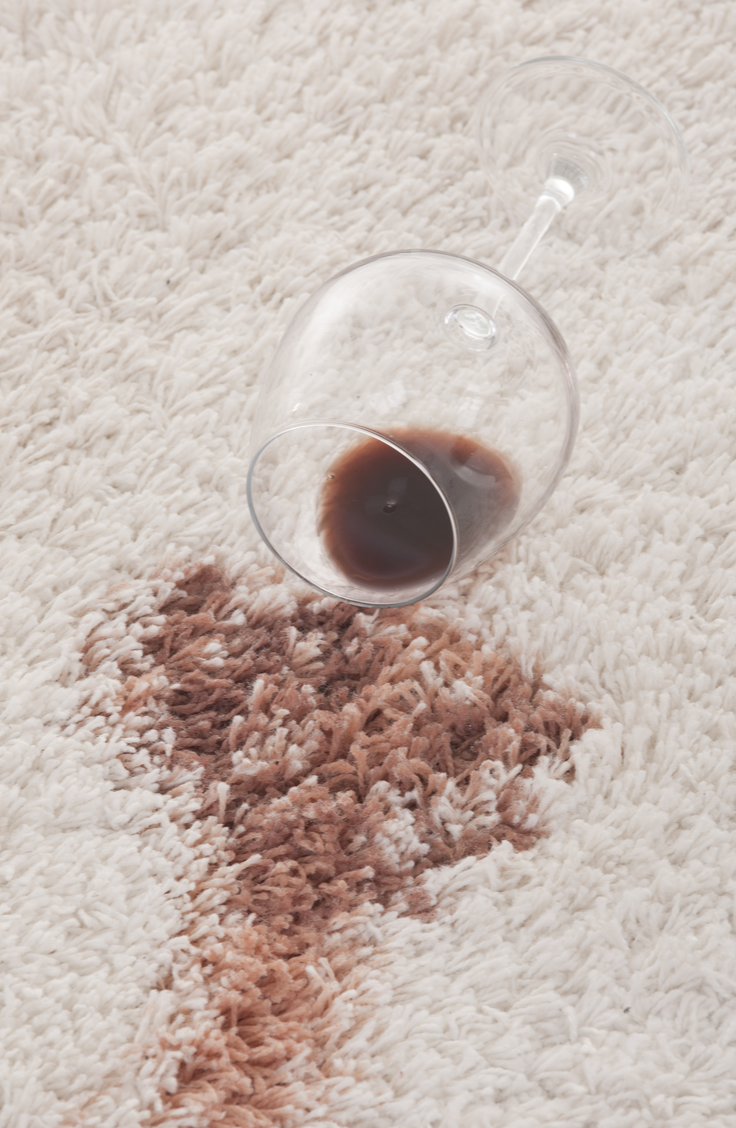 19. Dust Blinds
Spray a cotton sock with vinegar and water, slide your hand inside, and dust your blinds effortlessly.
20. Dust Your Lightbulbs
Use a paintbrush to dust lightbulbs. How incredibly simple!
21. Easy Shower Cleaning
For simple shower cleaning, keep a dish wand filled with 1/2 vinegar and 1/2 dish washing detergent in the shower. Then clean while you're in the shower!
22. Bake Away Household Odors
Can't get that fishy smell out of your house? Put two caps of vanilla extract in a coffee mug and place it inside your oven on a low heat. Give it twenty minutes and your entire house will smell much better.
23. Bathroom Cleaning Tips
Clean right after a hot shower. Heating the bathroom by just ten degrees helps to activate the cleaners. And the steam helps loosen grime!
24. Dust Candles
If your candles have developed a dust film, use a cotton swab dipped in alcohol to clean them off.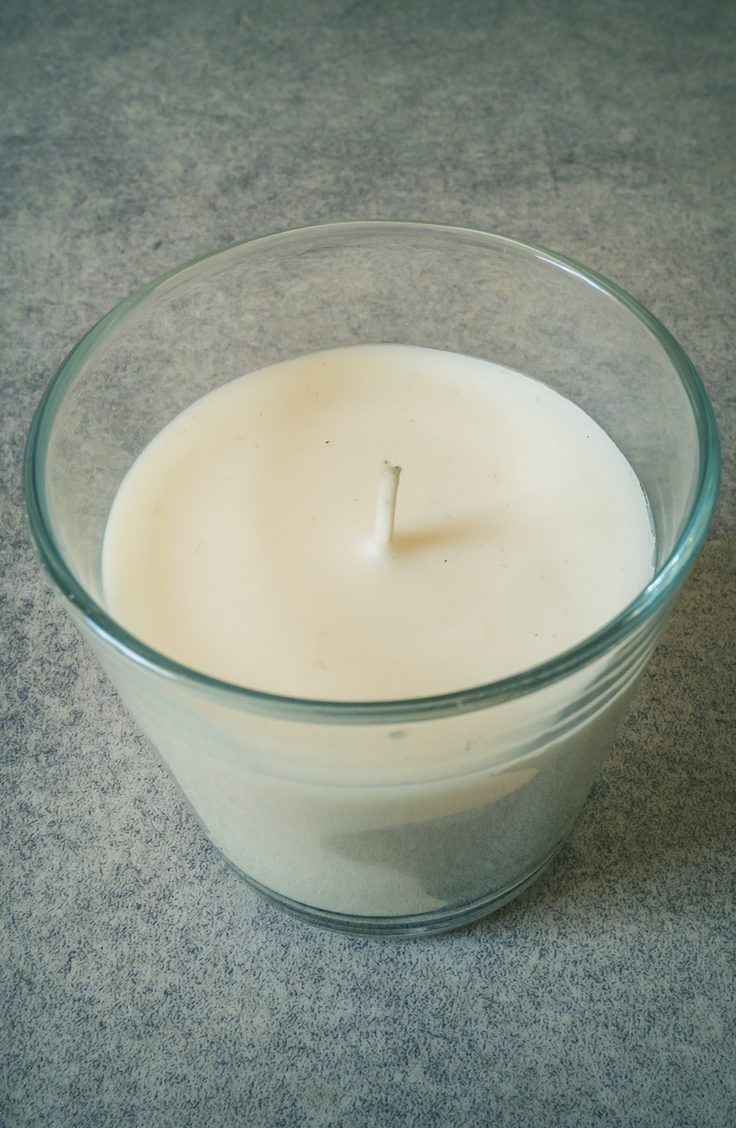 25. Say Goodbye to Scuff Marks
Use WD-40 to get rid of scuff marks on your linoleum floors.
26. Don't Drink the Kool-Aid 
If you suffer from lime deposits or iron stains in your dishwasher, pour a packet of lemonade Kool-Aid in the bottom and run it as usual.  
27. Hang Mops Upright
Hang your mops upright to keep them from developing mildew, which extends their life!
28. Low Water Pressure?
If your shower has low water pressure, clean the shower head. Fill a bag with white vinegar and tie it around the shower head. The vinegar removes hard water build up. You'll notice a huge difference!
29. Dust Fan Blades
Use an old pillow case to clean fan blades without creating a dust cloud. 
30. Get Rid of Pillow Gunk
Pillows should be cleaned regularly. Get the recipe to disinfect and whiten your pillows here. 
31. Dust a Lampshade
Use a lint roller to dust and clean your lampshades. This should be done at least once a month.
32. Stains on Your Porcelain Sink?
Try Bar Keepers Friend to tackle the stains for good.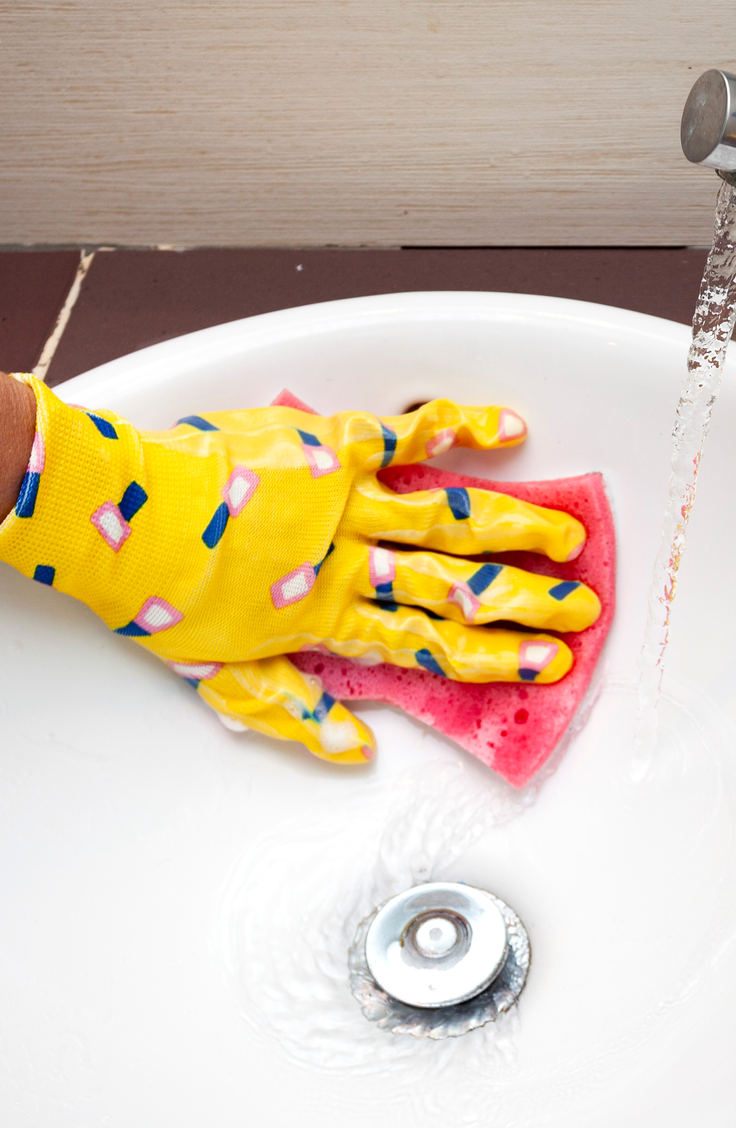 33. REALLY Clean Your Toilet
Unscrew the toilet seat and use disinfecting wipes and a screwdriver to clean every nook and cranny. 
34. Get Streak Free Windows
Recycle an old newspaper and use it to get a streak-free window shine.
35. Keep the Toilet Brush Fresh
Toilet brushes are generally pretty disgusting. Keep your toilet bowl fresh by keeping a little Pine Sol inside the toilet brush holder.
36. Clean Your Keyboard
A magic eraser and a Q-tip will have it looking like new again.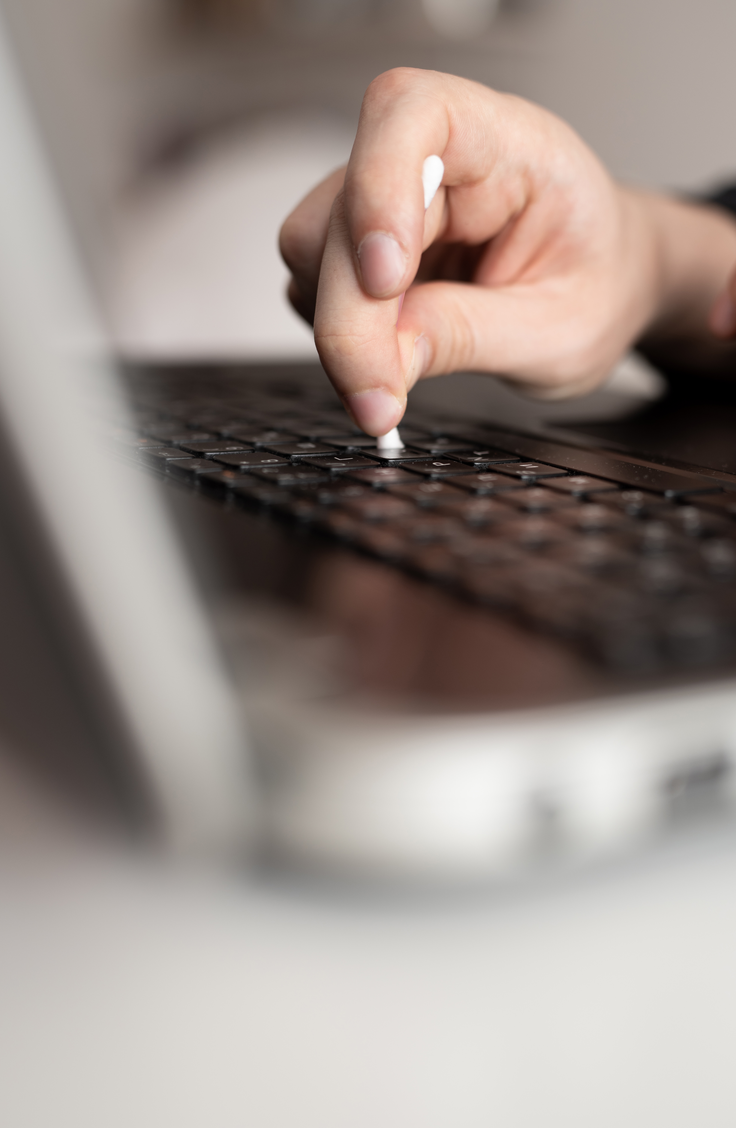 Before you go, see 5 more tips to cleaning faster. You'll be glad you did!