Today you will learn about painting furniture mistakes. Painting a piece of furniture is by no means a small task, especially when you don't know what you are doing! Instead of having to refinish that incredible table you found at the thrift store (again) paint it the correct way the first time!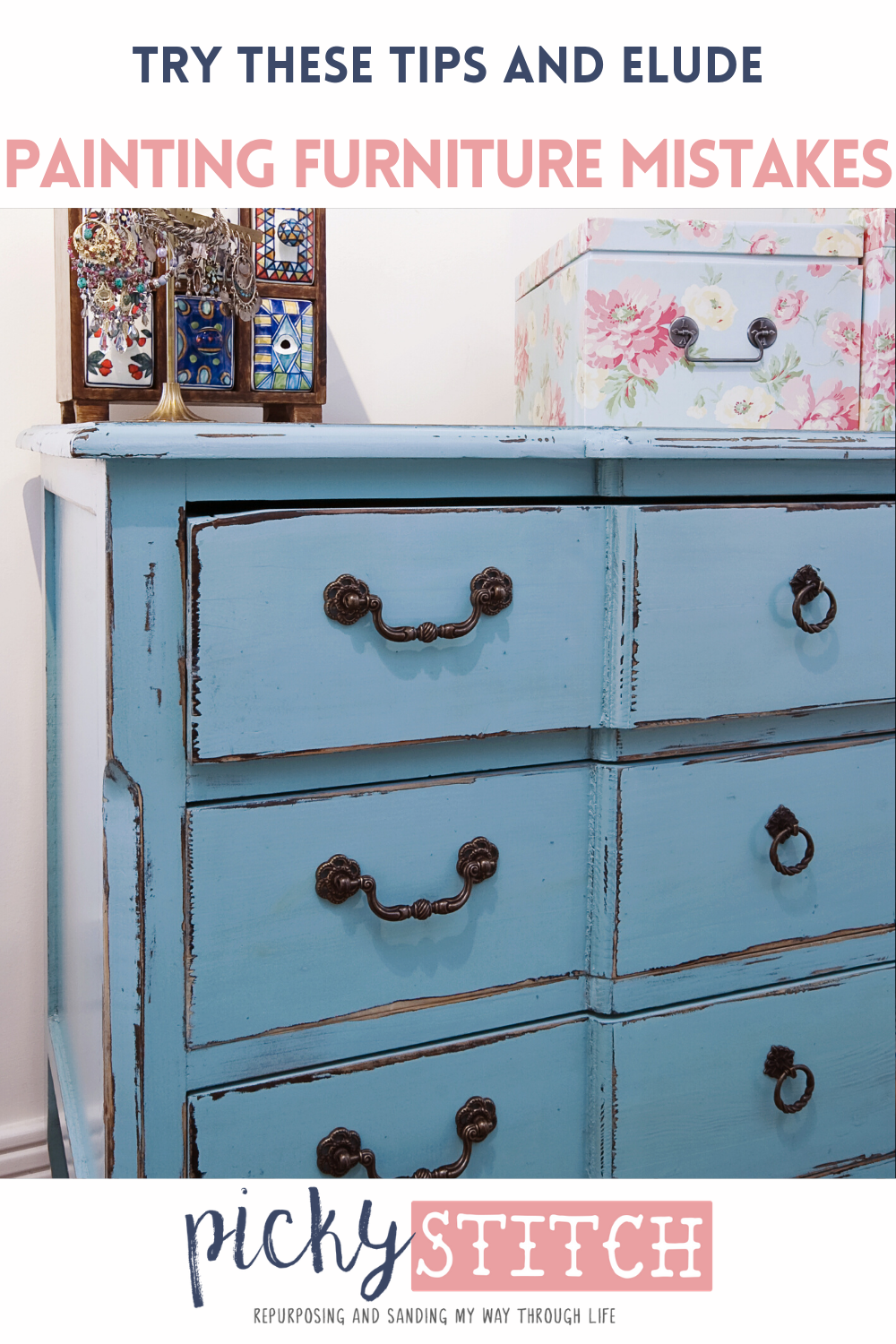 Painting Furniture Mistakes
Painting Furniture Mistakes: Forgetting to Sand
You've read those tutorials. You know, the ones that claim sanding isn't necessary. There is never a situation in which sanding wouldn't be necessary (if using latex paint). Roughing up the texture of the furniture gives the primer a surface to stick to, which helps the paint to last much longer!
Remove Residue
 Before painting (and after sanding) be sure to wipe down the surface of the piece with a tack cloth. This helps to remove residue, and helps the paint to adhere smooth. Be sure that the cloth used is a tack cloth, using a different kind is not recommended!
Primer is Always Needed
If you are painting laminate furniture, use a shellac based primer. Otherwise, any variety of primer would do just fine. Always apply the primer with a mini roller, and a foam brush (this is good for those hard to reach areas). Once dry, sand away any paint drips and wipe with your tack cloth.
Allowing Adequate Dry Time
Use a mini roller to apply 3 light coats of gloss latex paint. Most people don't allow enough time in between coats and apply each coat too thick. Be sure to wait at least six to eight hours in between coats of paint. Be sure to sand it down and use a NEW tack cloth to wipe off any lint before moving on to the last step.
Not Applying a Top Coat
Break out a new foam roller to apply a thin coat of water-based protectant. Be sure to go over the piece VERY lightly, so you can smooth out any bubbles that may occur. Allow a 72 hour dry time.
Now that you know what to avoid, you are ready to create a masterpiece. I'd love to see what you create so feel free to post pics in the comment section.
For more furniture painting hacks.
If you want to learn about white washing furniture, here's your chance.