Thanksgiving will be here before you know it and it's time to start thinking about a few Thanksgiving decor ideas. These Thanksgiving decor ideas are perfect for the fall season without being too cheesy (there IS such a thing as too many turkeys!). Start planning your holiday celebration with a few easy DIY Thanksgiving decorations today!
Thanksgiving Decorations
Tablesettings
There's a lot more to table setting than picking a creative color scheme! Make sure that you don't forget to give your silverware some love! Instead of a classic napkin (though, these should be available for use somewhere across your table) display your silverware on a backdrop of dried leaves. Add a curled red ribbon for added drama if you desire!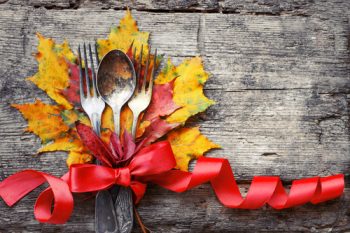 Fresh Pickings
For the easiest Thanksgiving decor idea ever, head to a local farm to harvest fresh apples and pinecones (if you can find them!). Place your harvest inside a wire basket and display on a side table somewhere in your home. The color of the apples combined with the texture of the pinecones makes for a warming decor piece that cannot be beaten!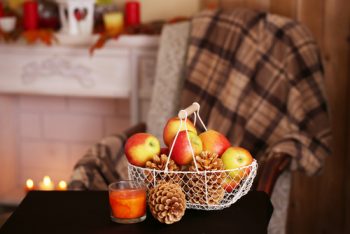 The Centerpiece
In my experience, your table centerpieces are a hugely important part of decorating for the holiday season. Make sure you make the right centerpiece choice with a mixture of seasonal squash (pumpkins aren't the only thing on display here!) and a length of greenery. This centerpiece is sure to be the star of any show!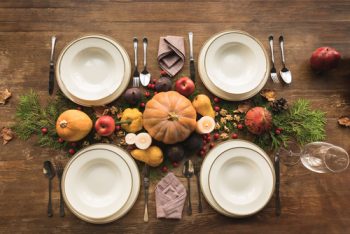 Welcome With A Sign
To create, attach three 2×4 scraps of wood (cut to 5 inches a piece) together so it forms a large plaque. Once fully attached, paint the background the color you desire. I recommend using a cream colored spray paint to get a beautiful contrast! Next, use this stencil (I decided not to include the detailing on the bottom) and some dark spray paint to showcase the message you would like displayed.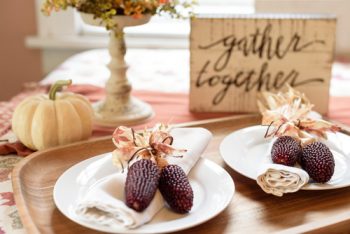 Color Is Everything
For me, a great Thanksgiving decor idea is showcasing the beautiful colors of the season! Display the colors of your Thanksgiving season in wooden crates scattered throughout your home! Learn to make cloth pumpkins like those pictured here.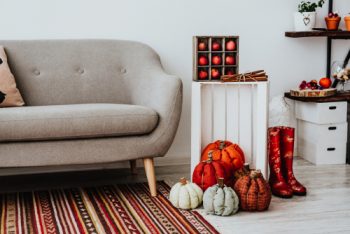 Thanksgiving Decorations: Garland
To really welcome the season (and your Thanksgiving guests!) display a garland of colored leaves across the opening of your fireplace. To create, I trimmed some of the most gorgeous colored leaves from the trees outside (it's best to use them before they have dried!) and hung them on a length of twine with a set of clothespins. The leaves only stayed fresh for a few days, but the look was absolutely stunning!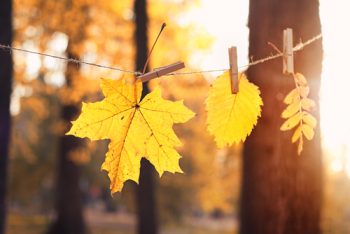 For an added bonus, I've included my article about DIY Thanksgiving Utensil Holders.