Every year, some of my greatest friends and I get together for a "Cookie In A Jar" party. We all bring the ingredients for our favorite cookie recipes, and we we spend the afternoon assembling the ingredients in mason jars. Of course, we attach our recipes with a few of our baking secrets. It's a fun filled afternoon, and you get to make a few great gifts. Check out ten of our favorite recipes!
This one isn't quite a recipe…but I love that it includes everything you could ever need for decorating cookies! If you find some on sale (there are usually tons in the dollar section at Target) attach them to the outside for a fun addition. Project credit goes to Yesterday on Tuesday.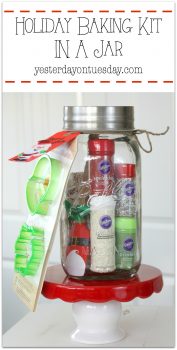 Candy cane chocolate chip cookies?! You had me at candy cane. A classic cookie gets a delicious holiday twist from Crafts Unleashed. 
TIP: Always layer the ingredients like pictured! It's awesome when you can see all of the colors!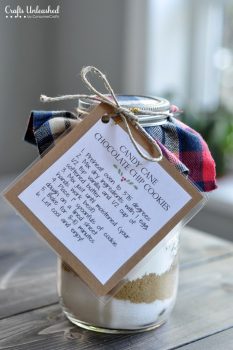 Use it for a tiny gingerbread house, or break out your little gingerbread man cookie cutters. Don't tell the little guy from Shrek that you plan on this…it'll only terrify him! Recipe from Thirty Handmade Days.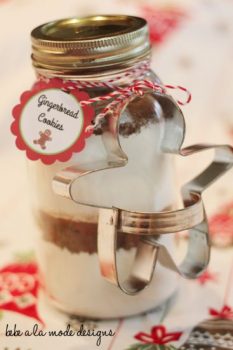 If candy cane doesn't tickle your fancy…you can't ever go wrong with a holiday classic! Layer flour, sugar, brown sugar, and chocolate chips in layers. Don't forget the twine! Recipe at The Happier Homemaker.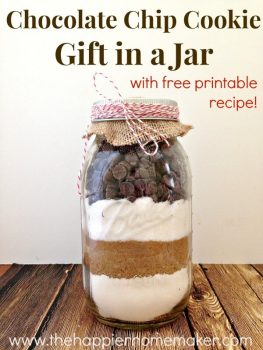 Jolly old St. Nicholas can't resist M&M cookies…and neither can I! Find this, and other delicious recipes at Delish.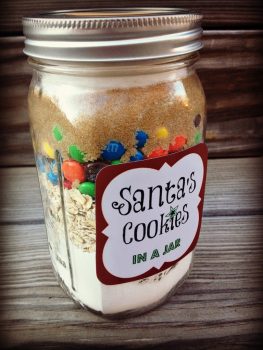 These aren't as great as "Santa's Cookies" but I think that they may come in close second! Foodflak has the recipe for these super moist, super delicious holiday cookies.
I don't know about you…but I may just eat the dough!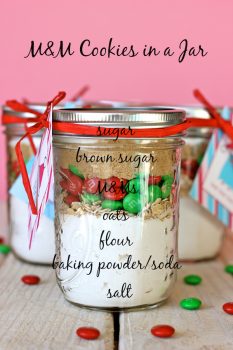 Chocolate chips aren't enough in my book! I'm more of a three-chip gal, so this recipe via Well Plated will definitely sit well for me AND my friends.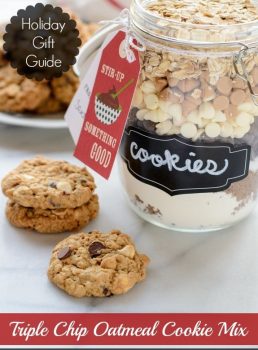 I love cranberries, but the only time I really feel "right" about eating them is during the holiday season! This cookie recipe isn't for everyone…but it's definitely a favorite in my book! I make it a habit to whip these up at least once a holiday season.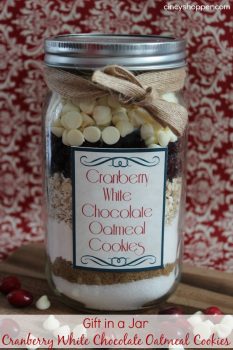 S'Mores are kind of a mess, and not always super easy to make in the winter time (unless you roast them over your stove, of course!) but these cookies will satisfy your belly, and keep your stovetop gunk-free. These will definitely be a hit with the kids!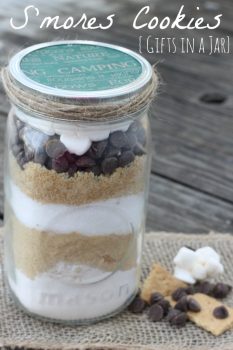 This isn't a dry cookie recipe, so it will have to be made and gifted rather quickly. Regardless, I haven't met a single soul on this planet that dislikes cookie butter! It's delicious on quite seriously anything. Get the recipe at A Worthey Read. Also, make your own bows for this jar-top delight.